About
This performance took place on July 8, 2022. Scroll for more information and resources.
Bill Shannon is an interdisciplinary artist and maker who explores body-centric work through video installation, sculpture, linguistics, sociology, choreography, dance, and politics. Shannon has been awarded a United States Artists Fellowship in Dance, a Guggenheim Fellowship in Choreography, and a Foundation for Contemporary Art Fellowship in Performance Art. His immersion in the emergent youth cultures of hip-hop and skateboarding further contributed to his autodidactic form on crutches. Shannon frequently lectures on his performance practice, and the phenomenological and linguistic framing he has created around his street practice globally.
Shannon was featured in Body Language, a series of three films co-curated by Jacob's Pillow and NOWNESS in 2021. The series centered on the theme of breaking cultural boundaries in dance.
---
EXPLORE BILL SHANNON
Read the Program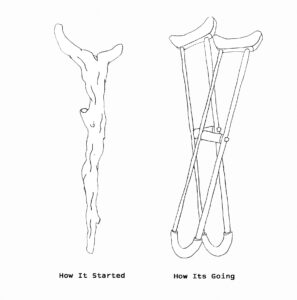 Dive into Jacob's Pillow Dance Interactive
This ever-growing collection includes dance videos filmed at Jacob's Pillow from the 1930s to today and new illustrated essays. Explore more on Jacob's Pillow Dance Interactive.
Event Dates
Oh no! You missed this one! Check our calendar for future events.
Bring Jacob's Pillow Home
Bill Shannon
At outdoor Henry J. Leir Stage: Jul 8