About
DELving Mini-Workshop: Merce Cunningham & Blondell Cummings
April 15, 2023 from 10am–1pm
Workshop Facilitators: Ann Biddle (Director, DEL at Jacob's Pillow) and Felice Santorelli (DEL Facilitator).
This interactive movement workshop explores the work of modern dance choreographers Merce Cunningham and Blondell Cummings. Both Cunningham and Cummings engaged in ground-breaking choreography methods; Cunningham used the abstract concept of "chance" in his choreography; and Cummings' work centered around personal narrative drawing inspiration from "everyday movement." 
In this workshop participants will:
Appreciate the significant contributions of both Cunningham and Cummings

Connect the creative process of these artists to dance-making, dance history, and dance education. 

Engage in inquiry processes and embodied learning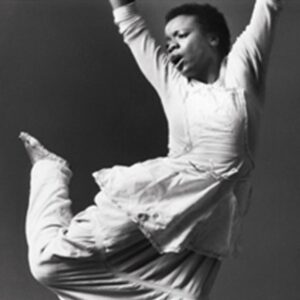 DELving Mini-Workshops focus on exploring a choreographer's voice through the Dance Education Laboratory (DEL) model. DEL facilitators guide participants through an exploration and investigation of a choreographer's work through multiple entry points in order to design accessible lessons and activities for all dance learners.
DELving Mini-workshops may link to the work of the Pillow Lab Artists or dance companies featured during the Summer Festival. Participants may be invited to attend a showing (in person or live streamed) of a work in progress by a Pillow Lab artist where they may engage in an interactive dialogue with the artists or receive a discount to attend a performance during the Festival.
Event Dates
Oh no! You missed this one! Check our calendar for future events.
DELving Mini-Workshop: Merce Cunningham & Blondell Cummings
At Perles Family Studio: Apr 15