About
This performance took place August 7-11, 2019. Scroll for bonus content!
For more than a decade, Brooklyn-based Gallim has embodied human connection through bold, raw, transformative works. A former dancer with Batsheva Dance Company and, most recently, the Metropolitan Museum of Art's first choreographic Artist-in-Residence, Artistic Director Andrea Miller has established herself as a perpetually groundbreaking artist who brings unbridled vulnerability and sensitivity to her work. New York Magazine describes, "her viscerally physical movement wrings every inch of life from her dancers—and you'll be holding your breath, too." Miller's most recent commissions include new works for Kyle Abraham's A.I.M, Pennsylvania Ballet, Ballet Hispánico, and Martha Graham Dance Company.
With uncompromising authenticity, Gallim made its Ted Shawn Theatre debut with a Pillow-commissioned world premiere that captures the intoxicating ecstasy of dancing and weaves together excerpts from Miller's most powerful work from over the past ten years, including Pupil, Miller's first piece for the company, and her most recent work, To Create a World, inspired by her time as an artist-in-residence at the MET Museum. In addition, Gallim performed Boat, a work dedicated to finding hope in the wake of oppression.   
"[We] got very excited about looking at the 10 years of repertory since [our first Pillow performance in] 2008 and finding sections that speak to the spirit of "Pupil," weaving it into a framework that still holds true to what we were trying to achieve — a world where the body and imagination were liberated, with total freedom to be expressive and wild and uncensored. It's for eight dancers, and the music varies from classical to really bad-ass contemporary music." Read more about the Pillow-commissioned world premiere from Andrea Miller in The Boston Globe. Read more in the program and PillowNotes.
Explore Gallim
Watch the Post-Show Talk
Founder & Artistic Director Andrea Miller in conversation with Jacob's Pillow Scholar-in-Residence Debra Cash.
In the Press
"Miller knows not to glamorize the horror; instead, though her images of strength, frailty, and collapse are depicted with great beauty by her trained, eloquent dancers, it's a beauty that seems to say: see the humanity, remember the hope." Read more from Janine Parker of The Boston Globe.
"Miller, a much honored choreographer, who has created numerous works for other companies beside her own, developed her style from sources that passed through her distinctive sensibility and were transformed by it." Read more from Deborah Jowitt in DanceBeat.
Dive into Jacob's Pillow Dance Interactive
This ever-growing collection in Dance Interactive includes dance videos filmed at Jacob's Pillow from the 1930s to today and new illustrated essays.
Watch Gallim on Jacob's Pillow Dance Interactive:
Gallim in Blush from 2009
Explore Themes & Essays on Jacob's Pillow Dance Interactive:
---
Headshots of the dancers who performed at the Pillow can be found in the PDF linked here.
Event Dates
Oh no! You missed this one! Check our calendar for future events.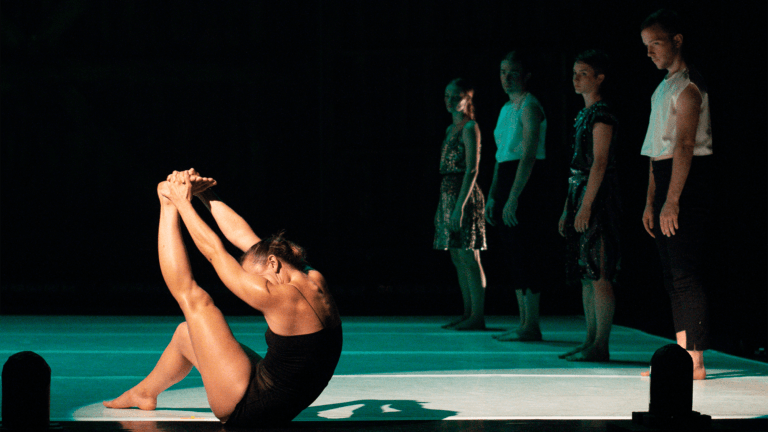 Gallim
At Ted Shawn Theatre: Aug 7 - Aug 11