About
Ronald K. Brown/EVIDENCE | Thursday, July 23, 2020 at 7pm
This event took place as part of Virtual Festival 2020.
Ronald K. Brown/EVIDENCE has deeply moved audiences for over 30 years, praised for a "sophisticated amalgam of Afrocentric movement and modern dance" that often makes "spirituality…something vibrant and transformative" (Los Angeles Times). A continued celebration and honoring of Brown as the 2020 Jacob's Pillow Dance Award Winner, EVIDENCE'S Virtual Festival stream highlights Brown's deep history with the Pillow. Founded in 1985, EVIDENCE, A Dance Company, provides a unique view of human struggles, tragedies, and triumphs. 
The special compilation includes Brown himself performing a special tribute to Katherine Dunham (In Gratitude, 2002), EVIDENCE'S 2005 performance of Grace, and a highlight of the company's most recent performance in 2018, New Conversations set to Afro-Cuban jazz music by GRAMMY-Award winning musician Arturo O'Farrill, performed live by O'Farrill and the jazz ensemble Resist.
Pre-Show Talk with Jacob's Pillow Scholar-in-Residence Melanie George; Post-Show Talk with Ronald K. Brown and Arturo O'Farrill.
Ronald K. Brown/EVIDENCE
Founded by Ronald K. Brown in 1985 and based in Brooklyn, New York, EVIDENCE, A DANCE COMPANY focuses on the fusion of African dance with contemporary choreography and spoken word. This work provides a unique view of human struggles, tragedies, and triumphs. Brown uses movement as a way to reinforce the importance of community in African American culture and to acquaint audiences with the beauty of African forms and rhythms. EVIDENCE tours to some 30 communities in the United States annually. The company has traveled to Cuba, Brazil, England, France, Greece, Hungary, Hawaii, Ireland, Holland, Mexico, Columbia, South Africa, Nigeria, Senegal, and in 2010 joined the U.S. State Department's DanceMotion U.S. tour to perform, teach master classes, and conduct demonstrations. Annually, the company reaches audiences of more than 30,000. 
Read more in a brand new exploration of Ronald K. Brown/EVIDENCE's earliest Pillow performances on Dance Interactive:
WATCH RONALD K. BROWN/EVIDENCE ON JACOB'S PILLOW DANCE INTERACTIVE:
Additional RONALD K. BROWN/EVIDENCE VIDEO:
---
This event is produced in collaboration with


Nel Shelby, Producer | Loren R. Robertson, Assistant Producer/Editor
Cherylynn Tsushima, Project Manager | Vincent Vigilante, Videographer
Benjamin Richards, Videographer/Editor/Graphic Animation
Ashli Bickford, Videographer/Editor | Amber Schmiesing, Editor
Jacob Marks, Recordist | Kathryn Brodie, Intern
Event Dates
Oh no! You missed this one! Check our calendar for future events.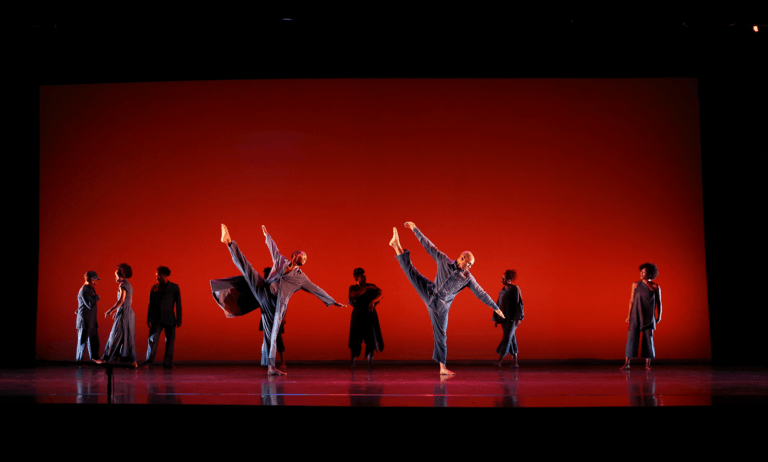 Ronald K. Brown / EVIDENCE
At Youtube.com: Jul 23