About
Jacob's Pillow Archives
Norton Owen Reading Room / Stephan Driscoll Collection
Open Tue to Sun, June 30 – August 29
Tue, 12pm-5pm; Wed-Sat 12pm-8pm; Sunday 12pm-5pm
No appointment needed
Choose from among nearly 10,000 videos, browse the impressive library of dance books, and view photos and other materials. A brand-new addition to Blake's Barn houses a spacious Special Collections Room showcasing treasures from Stephan Driscoll, recent acquisitions, historic costumes, and other highlights from the permanent collection.
---
Exhibition: Build Me A Theater
Blake's Barn
Open Tue to Sun, June 30 – August 29
Tue, 12pm-5pm; Wed-Sat 12pm-8pm; Sunday 12pm-5pm
Ted Shawn's instructions to architect Joseph Franz provide the title for this examination of all the Pillow's performance spaces, past and present. Artifacts and images from the Ted Shawn Theatre, Doris Duke Theatre, Inside/Out, and the Bakalar Studio create a kaleidoscopic celebration of live performance at the Pillow. Read more about this summer's exhibit on the Pillow's blog.
---
Please review our COVID-19 protocols for visits to Jacob's Pillow. Masks must be worn in The Norton Owen Reading Room regardless of vaccination status. All events at Jacob's Pillow this summer will be held outside or in outdoor tents. Performances and PillowTalks are subject to cancellation due to inclement weather. We value your safety; thank you for helping us to produce our festival responsibly.
Event Dates
Oh no! You missed this one! Check our calendar for future events.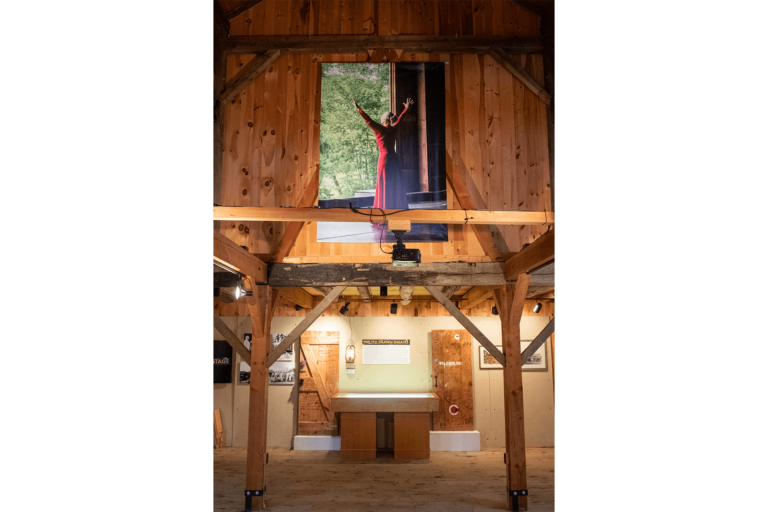 Visit Blake's Barn:
Exhibition and Archives
At Blake's Barn: Jun 30 - Aug 29