Logging In & Using the Portal:
10% off Member Discount will be applied at checkout.
All subscription packages (5 or more shows) must be made through the Box Office to receive additional 10% off. Call 413.243.0745 to order your subscription package.
Step 1: Login
Type in your username (your email address) and temporary password* provided in your setup email.


*Temporary passwords expire after 24 hours. Please check the time of your Portal setup email. If your temporary password has expired, select 'Forgot my password' and an automatic email with a new password will be sent.
Step 2: Create New Password
Create your own unique password using the character requirements

Step 3: Review Contact Information:
Review and update your contact information.
Note: We use this information to notify you of Jacob's Pillow news, please make sure it is current!

Step 4: Select Performances
You will only have access to do this during or after your ordering period.

Step 6: Purchase Your Tickets
Review your order and input your billing information.
Once your order is complete, an automatic confirmation email will be sent to your email on file that contains your order details. Please review this carefully and contact the Box Office with any questions.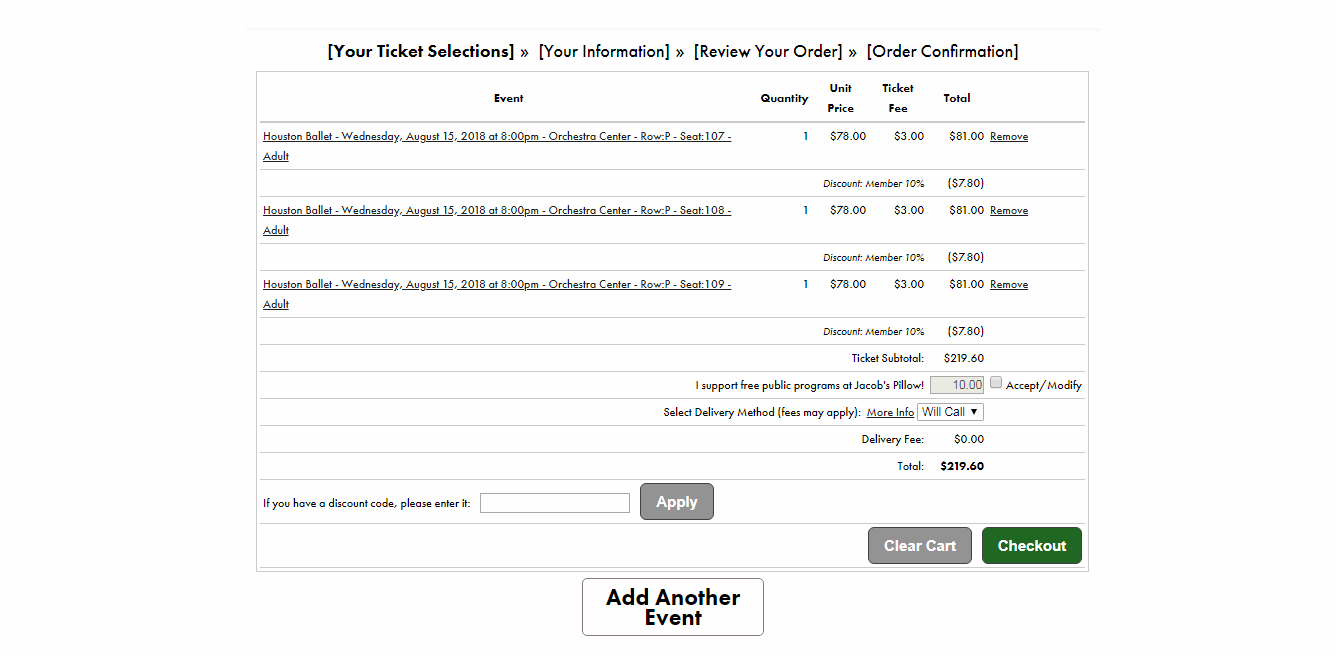 ---
FREQUENTLY ASKED QUESTIONS
Why can't I see any shows available in my portal?
You cannot see and select shows in the Member Portal until your benefit level's ordering period. Please refer to the ordering calendar. Performances will be available to select at 10AM on the first date of your ordering period.
Why is my password not working?
Passwords are case sensitive. If it is easier, copy and paste password into the box.
If the password box contains a series of dots, it means a password has been "remembered." Before entering your new password, be sure to delete any existing contents of the password box.
My password and/or temporary password expired. How do I reset my password?
Temporary passwords expire after 24 hours. Once you receive your login information via email, test the portal before your ordering period begins! If your password has expired, select 'Forgot my password' at the main login screen. This will send an automatic email with a new password.
Why can't I get my Subscriber discount on the portal?
Currently, our platform does not allow subscriptions to be purchased on the portal. If you are purchasing a subscription package (5 shows or more), you will need to call the Box Office at 413.243.0745 to receive your additional 10% off.
I donated online, but can't access the Member Portal. How do I login?
Logins are generated by our staff and must be sent manually to new Members. If you donate after 5pm on Friday, you will receive your login information the following business day.
PLEASE NOTE: You cannot access the Member Portal if your membership has expired.
Questions about your membership?
Call Michele Bastow at 413.243.9919 x123