An In-Depth Look at Viewpoint / Brian Brooks Immersive Technology
Groundbreaking, innovative, exhilarating—these words only begin to describe Brian Brooks' new work for Festival 2021: Viewpoint.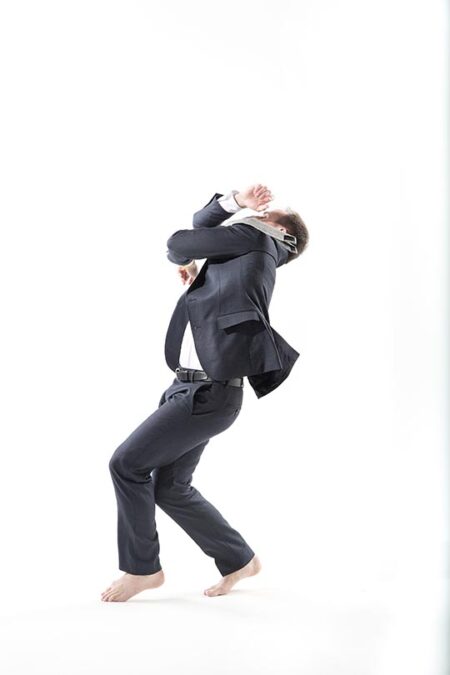 In a special performance on July 24—hosted in-person at Jacob's Pillow and also livestreamed to audiences at home—Brooks will bring a real-time Augmented Reality performance to audiences in the form of a 3D hologram viewed through the screen of a smartphone. Whether they are roaming the Pillow grounds or enjoying dance from the comfort of their living room, audience members will get to choose where to view Brooks perform, as they are able to place his 3D image anywhere in their surroundings.
Augmented Reality, a technology used to experience something one could not see in the real world, gives users the ability to overlay digital content onto their already existing physical environment. Using a phone or tablet, one can control the interaction digital content has with the world around them. This is not to be confused with Virtual Reality, which is meant to immerse one in an entirely digital world.
"It is innovation at work."
Viewpoint is part two of a multi-phase project that began with Brooks' residency at the University of Washington as part of his Mellon Creative Artists Fellowship. In phase one, Brooks worked with pre-recorded Augmented Reality. Now he takes his work a step further by pursuing real-time AR. While Brooks performs on the Jacob's Pillow grounds, five carefully calibrated infrared cameras will capture his movement, create a 3D hologram, and stream the footage to viewers' cell phones—all in real-time. Brooks refers to this three-dimensional image as a "telepresence," something that sounds straight from a science fiction movie. But for audiences, this abstract technology will no longer remain purely an element of fiction.
What will this live experience be like on July 24 for audiences who come to see Brooks at Jacob's Pillow as well as those who are watching from home? Brooks describes it, essentially, as a 3D Zoom call, except you can experience the presence of another person, rather than the flat two-dimensional boxes you normally see. 
Brooks says the two most important aspects of the work are perspective and viewpoint; the viewer has full control over these elements, creating a unique performance experience for every individual as they choose where and how they watch the piece. In Viewpoint, the choreography is not just the movements of the dancer, but the choices and positions controlled by the viewer.
Brooks says his interest in the convergence of technology and dance stems from the idea of dance-making as a form of documentation, the ultimate goal being an attempt to catalogue a bit of time and human experience. Using Volumetric Video to capture the dancer in three dimensions allows Brooks to capture movement from every angle. At time he has felt frustration with the constant loss of his work, as there has never been a way to record dance that captures every detail. Filming a performance results in a flat, 2D moving image that offers only one view of the piece. However, with the advanced technology of Volumetric Video, dance can be captured from multiple vantage points.
"Maybe technology can be a tool to cement dance and people's perception of it at this moment in time."
In collaboration with Seattle-based technology company Omnivor Media and its CEO Adam Kirk, Brooks is working at the forefront of Augmented Reality tech. This partnership began in December 2018. "Technology is not made with dance in mind," says dramaturg Ilya Virdin. Brooks appreciates his partnership with Omnivor Media because they are not only "innovative and technical, but also imaginative, risky, and curious. New technology develops and they think 'How can I use this?'"
An electronic soundscore composed by long-time collaborator Jerome Begin will accompany Viewpoint. Begin has worked with Brooks for seven years and will continue to collaborate on future phases of Brooks' Augmented Reality performances. The soundscore consists of a breathtaking juxtaposition of sounds both electronic and organic—"sonic environments," as Begin calls them—and will be heard by audiences onsite and online.
In working with such a new technology, it is no surprise that Brooks has experienced some road blocks in executing this experimental work. The challenges are endless, according to Brooks, who says that they are "on the edge of what technology can do." Dependence on the technology presents a tremendous challenge, but Brooks says he is a process-based artist and welcomes the many questions that arise in engaging with this new technology.
And so, the question is raised—will this technology replace live performance? No, Brooks says, "this actually heightens our need and love of live performance." According to Virdin, Viewpoint challenges "what dance has been and what dance can be, where dance can be and when dance can be." This performance leaves one thinking: When is something functioning as dance?
Experience Viewpoint / Brian Brooks Immersive Technology on Saturday, July 24 at 12pm on the Pillow grounds ($25), or in a space of your choice (free). Visit the event page to learn more.