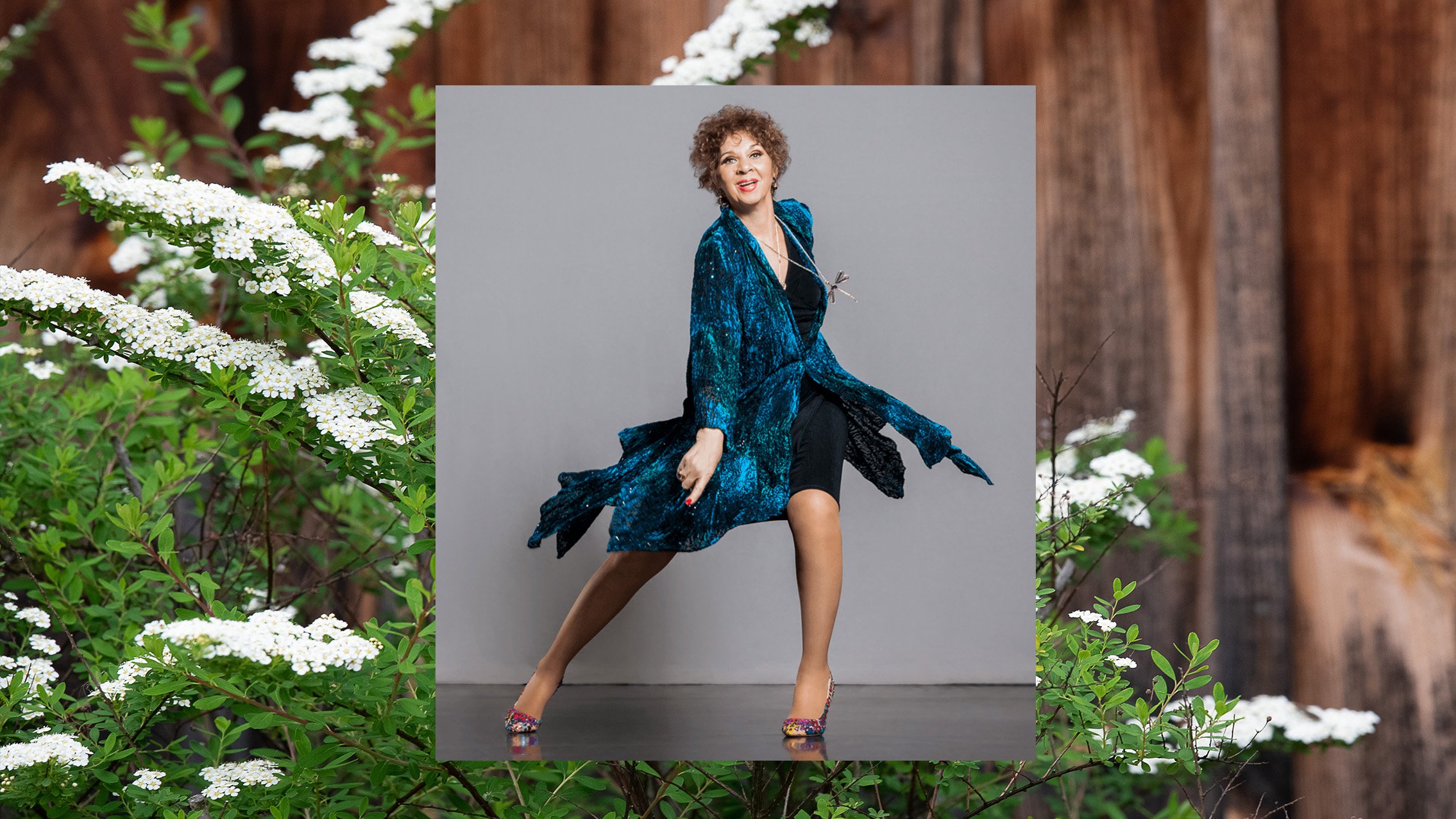 Continue reading for an exclusive interview with Cleo Parker Robinson, Founder and Executive Creative Director of Cleo Parker Robinson Dance.
Q: What ensemble building practices does the company embark on together?
A: Our work embraces the organization's philosophy of #OneSpiritManyVoices while #inspiringmovement. Because we are a diverse collection of talented individuals, I rely on each member's unique humanity. We come together daily in a moment of reflection, and I check in with each of my dancers collectively and individually, both inside and outside of rehearsals. As a dance family with most of our members far from home, we honor our birthdays, anniversaries, triumphs, and challenges in the studio—our milestones of the heart. We often refer to ourselves as a Village, understanding that we are each reliant on the others.
Q: Why did you choose dance as your storytelling medium? Did it choose you?
A: One could say that dance chose me. Growing up, my natural energy gravitated toward movement. Before I even learned and understood dance, I was very athletic—and we know that dance is the most highly athletic endeavor. As I progressed into my high school years and learned about dance—its techniques, and its disciplines, being a dancer was going to have to coexist with what my parents considered a "real" profession (even though they were both artists and activists). My father wanted me to become a doctor. After working in a hospital in my teens and realizing that medicine was not my path, I recognized the healing elements of movement when later studying Psychology. I began to blend dance and Psychology into my own Dance Therapy technique and philosophy. (This later developed into a collaboration with Professor Harvey Milkman in the Project Self Discovery Program.)
Although much of my childhood was in Denver, we lived briefly with my paternal grandparents in Dallas, and there I experienced devastating segregation and significant racism. Movement became critical to my own healing after I experienced kidney failure at age 12 in Dallas; this also affected my heart. For a period of time, I became mute, while processing a nearly mortal illness and challenging recovery after being told I would never walk again.
While in Dallas, I also began experiencing movement while attending church. The roles of worship had their own choreography even though dance itself was forbidden. Experiencing racism each day, I began to understand the choreography of our social interactions.
Movement becomes a deep and powerful practice in breaking down barriers of segregation and racism.
As I continued to learn the disciplines of dance, most of what I studied was based in ballet, I didn't have the relationship with dance I have today until I was introduced to modern dance in college. My first mentor in Denver, Rita Bergér (who danced with Balanchine), realized where my dance consciousness lay. Ms. Bergér guided me so that not only I could choose dance, but the appropriate dance could choose me.
Ms. Bergér urged me to visit New York, and I did at 19, where I was able to study with Alvin Ailey, Martha Graham, Merce Cunningham, and begin learning the Dunham technique. I knew I had found my direction. My feet had always been grounded in movement rather than balancing en pointe. Immediately, modern dance, its techniques and cultural traditions spoke to my body and soul. I began to understand the techniques of choreography in a context that merged with my childhood observations of social interaction. This became the foundation for my mission of using dance as a vehicle of social awareness.
Dance was always there with me in all the ways I moved and developed.
In my twenties, Civil Rights protest became my dance, and it has remained with me throughout my career. For me, as a choreographer, it surfaced even more adamantly in the wake of George Floyd's murder. I found myself having to repeat themes that first surfaced fifty years ago when Dr. Martin Luther King, Jr. was assassinated and when we lost Malcolm X. Today, for me personally as well as in our current society, grief is a powerful dance. It not only allows us to process and heal after the murder of so many people of color and members of the LGBTQIA community, but it empowers us and enables us to give voice to the voiceless. Dance and the strength of its community are helping me to remain centered after the monumental personal loss of my husband of 52 years, Tom Robinson, in April 2022.
Q: Can you speak on the complications you've faced from having a majority BIPOC company? And from that, what lessons have been learned?
A: Although CPRD Ensemble members are primarily people of color, I have a fully integrated company—this has always been my vision. Throughout our 52-year history, we have represented virtually every racial perspective, including African, Asian, Indigenous, and Eurocentric ethnicities. I always feel that audiences (and students) of every culture should see dancers on stage who look like them.
You may remember that I am the child of a mixed marriage. My mother was of European descent, my father African American of Jamaican descent, and I have half-siblings from a wide spectrum of ethnicities. The challenges of an inclusive dance company are largely political—whether they revolve around gender or cultural identities. And no matter the background of each Ensemble member, they know they are welcomed and valued for their talent, their artistry, and their ability to convey an impact. Because we come together, each carrying our personal history of challenges (as any organization would), we work through those challenges and bring these valuable and diverse experiences into the richness of our performances across all genres.
We are all human, and we bring all aspects of the human condition into the work of dance.
 Q: How does collaboration with iconic global dance artists influence choreography?
A: Collaboration has always been structured into the work of choreographers, musicians, visual artists, and global cultural leaders. One example is the music and multimedia collaboration in our 2021 Fall Concert, Journeys, centered around the World Premiere of The Four Journeys. We blended background visuals with Japanese digital animator Taketo Kobayashi, an original composition by Arturo Márquez, with the choreography of the iconic Amalia Viviana Basanta Hernández. (Her mother, Amalia Hernández, founder of Ballet Folklórico de México, is another one of my links to Katherine Dunham.) The Four Journeys shared in dance the traditional lore of a local saint, Catarina de San Juan (La China Poblana), an enslaved woman from China, as she traveled across hemispheres to Mexico in the 17th Century.
Our collaboration blended Asian, African, Spanish, and Indigenous cultures. The work was largely developed via Zoom throughout the two years of the pandemic. We worked with artists in the U.S., Mexico, and Singapore across time zones and continents. Our investigations studied textiles, movement, and music. It has become a global cultural teaching tool in our student outreach programs with a study guide. The work itself continues to tour across the U.S.
In that same 2021 Fall Concert, Journeys, we had the pure joy of collaborating with Denver's Dianne Reeves, the five-time Grammy Award-winning jazz artist. She and I have long considered one another to be sister-friends. I choreographed her song Freedom Dance. We knew we would work together—it was inevitable for each of us. Fresh from her 2021 European tour, we finally made it happen. Ms. Reeves is another icon of Denver's world-renowned Five Points jazz community, "The Harlem of the West."
Q: While celebrating the 50th anniversary of CPRD Ensemble on Zoom, Cleo mentioned, "having dancers, together, period [was] radical." How do you think emphasizing integrated dance in 2022 connects to that ideal?
A: As dancers, we commit our entire being to the work. When the pandemic shutdown personal interaction in dance studios, we shifted immediately to online or live streamed classes and rehearsals, and as I mentioned above, we were even able to set an entire ballet, The Four Journeys. The physical, mental, and emotional challenges were enormous. Dance is such a visceral experience, person-to-person.
Returning to a "normal" rehearsal and performance scenario while maintaining a livestream presence with students and audiences has enabled us to reach an even greater range of students and audiences around the globe. There is nothing that beats the intimacy of attending dance in a theatre, but also we know the excitement of an unprecedented global reach of our work—that is very exciting. A key example of this is our annual performance of global cultural holidays, Granny Dances To A Holiday Drum. For the first time, we can actually reach the communities we celebrate in the work.
Q: What would you describe as the strength of the current company?
A: Our strength, now and always, is the range of our dancers' work and abilities to move across time, genre, technique, and athleticism. When you watch the Ensemble in performance, you feel you can literally see into their souls. In the works being presented, they move through a relentless perspective on the pace of life in the 20th and 21st centuries.
The five works we are performing during Week 9 of the 2022 Jacob's Pillow Dance Festival span a range of genres. We begin with mid-20th century Ragtime, by Katherine Dunham, excerpted from Scott Joplin's Treemonisha. Mary Don't You Weep, is excerpted from Cleo Parker Robinson's masterwork Spiritual Suite. (It is evocative of the past and present reflected in both the mourning and the resilience in communities of color enduring church arson, lynching, shootings, and vandalism.)
Developed during her time as a CPRD Ensemble member, Nejla Yatkin's perspective, as a woman of Egyptian and Turkish descent, navigates behind the veils of religion and politics. Although she created the work in 1998, Salomé's Daughters continues to resonate as women's rights are again at the forefront of today's global news. She reaches back into pre-patriarchal goddess culture to project the deep instincts of women, elements of the earth, and the life force which sustains us all.
The works of the iconic Donald McKayle and innovator Garfield Lemonius bring us masterfully into 21st Century visions of the human condition. Mr. McKayle, in one of his final works, brought his compassionate gaze to the plight of Syrian refugees in their harrowing journey toward freedom and safety, along with reflections of precious human connection between moments of trauma. Professor Lemonius' passion for contemporary stringed music taps into the relentless 24/7 rhythm of our lives. He utilizes every note of the music, mirroring our frenetic lives and the need for periods of quiet, meditation—and release.
Q: In what ways does the culture of the African Diaspora aid the mission statement of CPRD Ensemble that might go unnoticed?
A: The African Diaspora encompasses a myriad of cultures. By current count of the United Nations, there are 54 countries and numerous indigenous cultures spanning borders and eras. Since the slave trade more than 400 years ago, the African Diaspora brought dozens of traditions (many now lost) into Europe and along the Atlantic coast from North to South America. Africa's vast cultural diaspora has influenced every aspect of global culture. In the U.S., the diaspora nurtured the roots of jazz and the Spirituals, both of which impacted my own work so deeply.
My mentor, cultural anthropologist Katherine Dunham drew upon the diaspora to create a large body of work, which, while entertaining, served to educate audiences worldwide. That same passion has influenced not only my own work but has motivated me to obtain the works of other choreographers. At CPRD, we distill this tremendously complex myriad into #OneSpiritManyVoices, because our diaspora is not only African but encompasses all the cultures of humanity—since all humans dance.
I often say that dance is just life out loud!
Q: CPRD Ensemble was last at Jacob's Pillow 26 years ago, with plans to return that were undone by the pandemic. Can you speak about the initial experience and your hopes for the reunion?
A: We are delighted to return to Jacob's Pillow and share the breadth of our legacy as well as newer works. Our return is as much a celebration of personal connection with live audiences as it is an opportunity to honor and celebrate iconic dance masters and current innovators. We were delighted to perform in 1996. In 2002, I was invited to return to dance the lead role in a tribute performance of Katherine Dunham's Barrelhouse Blues—which was of course, a great honor! Little did I know that Ms. Dunham and Ms. Julie Bellafonte (who had been a member of Ms. Dunham's company) would be sitting at the side of the stage observing my performance! I was more nervous about the audience sitting on stage than those sitting in seats in the theatre! Talk about a memorable and nerve-wracking moment!
Jacob's Pillow itself is so steeped in history as a former mountain-top farm once on the Underground Railroad. Its national dance heritage began as an early leader of racial integration in art. It's an honor to be not only in a national festival of our time but surrounded by the energy of the Pillow's legacy and the excitement of its future.
Edited by Catherine Ashley. Published August 2022.