I meet Maru where we gathered just a few weeks earlier for Jacob's Pillow's On the Road in Pittsfield, in the First Street Common next to Zion Lutheran Church This Summer, Maru performed in Jacob's Pillow On the Road as a part of Berkshire Bateria, BSKE Community Dance, and Dance for Social Justice Community Residency. This interview has been edited and condensed for clarity.
Tell me a little bit about yourself.
M: I'm from Argentina, I moved here six years ago. I am coming from a business and human resources background in Argentina. When I moved here, I had a lot of time by myself, and I reconnected with myself and the things that I wanted to do. One of the things is art. I danced from age 13 to 15. I was dancing in a group and doing some competitions. So now that I'm here it feels like, okay, let's get back to that. So that's how, of course, I went to Jacob's Pillow. And I found that beautiful place. It always was a dream, being part of that community, joining the performances. I also play music in a band, Berkshire Bateria. So I love music and I love dancing. I was able to develop that part of myself here when I moved. I was like, okay, you need to do something else here, human resources is no longer enough for you. What else can you do to help your new community? I was in between law and psychology. So that's why now I'm a youth worker. I am doing a lot of things for the community as a mentor as well but combining everything with art. My interests are in different areas, but are rooted in helping my community.
What do you do for a living?
M: I work for a nonprofit organization in Great Barrington, Railroad Street Youth Project, as a youth worker, and I work specifically with immigrant youth. I'm supporting them and helping them on an emotional level, but also giving them different tools and showing them all the resources that we have in the community, so they can raise their voice. Empowerment! 
How did you first hear about Jacob's Pillow? And what was your first experience?
M: Wow. Many years ago, I didn't know about Jacob's Pillow at all. But I used to work at No. Six Depot Cafe and we had a small location in the cafeteria of Jacob's Pillow. So my bosses invited me there and I went to explore. I took a few photos, and thought oh my gosh, I want to be here and go to a performance. And that's when I took my first photo in the outdoor stage in 2017, I have it on Instagram. It was my dream and the title of the photo was dream high. Because I knew that some day at some point, I wanted to be and perform on that stage.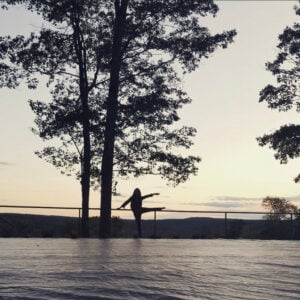 How did you learn about Dance for Social Justice?
M: At my work, one of my bosses, she participated a few years ago, and she received an email with information that they were doing it again, in person this time. And she sent it to me and said, oh my gosh, you need to do it, you will love it. I was like, of course, I'm doing it. It doesn't matter about the schedule, it will be figured out. Of course, it's part of my job connecting with the community but it is also something that I really love to do.
What was it like to be a participant in Dance for Social Justice?
M: I knew some of the people who were a part of it and it was so good to see them again there, and to reconnect. Also, there were so many other people who I didn't know and I was able to build more relationships through the experience. We were talking about really important subjects, issues and solutions that were amazing because those kinds of things were bringing us together as a community, as one. I loved that experience. We were raising our voices together.
Tell me a little bit about the experience of what it's like to perform at Jacob's Pillow?.
M: Oh, that was really intense in a good way. When we performed here (Zion Lutheran Church) with Berkshire Batería, and Dance for Social Justice, it was amazing to share with the community. And that's the most valuable thing, to be able to connect with other people during the process, but then when we are sharing the final result, we are expressing and we are connecting again. It's amazing to see people, when playing with Berkshire Bateria, how people can feel the music in their body and you see them moving. And it's the same when they are seeing a performance. There is something inside that we are touching. And that drives me crazy, to touch others through art. I want more.
How was it to perform in On the Road in another capacity in Great Barrington?
M: I really appreciate how Jacob's Pillow is making this connection and going out for it. It's not just about going to Jacob's Pillow or going to Becket. We are creating community, and it's so viable for everyone. Now, it's not just about a selective part of the community that is able to pay a ticket and is able to go to Becket, we have so many people who don't have transportation. I'm specifically thinking about my own community, the immigrant community, and seeing that they are enjoying it and they are able to be part of Jacob's Pillow, that's a huge thing.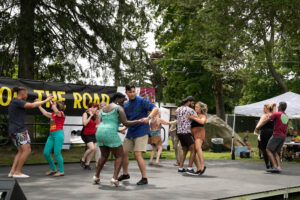 What was your experience like performing on the Henry J. Leir Stage?
M: The actual day there, well, that's magical. That's the magic place for everyone. I was super emotional, I cried, of course. But what I enjoyed the most was that I wasn't just there by myself, I was there with my community. Just realizing that dreams come true when we work towards something in common, was unbelievable. 
What are you taking away with you from the performances and the whole Dance for Social Justice experience? 
M: I feel that I'm taking the sense of community. Because, for example, I do have my own community art personal project. And I was thinking, well, maybe this is not the right time, maybe the community is not ready for this. But all the things that we did together, we did as a community, and that showed me that yes, the community is ready to do it. 
 "I'm taking away that it's possible to make changes, it's possible to get together for a common dream or a common goal. Community, that's all you need."
-Maru
What is it like to experience Jacob's Pillow when not performing? 
M: Well, it's something I can't explain with my words because it's something I just feel in my body. I feel that I am healing every time I see a performance. Like the Vanessa Sanchez performance, for example, I connected with all that history and anthropology. Every single performance is connecting myself with a part of my life, or with something I didn't realize about myself. I am reconnecting with my body and I used Jacob's Pillow as a safe place to reconnect with myself when I am not performing or when I am.
Written by CJ Donohoe. Edited by Emma Garber. Published September 2022.