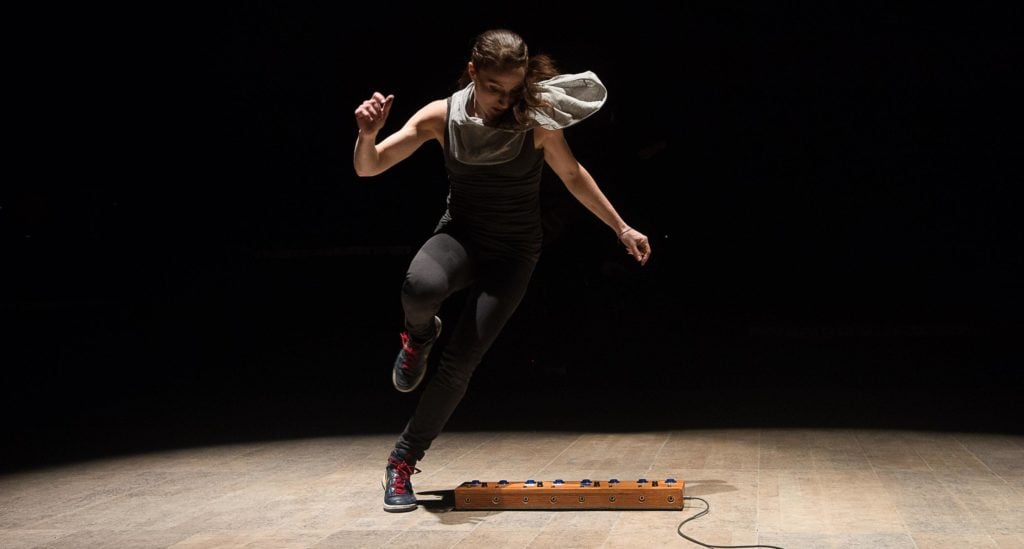 Israeli-born performer-choreographer Ephrat "Bounce" Asherie is lauded for her command of the genres of breaking, hip hop, and house. Asherie spent a snow-filled week at Jacob's Pillow this December developing a new work with her brother Ehud Asherie, an acclaimed jazz pianist and organist, inspired by the work of Brazilian composer Ernest Nazareth.
Jacob's Pillow staffer Abby Wood sat down with Ephrat in the Doris Duke Theatre to talk to her about the new work, her inspiration, and the development process.
What attracted you to developing your work here at the Pillow?
Jacob's Pillow is really special to me for many reasons. It is the oldest dance festival in America and it is a place where dancers feel really cherished, and respected in way that is not the case in the world at large. You have that sense of really being valued when you are here at every level in the process. I have been here and performed at Inside/Out with my company, I presented in the Doris Duke Theatre in a show called Unreal Hip-Hop, I performed in ETM: The Initial Approach here with Dorrance Dance, and  I participated in a residency here and then performed in the Ted Shawn Theatre with ETM: Double Down.
[The Pillow] feels like a dance home in a lot of ways, a place where I have been able to explore a lot of different parts of myself as an artist, and as a choreographer, and all of those parts feel supported, valued and encouraged. I know that all the dancers that I brought, all from different dance backgrounds, know how important this festival is for dance. As an artist it makes you feel like you have a place in the world at large, that what you are doing is important and you should keep doing it. This residency is a tangible way to see that.
"[The Pillow] feels like a dance home in a lot of ways."
Can you tell me a little bit about what you are working on?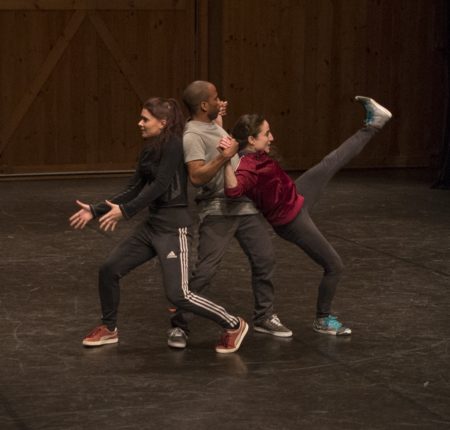 This summer I was commissioned by the River to River Festival to create a piece. It was the first time I collaborated with my brother Ehud Asherie, who is a jazz pianist. He introduced me to the music a Brazilian composer Ernesto Nazareth, who some people refer to as the Scott Joplin of Brazil. He sort of epitomized something that is very typically Brazilian, which is a confluence of different cultures coming together. He was very influenced by European composers, but also by popular music at the time called mashishi, which is early Samba. He was playing this hybrid of European melodic music with African-based rhythms and percussive elements, which is in so many ways something that reflects my background.
I grew up listening to hip-hop in the '90s but I was taking ballet classes, later modern and then I started breaking when I was in my 20s.  To me it has always been this idea that movement is just movement and let's try to find a way to connect styles and aesthetics that seem different. I try to use them like a lens that wants to be more comprehensive. In the last 15 years I have been immersed in street styles, and club styles that are all based from dances of the African diaspora.
I think that dance and music is one of the most important ways that people can find connections between each other's cultures. Things are different and that is amazing, that is what makes the world beautiful. There is also this way where in which things are always influencing each other from one culture or another, one music or another, one rhythm or another. I can look at a step and say, that top rock step from breaking looks like that West African step and if you do it this way then it is like that Samba step. There is something really beautiful to me about finding that tangible connection, and not just in a way of oversimplifying it.
"The common denominator is dance and music. So why don't we keep that the common denominator and put all these other things together and see what emerges?"
I saw that Pillow Scholar-in-Residence Maura Keefe is here as your "outside eye," how are you using her to your advantage during this process?
That is a really great part of the [residency] program too. Having an outside eye is so important, especially since I am dancing in my own work and choreographing. Having someone who had seen my work in previous years is nice because they already sense how you are developing and understand your interests. It is amazing how even showing just one person changes the energy, and you try things in a different way.
"I am fascinated in all of these melodic qualities that already are a part of street dance, and club dance."
Did you have an idea coming in of what you wanted to gain from this residency?
I was excited to work with this music. Some of it is really classical and then it has the percussive Samba vibe – mashishi stuff going on, but some of it sounds like Chopin, straight up. I'm very weary of falling into that trope of doing street dance to classical music; it is not at all what I am interested in. I am fascinated in all of these melodic qualities that already are a part of street dance, and club dance.
The main thing was being able to invite all these artists that I love, and never or very rarely get to have in the same space at the same time. What is it about this moment in time with these particular artists and what can happen that is magical right now; knowing that this may not happen again, this is the greatness that could happen.
Pillow Lab
The Pillow Lab residency program supports the development, research, and rehearsal of new dance repertory.