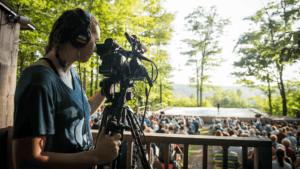 One of our Festival Interns sat down with Nel, Brittany, Amber, and Caroline to learn more about their experiences at Jacob's Pillow as Video Documentation Interns who returned to work at the Pillow.
Meet the Staff
Nel Shelby is the Video Producer at Jacob's Pillow. Shelby was a Video Documentation Intern at the Pillow in 2001 and returned as Video Producer in 2004 with her company, Nel Shelby Productions, the resident video production company at the Pillow.
Brittany Pace was a Video Documentation Intern in 2015 before returning in 2017 as Assistant Video Producer with Nel Shelby Productions at Jacob's Pillow. Festival 2019 is Pace's fourth summer at the Pillow, her third as an Assistant Video Producer.
Amber Schmeising is an Assistant Video Producer with Nel Shelby Productions at Jacob's Pillow. Beginning in 2016 as a Video Apprentice, Amber returned to the Pillow in 2017 as Video Assistant, and has been an Assistant Video Producer since 2018.
Caroline Haidet works for Nel Shelby Productions in New York City and was invited back as a guest videographer for two and a half weeks during Festival 2019. A 2018 Jacob's Pillow Video Documentation Intern, Haidet returned to the Pillow with confidence and an understanding of the workflow and atmosphere.
"I feel like in my internship here at the Pillow, I learned more than I did getting my degree in three years. There's no learning like there is at Jacob's Pillow."

Nel Shelby
Here's what they said
What was your most significant take-away from the Video Documentation Internship?
Brittany: My biggest takeaway from coming here as an intern was simply that there were just people out there like me. I had never been exposed to people that film dance.
Amber: The most significant takeaway besides learning about the archives and what it means to document dance with an archival mindset is learning all of the technical production aspects including audio. I learned how to do live streaming here, which is now a skill I have for the rest of my life.
Caroline: Besides getting a job [with Nel Shelby Productions] and the obvious learning, being able to nourish and grow my skills and document dance. I think the people I met were really valuable and, living in New York, there's a little hub of Pillow family and I keep seeing people, I see Amber and Brittany all the time obviously, but I'll see other people, even people that just stopped by last summer that weren't even at the Pillow all summer. There's this sense of "we're all family." We all went through the same thing. We grew together and learned together, got to see amazing dance. Something about the people I met and then coming back [for Festival 2019] and realizing how close I became with the staff members, we were able to pick up right where we left off.
Did your internship experience help to define what you wanted to do in the future?
Nel: I think it just reaffirmed because I've always had an entrepreneurial spirit. When I was in school I knew I wanted to start a production company. And I think being here affirmed to me that this is what I want to do and what I like to do. And I think that's the beauty of internships is that you don't have that pressure of like being in a job where you're getting a salary or are totally expected to perform. I mean, you're expected to perform as an intern, but still it's a learning educational environment and, and I think that it's a great place to see what's possible for your life. I know what it was like to be an intern and it's great to have that perspective. Especially in my business, I've done everything — I've been a one woman show and then now I've grown a team. And so I think that that's really helpful as a business owner and just as a person to be able to do all aspects of it because I really have that perspective.
Can you talk about your favorite part about being on the video team at Jacob's Pillow?
Brittany: My favorite part about being on the video team at Jacob's Pillow is by far teaching interns because I was a teacher before. I've been an assistant dance teacher since I was eight years old. So teaching came to me before video or even wanting to be a dancer or anything. I think that that's my favorite part, seeing myself in the interns every year and just how eager I was and scared and confused after college, so passing whatever I can onto them is very rewarding.
Amber: One of my favorite parts of being on the video team is the team aspect. It's really fun to work so closely with a group of people and work crazy hours, like having a crazy goal of filming almost everything that happens here. And we do it and we end the summer victoriously. I also love teaching the interns and getting to see how they've progressed and grow and become amazing people. They are amazing people, but then by the end of the summer they're rock stars.
What is your favorite part about leading the video team at Jaocb's Pillow?
Nel: I love collaborating and I love working as a team. I worked for so many years as a solo person running my business and I feel that energy and team mentality, and if I can motivate the team and get the team excited about doing what they're doing. I love doing that. I really do love teaching. Dance is the kind of art form that really needs to be filmed and I don't see how that's going to change or shift. I think the only thing that's happening is cameras are becoming easier to use and, and high quality so that the everyday person can sometimes just like hold up a GoPro and film their show. But I still feel like what we do and what I teach to my interns and my team is very important, and I realize that I want to keep going.
How is working on the video team challenging or rewarding?
Brittany: The most challenging part is probably just how fast paced it is and how hard we work to produce everything. We film every single thing for the most part that happens here and we have to film it, edit it, and then put it in the archives. And if it's for marketing, it's posted on social media and it's rewarding to see the hard work come to a final product at the end and realize how much we do here. It's definitely the most rewarding part. And then just seeing how much everybody's learned.
"I think the best kind of mentors or teachers are the kind of people that are open to continue learning."

Brittany Pace
And I learn from every new person that I meet here, whether it's video or dance or just life in general. Every summer I'm learning something else about life and I think that's pretty incredible.
Caroline: The most rewarding and challenging part I think is that we're always going. Which really pushes me to see how far I can go because we film everything and there's so much going on, which is also so rewarding. We get to see it all, we get to know that we are documenting it for other people to see as well. It's also very challenging because I feel like I'm multitasking so much; we're filming this but then also editing that at the same time. So we'll both film something, we'll go back to the office and continue editing something from the night before or something from the week before. But that has really allowed me to kind of see how far I can go. So now that I'm living in New York and also working for now, and I have a couple of other jobs too, I know that I can balance it all because I had such a crazy, thrilling, rewarding summer last summer that I know how exhausted I can get and that it's okay. And sometimes when you're so exhausted, that's like when the best things happen — when you can be the most inspired.
Do you have any advice for aspiring video producers, whether in the dance field or not, who are just getting into the business?
Nel: My advice to people getting into the field is to continue to practice and say yes to opportunities. I have noticed these days that the younger generation monitors themselves a bit more on what they say yes to. I would love to see a balance between my generation that said "yes" so much that we're exhausted and then the younger generation that is like, "you know what, I am not sure I'm going to take that opportunity." Get your hands in as much as possible.
"Learn as many skills because then eventually you can hone in on what you're good at."

Nel Shelby
Video Internship
Interested in applying to be a Video Documentation Intern at Jacob's Pillow?