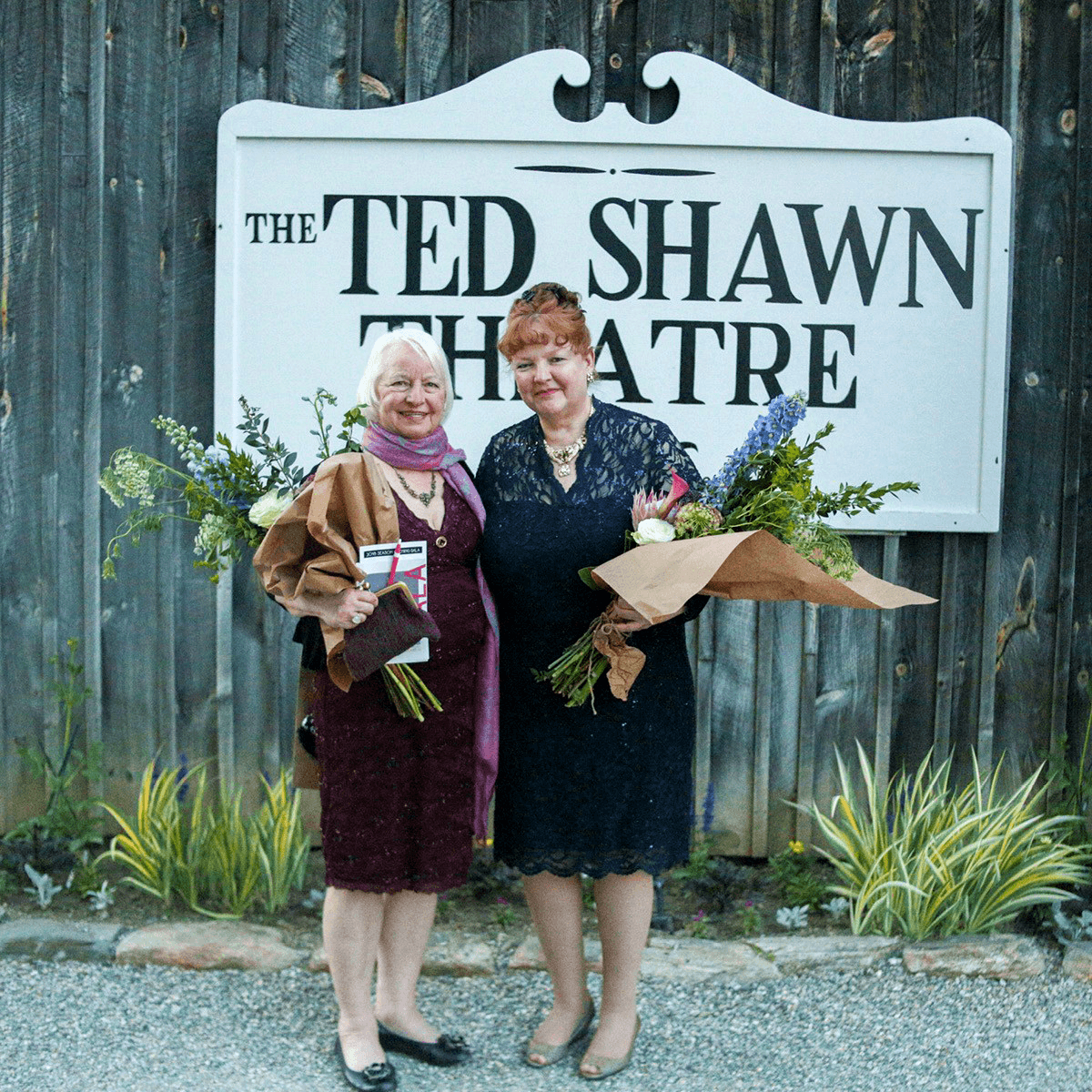 Jacob's Pillow is thankful for the many years that Anna-Marie Holmes and Ramona Pansegrau have dedicated to The School at Jacob's Pillow. Throughout Holmes' 18 years as Program Director and Pansegrau's 15 years as Musical Director, these extraordinary women were committed to building The School's Ballet Program into what it is today. Thanks to Holmes and Pansegrau, leading ballet companies around the world recognize The School as an integral part of their dancers' artistic growth.
Each summer, Ramona Pansegrau arrived to the Pillow prepared with many suitcases full of sheet music and a computer full of scores. Not only was Pansegrau able to play any variation imaginable, but she helped dancers understand the music by telling them stories and sharing her historical knowledge. She came prepared to play any classical variation an Artist Faculty member wished to teach. Her sheet music was often made up of specific piano editions for Anna-Marie Holmes. In The Archives we now have a binder full of sheet music that has special notes about Anna-Marie's staging and choreography.
The duo took The School's Ballet Program to a new level of prestige and accomplishment. Anna-Marie Holmes came to Jacob's Pillow for the first time in 1968 as a guest artist. Holmes became Program Director in 2001 and since 2003, she has invited a prominent choreographer every year to create a new ballet on the dancers for Jacob's Pillow Season Opening Gala, giving them the experience of working with one of the field's most sought-after artists. Pansegrau knew the score, the composer, and the music's history, so she would partner with the Guest Artist creating the work for Gala. She wasted no time searching for the right place in the music during rehearsals because while the choreographer worked she notated where key movements were in the score and to the precise moment in the recording.
After an intense two weeks of technique, repertory, master classes, and more at the Pillow, program alumni would depart the program and accept positions in prestigious companies due to Holmes' training, influence, and career advice and Pansegrau's guidance and support. Recruitment for the Ballet Program is competitive and the student body caliber has risen over the years. These wonderful influences only scratch the surface of the impact Holmes and Pansegrau had on The School at Jacob's Pillow's Ballet Program.
---
About Anna-Marie Holmes
Holmes trained at the British Columbia School of Dancing with Lydia Korpova and Heino Heiden; in London, England, with Audrey de Vos and Errol Addison; and received her grade 10 Certificate from the Royal Conservatory of Music in piano.
Holmes also trained in Leningrad, Russia, with Natalia Dudinskaya and Alexander Pushkin of the legendary Kirov Ballet. She was the first North American invited to perform with the Kirov Ballet in Russia. In New York, she studied with Felia Doubrovska.  Throughout her career, she danced with the London Festival Ballet, Royal Scottish Ballet, Berlin Staats Oper, Het Nationale Ballet of Holland, Les Grands Ballets Canadiens, Royal Winnipeg Ballet, and more. She had works created for her by famous choreographers such as Brian MacDonald, Agnes de Mille, Ruth Page, and Peter Darrell.
Holmes is an internationally acclaimed dance luminary. She has taught ballet around the world in over 30 countries on five continents. Holmes is a recipient of the prestigious Dance Magazine Award and an Emmy Award for her staging of Le Corsaire on American Ballet Theatre's PBS Great Performances.
Holmes is known for her interpretations of Russian classics. She has staged ballet classics: Le Corsaire, Swan Lake, Don Quixote, The Nutcracker, and Cinderella for lead ballet companies worldwide such as American Ballet Theatre, English National Ballet, The Hungarian National Ballet, Pittsburgh Ballet, The Hong Kong Ballet, Tulsa Ballet, and the Norwegian National Ballet.
---
About Ramona Pansegrau
Pansegrau has performed as a piano soloist and her arrangements of ballets are in the repertory of companies worldwide. She became Music Director of Kansas City Ballet in 2006 after 10 years as a principal pianist/solo pianist at the Boston Ballet Company, 15 years as a tenured keyboard for the Boston Ballet Orchestra, and nine years as Music Director of Tulsa Ballet Company and Conductor of the Tulsa Sympathy Orchestra. She conducted over 60 performances a year with the Kansas City Symphony. Her performances have been hailed as "giving life to the music and energizing the dancers."
Ramona has been involved in the International Ballet Competition as a pianist, music director, and recently conductor. The elite competition has been known as the "olympics of ballet" and occurs every four years. Pansegrau was on the faculty at Aspen/Snowmass Dance Festival for 11 years. She is also a guest conductor for Orlando Ballet and taught at the Boston Conservatory.
Her arrangements for ballets are now in the repertory of the Western Australia Ballet, Louisville Ballet, The Washington Ballet, Ballet West, the San Carlo Opera House in Italy, Charleston Ballet Theatre, Tulsa Ballet, and NBA Ballet.
Ballet Program of The School 
Dancers are prepared for the artistic range and technical rigor required to gain work with leading classical ballet companies.
Ballet Program
Dancers are prepared for the artistic range and technical rigor required to gain work with leading classical ballet companies.