Each year, dancers from across the United States and abroad apply to study at The School at Jacob's Pillow. Only one will earn the Lorna Strassler Award for Student Excellence.
Founded in 2004 by former Jacob's Pillow Trustee, Lorna Strassler and her husband, this prize provides a full scholarship and a $2,500 cash prize. Lorna Strassler Award recipients are selected based on performance skill excellence, a demonstrated unwavering dedication to the arts, and vision of their role in dance.
Recipients to date
2020

Cali Hollister

(Contemporary) The Juilliard School

2019

Adriana Ogle

(Tap) Freelance Dancer 

2018

Ariel Triunfo

(Musical Theatre Dance)  Freelance Theatre Artist, Model

2017

Madison Embrey

(Musical Theatre Dance) Mortal Kombat Motion Capture Video Artist, Freelance Performer

2016

Eoin Robinson

(Ballet & Contemporary) Staatsballett Berlin Company Member

2015

Therese Davis

(Ballet) Pursuing a career in Medicine & Biology that integrates dance in treatment

2014

Amber Barbee Pickens

(Contemporary) Actress, Choreographer, and Host of

Kickback & Chat with Amber Pickens

talk show, Art Belongs to the People Founder

2013

Samantha Barriento

(Contemporary) Norwegian Cruise Line, Freelance Performer

2012

Theresa J. Murray

(Jazz/Musical Theatre) Actor's Equity Association Member, American Guild of Variety Artists Member, Disneyland Resort Performer

2011

Craig Black

(Contemporary) Hubbard Street Dance Chicago, Cardi B BET Awards Performer

2010

Calvin Royal III

(Ballet) American Ballet Theatre Principal Dancer

2009

I-Fen Lin (Contemporary) Faculty:

Taipei National University of the Arts Faculty and National Performing Arts

Center/National Theatre & Concert Hall 

2008

Lindsey Jolyn Jackson (Contemporary & Jazz)

The Lion King

and Podcast Host 

2007

Christi Shannon Kline (Jazz/Musical Theatre) Author, Poet

2006

Min Li (Contemporary) Dance Teacher, Costume Designer 

2005

Avichai Scher (Ballet) Ford Foundation Writer, Freelance journalist:

Dance Magazine

,

The New York Times

,

HuffPost

, and

NBC News

2004

Winston Dynamite Brown (Contemporary) Camille A. Brown & Dancers Company Member and Faculty: Alvin Ailey Dance Foundation, Joffrey Ballet School Faculty, and Kansas City Ballet School Faculty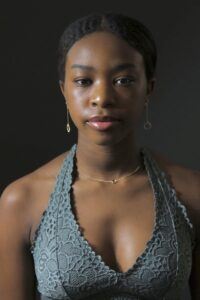 The School at Jacob's Pillow is excited to welcome the 2020 Lorna Strassler Award Winner Cali Hollister into this esteemed cohort of alumni. Cali Hollister is a native of Springfield, Virginia and began dancing at the age of two. She graduated from Thomas A. Edison High School in 2018 and will be entering her third year at The Juilliard School in the fall. She has performed the works of Jamar Roberts, Marcus Jarrell Willis, Paul Taylor, Michelle Dorrance, and Carmen Rosezstraten. Well versed in both modern and contemporary dance, she has had the opportunity to train with Ohad Naharin, Terese Capucilli, Risa Steinberg, Bobbi Jene Smith, and Alicia Graf Mack. She has been accepted to summer programs including Joffrey Ballet, Hubbard Street Dance, Alonzo King LINES, Arts Umbrella and Orsolina 28. Hollister has learned the repertoire of Tricia Brown, Crystal Pite, Nacho Duato, Robyn Mineko Williams, Florian Lochner, Sharon Eyal, and Ohad Naharin. She participated in the Jacob's Pillow Contemporary Program online this summer, where she was chosen as The Lorna Strassler Award recipient for Student Excellence at Jacob's Pillow.
Back To
---
SPONSOR A DANCER
Make a gift to sponsor a dancer of The School at Jacob's Pillow to witness and learn about their inspiring experience first-hand.