The 2021 Contemporary Program was led by Milton Myers: renowned mentor, choreographer, Horton technique teacher, and artistic voice for The School for 35 years. Joined by internationally acclaimed American choreographer Helen Pickett, Mr. Myers engaged an onsite Performance Ensemble and a Virtual Program of 31 dancers in the skills and creativity required to be integral collaborators with choreographers today.  
"As always, it's wonderful to be involved with the Pillow. 35 years seems like only a week ago. It's always challenging, it's always different," Myers said in anticipation of the program. "I'm excited to see how dance has changed, how it's changing, how the dancers have been affected by what we've gone through in the year, what they're looking forward to, what they're looking to change, how they look at themselves differently. I know I'm different."
Pickett reiterated that excitement. "I love my history with Pillow—it's always inspiring," she said. "The word resilience came up, and it's kind of in the bones. It's woven into the fabric of the Pillow, and that is the tenacity and the resilience of dancers, as we have seen this entire period of time. It is like returning to a family."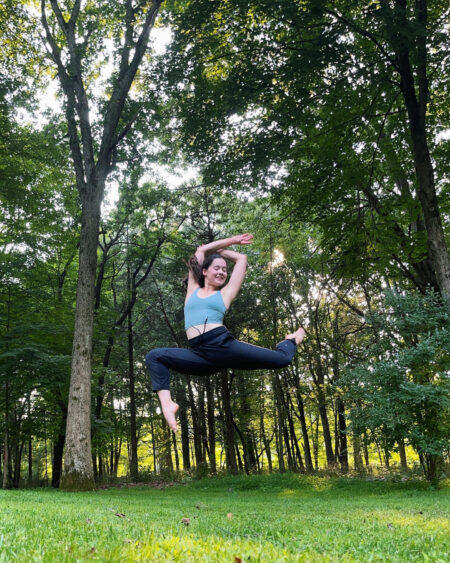 The virtual dancers echo Pickett's sentiment. Though separated by distance, they came together to form their own community through Zoom. Virtual dancer Leah Suskind remarks, "The most surprising part of the program was seeing how connected all of the students in the virtual program became. It felt that we were all together, even though we were all in different places."
The studio day for both the virtual and onsite dancers featured ballet and Horton-based technique classes led on alternate days by Sarah Hillmer and Milton Myers, as well as Master Classes led by company artistic directors Gustavo Ramírez Sansano from Spain and Alexandra Damiani from Canada. Artist Faculty provided in-depth coaching and mentoring to strengthen dancers' artistic voices and help them develop as distinguished performer-collaborators in the field. Virtual dancers had the privilege of working with Artist Faculty/Guest Choreographer André M. Zachery, the Artistic Director of Renegade Performance Group, who guided dancers in filming assignments of themselves improvising from a choreographic phrase he taught them. The creative development process for Zachery and dancers will culminate in a dance film, edited by Zachery following the program. Catch a glimpse of Milton Myers' Horton-based technique class here.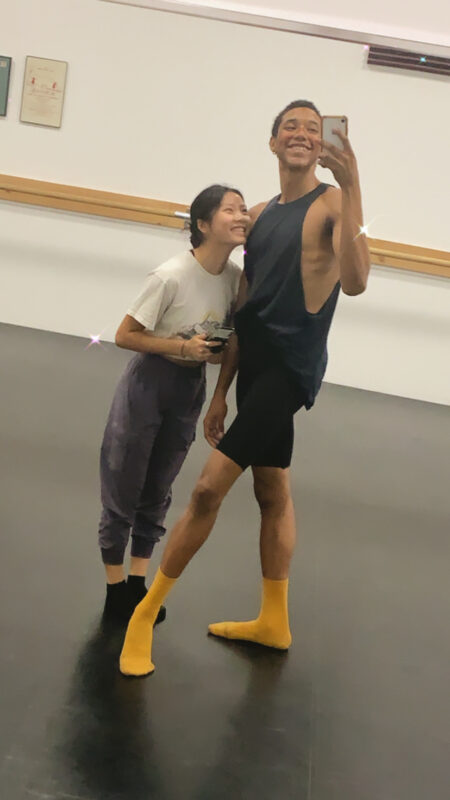 Virtual dancer Christian Gonzalez notes, "The highlight of my time with the Pillow has to be Milton Myers' and Sarah Hillmer's classes. They opened my mind to how expansive, freeing, and artistic Horton and Ballet can really be." Gonzalez also had the opportunity to meet fellow virtual dancer Stella Jacobs and share studio space with her throughout the two weeks as both were in Boston for the summer.
A weekly performance opportunity on Zoom enabled dancers of each program to see work accomplished by one another and to strengthen the artistry needed to meaningfully share choreographic intent. The first program week concluded with onsite and online dancers teaming up to present an informal work-in-progress showing for School Sponsors.
"There have been so many beautiful moments that happened these past two weeks. However, I would have to say my favorite moment was the sharing on the Friday of the first week, which was just sort of an in-process showing," said Ryan Jaffe. "It was nice to show the onsite dancers what we have been working on virtually and see what the onsite dancers worked on with Miss Pickett."
Ryan Jaffe, Southern Methodist University, in the process of learning Zachery's choreographic phrase
The celebration of Myers' incredible commitment to The School at Jacob's Pillow also had an impact on dancers. Jaffe noted, "Another thing that was so special about it is that we could celebrate very intimately Mr. Myers' 35 years at the Pillow. Joan Myers Brown, Artistic Director of PHILADANCO!, where Mr. Myers has worked and taught for so many years, and all the school sponsors and faculty members were there. That moment just felt so special to me because I shared that moment with Mr. Myers—to be a part of this and then make those connections with these people to dance together. It just felt so special. I will probably remember that moment for the rest of my career."
Blu Furutate felt the power of experiencing mentorship from Myers. "Although virtual, I truly felt connected to the entire Pillow community, faculty and peers. Something that Mr. Myers said quite often resonated with me, and that is that 'Everything is a first. Everything is a new and learning experience. A dancer is never still.' This fueled me to keep reinventing myself at home, as well as cracking me open to really absorb every little detail throughout the program."
The second program week concluded with online and onsite dancers presenting the process leading to completed works to the School Sponsors and invited guests from the international dance field. The onsite Performance Ensemble culminated their two-week program on the iconic outdoor stage before a live, and live-streamed, Pillow audience. 
Furutate first heard about The School at Jacob's Pillow through her mentor, Nigel Campbell, himself a Pillow alum. While in the virtual program, she led an Instagram Live conversation with onsite dancer Aliyah Clay, and Nigel Campbell joined as a special guest. Watch the conversation here. 
The dancers are eager to take these lessons with them to the future. When asked what advice he'd give to future dancers, Gonzalez remarked, "I'd say come in hungry. Without expectations or motives, simply absorb as much as you can. Don't be afraid to speak up and connect with the artists around you, because you'll realize soon that they will be with you for your entire career! Be blessed you're here and understand you deserve to be here. You are worthy and special and you have something to say."
We shared a tribute to Milton Myers on our Instagram that garnered alumni love from around the world. Read the comments here, by clicking on the Comments below the photo.
Keep up with The School at Jacob's Pillow by liking their Facebook page and stay tuned on Instagram for more opportunities to hear from dancers and alumni!
Written by Gillian Ebersole. Published July 2021.