Streaming Now
Each week, we release a new full-length film of a Leir Stage production, captured on site two weeks earlier. And that's not all—this summer we are streaming PillowTalks, immersive VR experiences, conversations with artists, and more!
Start Watching:
Online Event:
Ballet Coast to Coast
Watch through September 23
Leading artists from Boston Ballet, Houston Ballet, and Pacific Northwest Ballet come together in a Pillow-exclusive program that highlights the stunning range of ballet in the United States today. The program features performances from dancers of each company and culminates with them performing together for the first time in Second to Last, a work by Pacific Northwest Ballet's resident choreographer Alejandro Cerrudo.
Learn More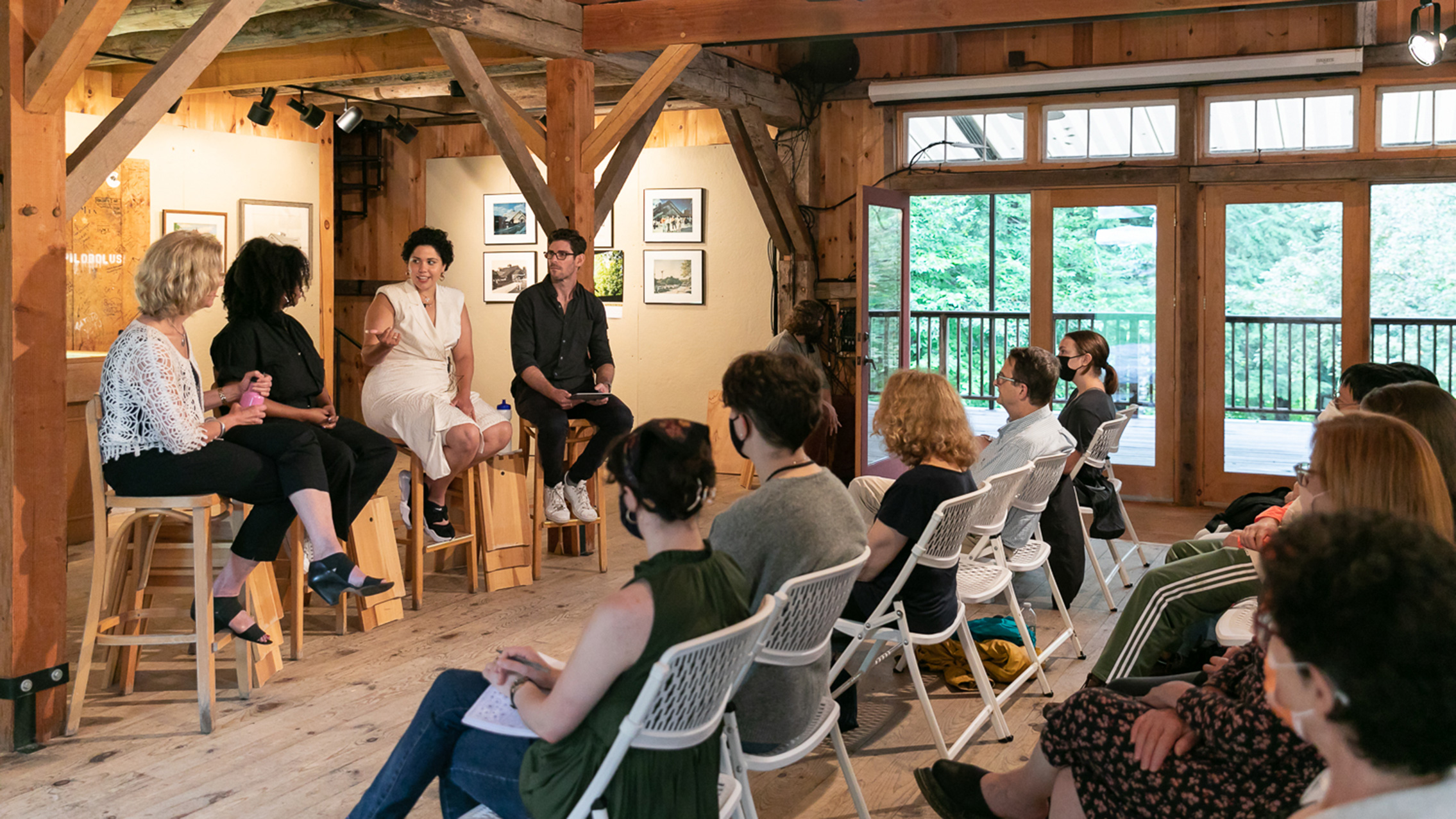 Online PillowTalks
PillowTalks are a curated series of entertaining and informative discussions with choreographers, writers, filmmakers, and cultural experts. Moderated by Pillow Scholars, PillowTalks provide an opportunity to gain behind-the-scenes insight into the field of dance.
Hour-long PillowTalks take place on-site Sundays at 3:30pm at Blake's Barn (next to the Box Office), and are free and open to the public with advance registration. Recordings of these PillowTalks premiere Fridays at 4pm throughout the summer, and remain on YouTube indefinitely.
Post-Show Talks
2021 Post-Show Talks are held at Jacob's Pillow on opening nights at the Henry J. Leir Stage to offer an opportunity for audiences to gain more insight into performances directly from the artists themselves.
At the beginning of each week, catch the newest Post-Show Talk recording, and hear directly from incredible artists and companies like Dorrance Dance, CONTRA-TIEMPO, Ballet Hispánico, Brian Brooks / Moving Company, Archie Burnett, Dallas Black Dance Theatre, LaTasha Barnes, STREB, Boston Ballet, Houston Ballet, and Pacific Northwest Ballet!
Check out our Festival 2021 streaming events, and RSVP for free! Explore all of this summer's full-length performance films, talks, and livestreams, and watch from the comfort of your home.
Watch: Summer 2021 Online
Explore our year-round digital programs, including commissions, recent short films of residency artists in rehearsal, archival clips, essays, and games on Dance Interactive, and more.
Watch: Year-Round Programs
Follow the Jacob's Pillow YouTube channel for access to behind-the-scenes videos and exclusive interviews. Browse playlists by genre, year, artist, and more to find deep cuts and hidden gems!
Watch: The Pillow on YouTube