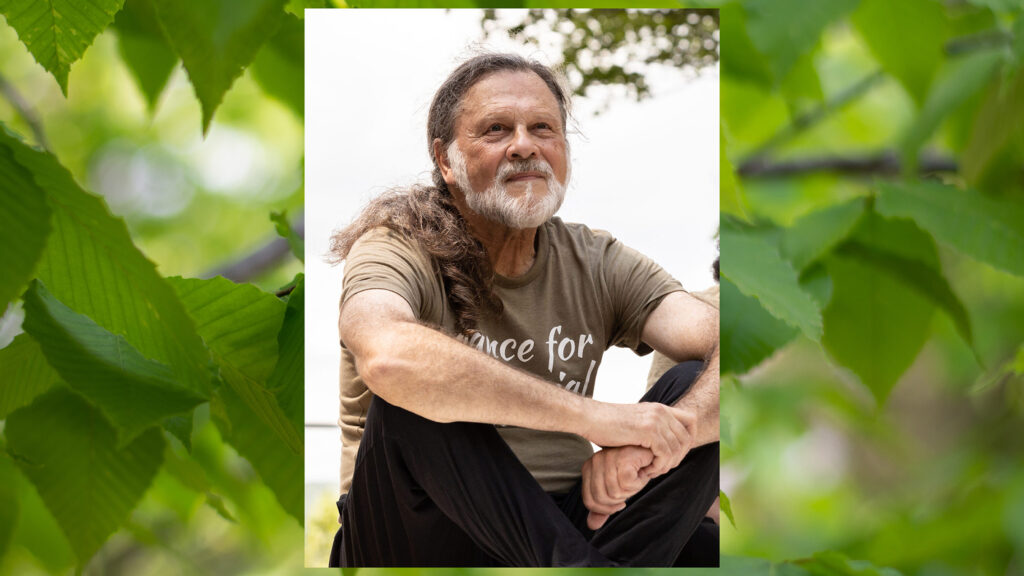 Walking down the Main Path, Paul Lewis and I find a quiet table on the Great Lawn, amidst the hustle and bustle of the early evening at Jacob's Pillow. He had just handed me a carefully crafted handwritten letter reflecting on being a participant in the Ronald K. Brown Community Workshop in Pittsfield. This summer, Paul participated in the Dance for Social Justice Community Residency. I worked with him throughout the residency, danced with him at multiple community workshops, and connected after seeing shows at Jacob's Pillow. This interview has been edited and condensed for clarity.
Tell me a little bit about yourself.
P: I live in Pittsfield, and I've been there for about five or six years now. I came to Pittsfield because I bought a building that I wanted to rehab, and it has become the bucket that holds all my dreams and lists now. I previously lived in Holyoke, MA and prior to that was married and raised two children in Longmeadow, MA. I am also a visual artist, and a culture vulture. I do photography, I do printmaking, making paper. In fact, one of the goals for my building is to make a paper making studio there.
How did you first hear about Jacob's Pillow?
P: I have always been interested to some degree in dance. Then I got the email for Dance for Social Justice and I said to myself, I'm kind of in a funk. I've got to break out of it and meet some new people. I really wanted to dance and to move. I kind of figured what the heck, let's do this. And when you came over to me after the first session and said it was so good to see me out there moving, that made me really feel good, and gave me motivation and confidence to continue. The outreach people were all like that: supportive and helpful and encouraging. And it's so fun to talk about dance, you know?
What was your favorite part of the Dance for Social Justice Community Residency? 
P: Well, it had a social justice and a dance component. I think I came into it more from the dance perspective, but also with a background in social justice from my former employment, with a CETA job training program. I just think about how the whole thing was put together. Mar [Parrilla, Dance for Social Justice founder and facilitator] was just so cool about things. She just led us through it, and that was terrific. I really like how dance is constructed, its components, and understanding how it relates to choreography. Seeing moves that I had done or thought of on stage in performances by major dance groups, it brings it full circle. When I saw Ronald K. Brown, I was seeing the movements that we did in the workshop. Then I realized how athletic his movements are: wide ranging and encapsulating different types of bodies. One of the things I picked up out of that workshop was how to use counterbalance to generate torque in your movement.
It's been a couple of days since we've last met with Dance for Social Justice. What are you carrying with you from this time? 
P: Well, one is the question, am I going to keep doing this? Doing more movement to grow from this and keep relationships with people that were in the group – and maybe do it again next year.  Just the thrill of being here—it's indescribable.
Do you remember the first time you visited Jacob's Pillow?
P: Most of the time I went to the [Doris Duke Theatre]. The whole atmosphere struck me. I know I want to explore the Archives a little bit. Crystal Pite and Kidd Pivot was one of the initial groups that I really became interested in. She did this dance called Dark Matter which included a life-sized puppet in it… One of the first [Pillow performances] that impressed me was Jessica Lang Dance performing The Wanderer in 2015. It was an opera with a vocalist, musicians, and dancers all in interplay on the stage. It was awesome, stayed with me for days. The last group that I saw before this year and pre-pandemic was Urban Bush Women. I try to pick out things that I would be interested in, which is more of an athletic type of dance as opposed to what's somewhat lyrical, or, you know, traditional dance. When I see dance, sometimes I'll see a movement and I shudder when I see the movement. And I just want to explore what that shudder is. 
"When I see dance, sometimes I'll see a movement and I shudder when I see the movement. I just want to explore what that shudder is."
Is there anything else that you would like to share about your experience?
P: You're all welcoming and encompassing. I just can't say enough about it. Thank you. I didn't know that dancing here was going to be on my bucket list. I feel thrilled that I was able to join the many other performers that have signed the walls and rafters of the changing rooms of the Leir Stage. That way I can tell my kids: If you ever get down there, you will see that your pops danced on this stage in 2022.
Written by CJ Donohoe. Edited by Hunter Styles. Published August 2022.