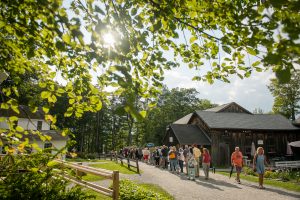 A self guided tour of the historic grounds of Jacob's Pillow
A NATIONAL LANDMARK
In 1931, legendary dancer/choreographer Ted Shawn purchased the Carter family farm as a retreat for himself and his dancers and so began the story of Jacob's Pillow Dance Festival. In 2003, Jacob's Pillow was designated a National Historic Landmark by the United States government, the first and only dance site to receive this honor. On this tour you will learn about the Pillow's past and present, and its role in the cultural history of America. 
It is with gratitude and humility that Jacob's Pillow acknowledges that it rests on the ancestral homelands of the Muh-he-con-ne-ok or Mohican people, who are the Indigenous peoples of this land. Despite tremendous hardship in being forced from here, today, their community resides in Wisconsin and is known as the Stockbridge-Munsee Community.  We pay honor and respect to their ancestors past and present as we commit to building a more inclusive and equitable space for all.  In addition, we honor the Agawam, Nipmuc and Pocumtuc who also made their homes in what is now known as Western Massachusetts and recognize their continued existence and contributions to our region.
THE PILLOW ROCK 
In Genesis 28, Jacob lays down his head on a stone and dreams of angels ascending a ladder into heaven. Biblically-minded 18th century settlers riding up the switchback stagecoach road-now Route 20-dubbed the trail Jacob's Ladder. When the Carter family settled this property in the 1790s, finding this pillow-shaped boulder, they extended the allusion by naming their homestead Jacob's Pillow. In 1972, Ted Shawn's ashes were placed here, and in 2001, a memorial to soloist Barton Mumaw was added. It is a tradition for visiting artists to have their photos taken atop the Pillow Rock.
HUNTER HOUSE 
Long before Jacob's Pillow became a renowned international dance center, the Carter family built this white farmhouse in 1790. In 1931, Ted Shawn bought the property to establish a retreat and, beginning in 1933, a home for his company of Men Dancers. Shawn is considered one of the great pioneers of dance and his revolutionary all-male dance company broke cultural boundaries. This building once served as a residence for Ted Shawn and his staff, and now houses offices year-round.
STONE DINING ROOM 
The Men Dancers built this rustic structure in 1937 as a surprise gift for Ted Shawn while he was on an out-of-town teaching trip. When his returning car reached the top of the drive, generator-rigged flood lights illuminated the finished building. This is now a private area where artists, dancers, interns, and staff dine together.
HARRIET FREED TEA GARDEN 
The first Pillow performances were known as "Tea Lectures" because the Men Dancers served tea on this deck to Pillow audiences before performances, accompanied by commentary from Ted Shawn. In the 1940s, fitness expert Joseph Pilates taught his signature technique here. Today visitors enjoy the beautiful gardens, designed by Berkshire-based horticulturist Valerie Locher.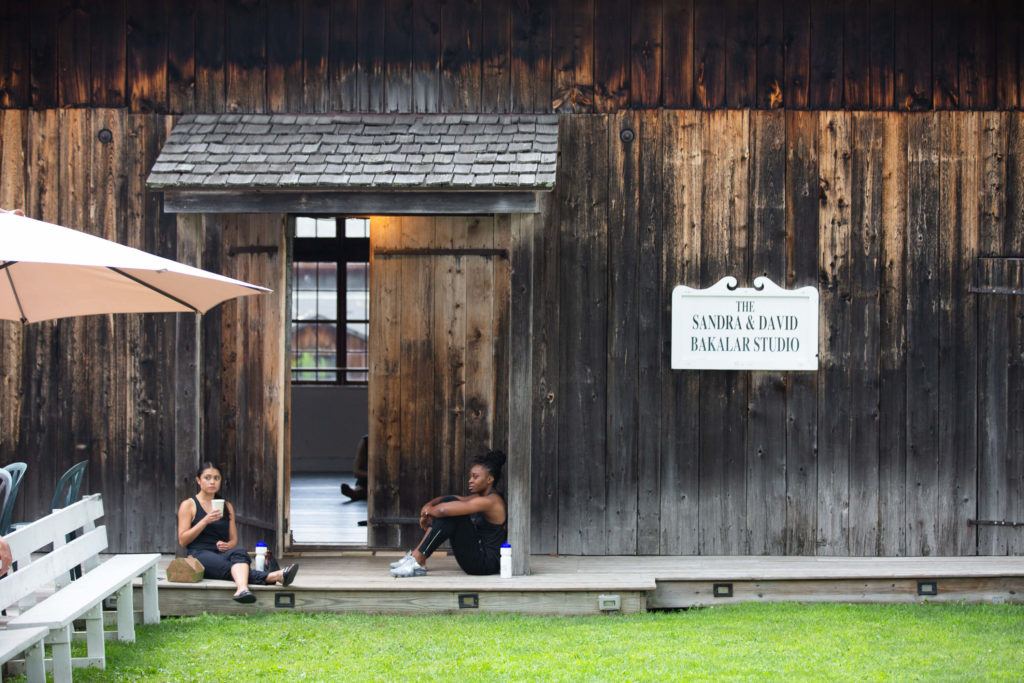 BAKALAR STUDIO 
One of Ted Shawn's first tasks in 1931 was to convert this 1790 barn structure into a dance studio. All Pillow performances were held here for the first nine Festivals. If the studio is not in use, take a look at the historic photos and programs lining the walls, commemorating dance pioneers who performed here. If dancers are rehearsing with the doors open, you are welcome to observe from the garden or deck.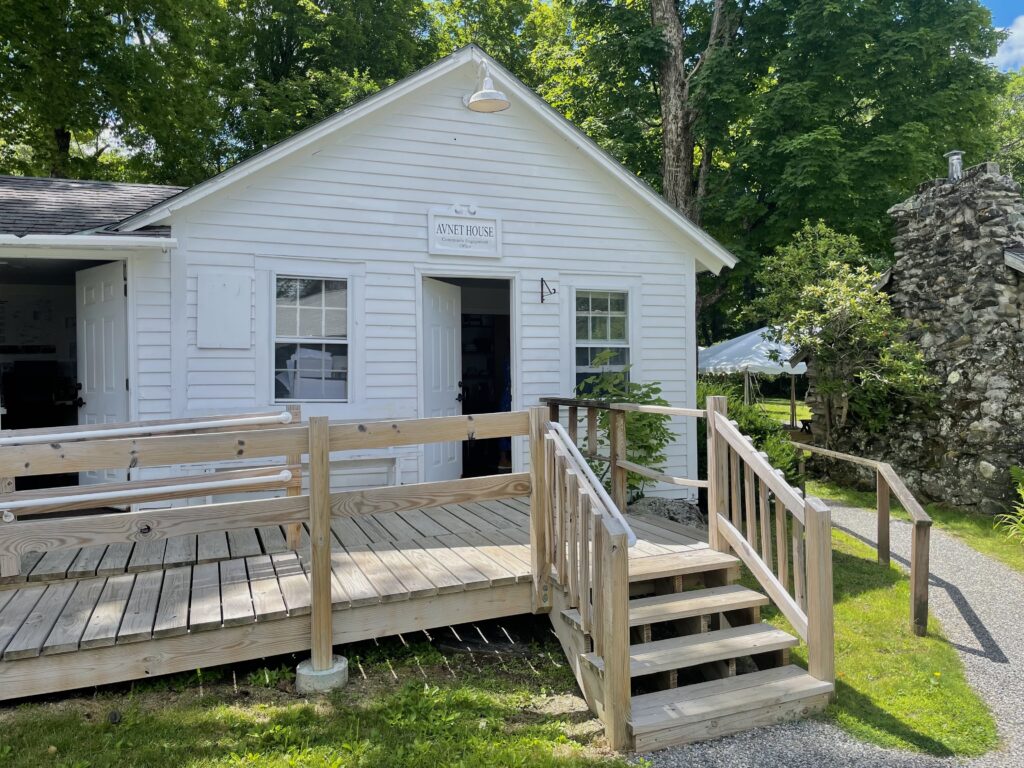 AVNET HOUSE 
The portion of this building nearest the Stone Dining Room was one of the individual cabins built by the Men Dancers as their living quarters in the 1930s. This was an unusual twin cabin, designed and built by twin brothers Frank and John Delmar. The front and back sections of the building were originally mirror images of each other. Avnet House has since been restructured into administrative offices.
THE GREAT LAWN
 Until 1986, this was not a lawn at all-it was the parking lot. When 50 additional acres were purchased, this area was adapted for dining, picnicking, and outdoor recreation. Special events are held here throughout the Festival.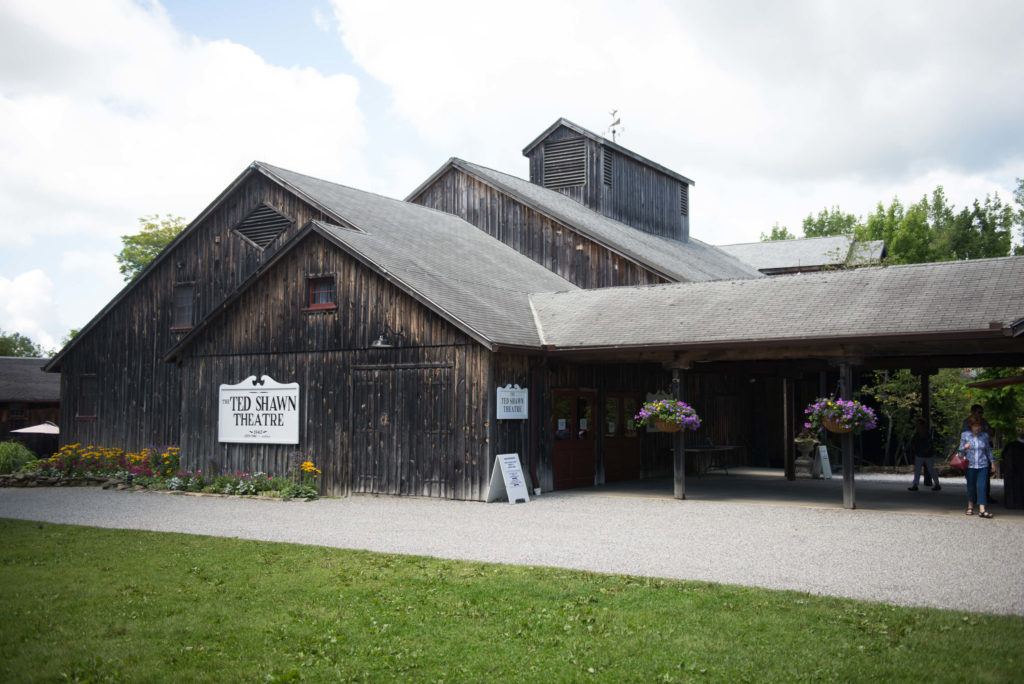 TED SHAWN THEATRE 
Built in 1942, this 620-seat theatre was the first in North America constructed specifically for dance. Designed by Joseph Franz (who also planned Tanglewood's Koussevitzky Music Shed), it was constructed of hand-hewn native pine to comply with wartime restrictions as well as for its aesthetic beauty. The weathervane atop the roof depicts Barton Mumaw, Ted Shawn's lead dancer. We broke ground on a $9 million renovation in January 2021 to bring this beloved space into the 21st century, all while maintaining its treasured look and feel. The future of this timbered haven for dance is deeply tied to the future of the Pillow and our field.
THE WARREN DAVIS WELCOME CENTER 
The Welcome Center invites you to learn more about the breadth of Jacob's Pillow including our history, current activities and performances, and the community programs on-site and throughout Berkshire County that provide myriad opportunities for people of all ages to experience dance.
BLAKE'S BARN, THE NORTON OWEN READING ROOM, SOMMERSPACE & BOX OFFICE
This 18th century barn, moved here in 1992 from Stockbridge was a gift from famed dancer Marge Champion in memory of her son, Blake. It houses art and photography exhibits and the Pillow's extensive Archives. Sommerspace, the deck behind Blake's Barn, was built in 2000 for PillowTalks and Pre-Show Talks for the Ted Shawn Theatre. Celebrities including Jules Feiffer, Peter Yarrow, Twyla Tharp, Bill T. Jones, and Misty Copeland have participated in programs here.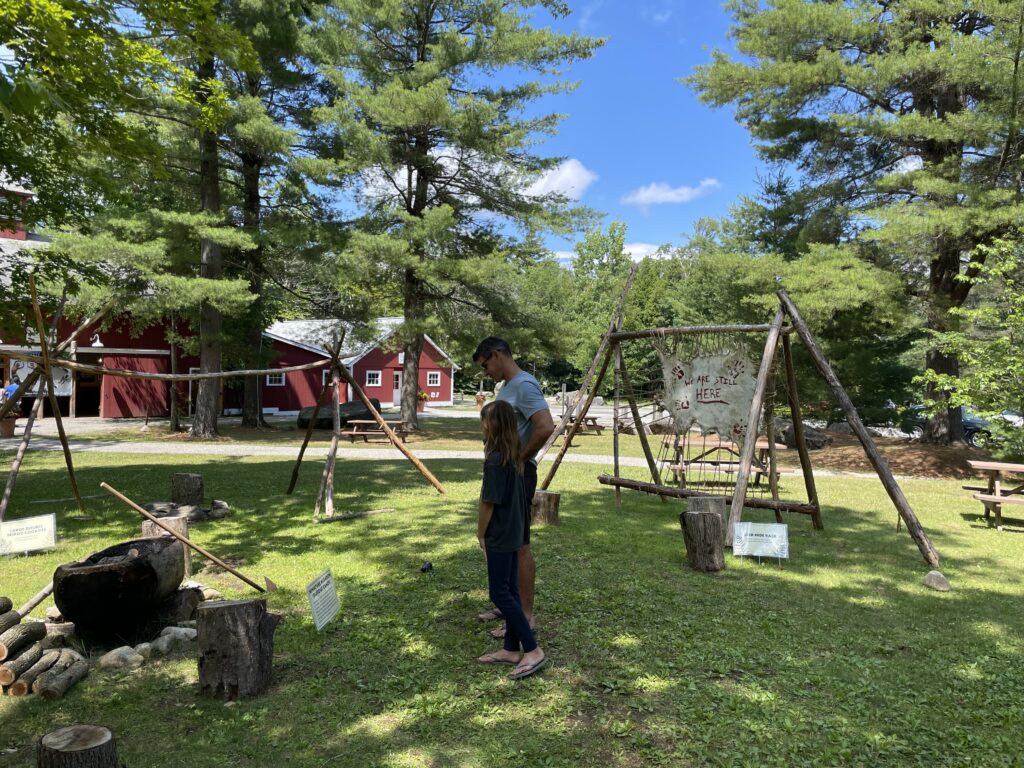 EASTERN WOODLANDS HOMESITE
Built by Nipmuc citizens Andre Strongbearheart Gaines Jr. and Nazario TallHairRedDeer Garate, this homesite brings Eastern Woodlands peoples and the public together to highlight urgent issues of access, health, and the sustainability of cedar swamps in the Eastern Woodlands.
Andre Strongbearheart Gaines Jr. is a traditional artist, cultural steward, and Creative Director of NO LOOSE BRAIDS. He is currently an artist in residence at Ohketeau Cultural Center in Ashfield, MA.
The structures are crafted from cedar trees harvested from Douglas State Forest and are centered around the hearth, where Gaines led the burning of a miniature mishoon (an example of a dugout canoe) over three days in May 2022. The homesite includes a traditional fishnet station, a tripod and fish cookstation, fleshing and stretching poles used to process deer skin into hides, a deer hide rack, a large double tripod cooksite, and a miniature mishoon. More information in the Welcome Center. View the 5 min documentary of Andre speaking about these issues and process on the Jacob's Pillow website.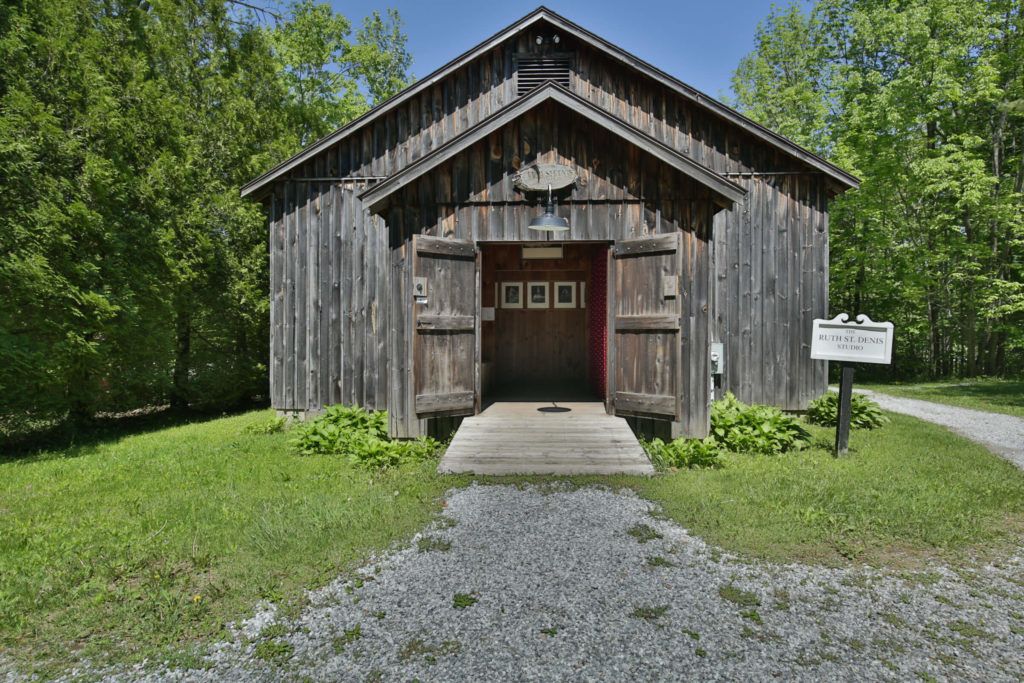 RUTH ST. DENIS STUDIO
In 1962, Ted Shawn dedicated this dance studio to his wife Ruth St. Denis, one of America's first famous dancers and the co-founder of their modern dance company Denishawn, which operated from 1915-31. Morning community dance classes and rehearsals for The School at Jacob's Pillow are held here. Step in the studio entrance to view photographs of "Miss Ruth" in memorable roles.
PERLES FAMILY STUDIO
Dedicated in 2017, this building is used year-round for Pillow Lab residencies and dance parties. In the summer, it is home to The School at Jacob's Pillow, a prestigious professional advancement center. Here, esteemed choreographers, directors, and artists work with dancers from around the world.
BEN & ESTELLE SOMMERS STUDIO
This studio was moved to this site in 1955, later expanded, and named for the dancewear manufacturer known as "Mr. Capezio" and his wife. For many years it was the main studio for The School at Jacob's Pillow, and it still hosts classes, rehearsals, and occasional performances.
THE PILLOW STORE
This structure was one of the property's original 18th century barns. Before the Civil War, it served as an Underground Railroad station for those escaping to freedom in Canada. Take a moment to browse the Pillow memorabilia and unique gifts on sale. Purchases support the programs of the Festival and The School.
HENRY J. LEIR STAGE/THE MARCIA & SEYMOUR SIMON PERFORMANCE SPACE
Originally constructed in 1981 to provide an additional rehearsal area for The School, this outdoor performance space has hosted the beloved Inside/Out Performance Series and showings by The School at Jacob's Pillow for over 30 years. A treasured Pillow location set against a backdrop of the Berkshire hills, the space was reconfigured in 2021 to expand capacity and safely present outdoor performances.