A Reimagined
Doris Duke Theatre
Jacob's Pillow's new theater will look to the future with advanced technological capabilities, flexible performance spaces, and a sustainable, accessible design.
Jacob's Pillow is excited to announce building plans for the reimagined Doris Duke Theatre, a flexible venue on the site of the original Doris Duke Theatre, which was lost to a fire of undetermined cause in November 2020. In replacing what was lost while looking to the future, Jacob's Pillow seeks to create a future-forward dance theater as it looks ahead to its second century.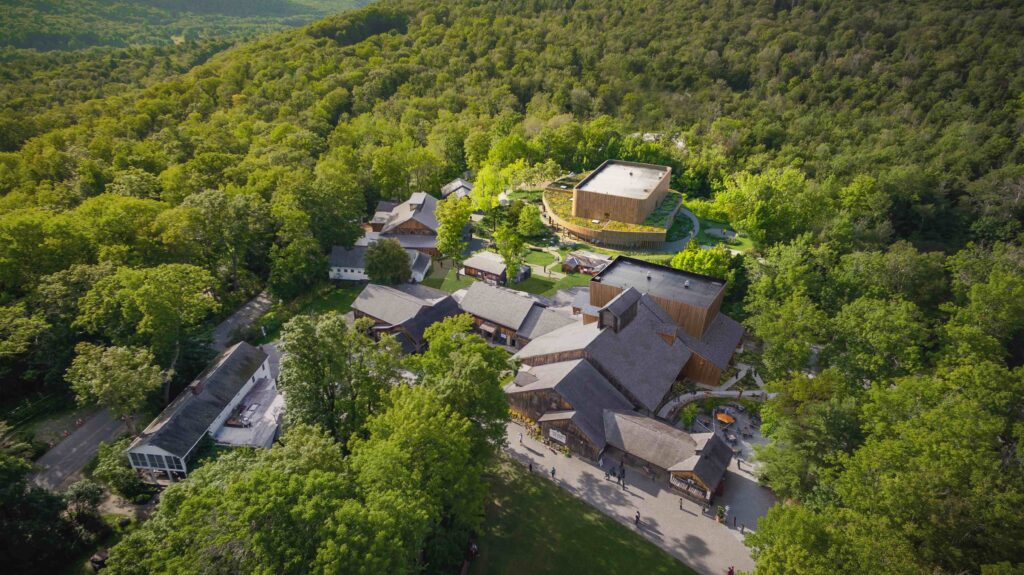 The design embraces the Pillow's diverse history to create an accessible and inclusive space for dance, dialogue, collaboration, and education. The new building will maintain the intimacy of the original studio theater, while incorporating a digital backbone. The ability for the facility to adapt to different programmatic needs as well as future technical upgrades will be key to the theater's purpose as a makerspace and digital lab, and will ensure long-term resiliency and growth.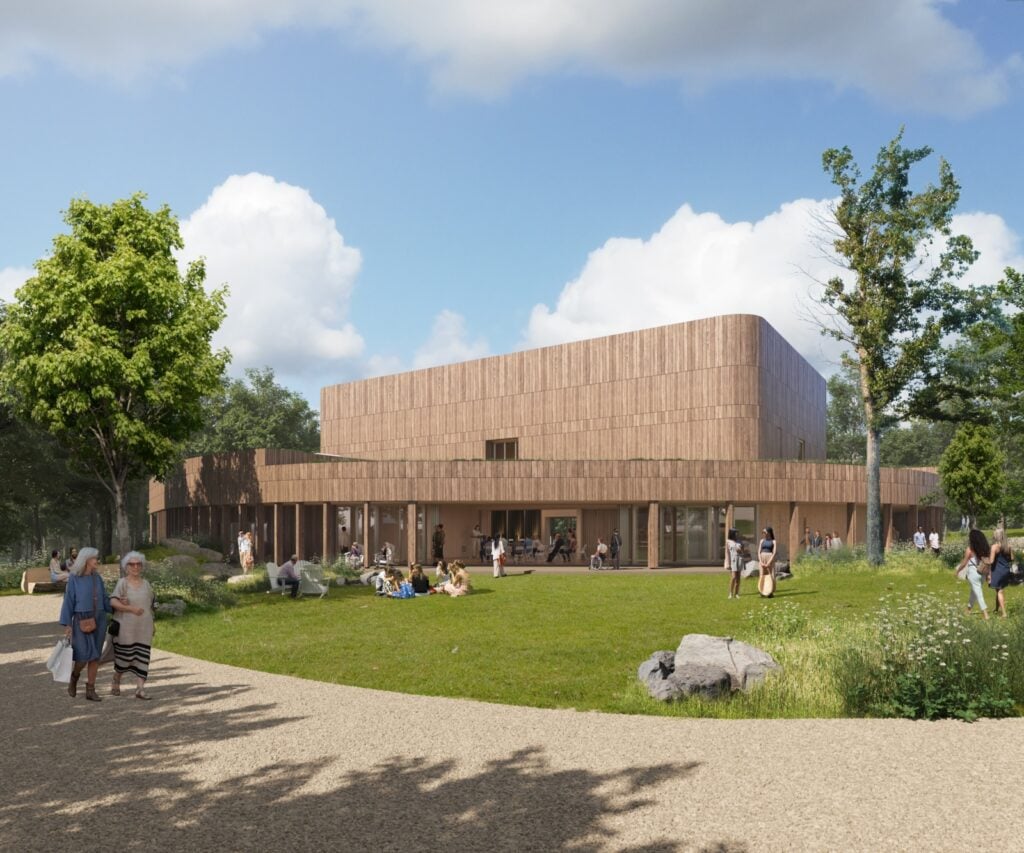 Provided that fundraising targets are met, the new theater is anticipated to be completed in 2025. A national coalition of donors and funders have made early commitments to the future of Jacob's Pillow in the new campaign.
In addition to the landmark naming gift of $10 million from The Doris Duke Foundation in November, Jacob's Pillow has received leadership support from the Knight Foundation to support digital implementation, as well as generous commitments from Barbara and Amos Hostetter, the Barr Foundation, Sarah Arison and the Arison Arts Foundation, and the Massachusetts Cultural Facilities Fund which supported the pre-schematic design phase of the project.
For press inquiries and further information, contact Elise Linscott, Public Relations & Communications Coordinator: elinscott@jacobspillow.org. To read the full May 4 press release, click here.
The Pillow seeks to honor the building's context on the ancestral lands of the Muh-he-con-ne-ok, or Mohican peoples, who are now known as the Stockbridge-Munsee Community and reside in Wisconsin. Additionally, the Pillow honors the Agawam, Nipmuc, and Pocumtuc who also made their homes in what is now known as Western Massachusetts.
---
Jacob's Pillow is embarking on a campaign to create a future-leaning theater and makerspace with optimal conditions for dance creation and presentation, expanded access, and the incubation of new work at the intersection of dance and technology. To learn more about the campaign and how your support can make a difference, please contact, Lila Kanner, Chief Philanthropy Officer, lkanner@jacobspillow.org or at (413) 243-9919 x125.
A future-forward theater
Multi-use flexibility will allow Jacob's Pillow to support performances, events, residencies, and more, sometimes simultaneously. The theater will be fully accessible for audiences and artists and will seat up to 230 patrons in the main performance space, with an array of seating and stage configurations. The reimagined Doris Duke Theatre will be approximately 20,000 sq. ft., compared with the former Duke's roughly 8,500 sq. ft. footprint.
Two lobbies with sliding doors will create multiple entrances and exits. The west lobby will provide a covered and ventilated space for pre-show talks alongside a new exhibition space. The east lobby will serve as a warm-up and rehearsal space for artists, and can also host receptions and meetings.
Indigenous design principles and values have been incorporated in the planning for the new theater and Indigenous artists will contribute visual art installations, a medicinal garden with local and indigenous plantings, and a fire pit for gatherings and celebrations. Sustainable initiatives including a green roof, energy efficient design, and rainwater collection and reuse are incorporated throughout the building.
Robust Technology Infrastructure
The new theater will be technologically equipped to ensure that the creative appetites of artists will be served in the decades to come. This includes powerful and intuitive network-based, installed systems to enable flexible deployment of production-specific equipment with building-wide data and fiber-optic connections; high-bandwidth network and video signal infrastructure to support projectors and cameras with a dedicated video control room for filming, streaming, editing and broadcasting; a specifically calibrated sound system with digital mixing and processing and a dedicated sound mix position within the theater; and a dedicated workshop for set and mechanical fabrication.
Community and Accessibility
In addition to summer Festival performances, the new building is designed with a year-round, community focus and ease of use for special events. Safety, comfort, and accessibility will be improved for audiences, artists, and staff. This will include catwalks for improved technical installation, additional bathrooms, an enlarged green room and dressing rooms for artists, mezzanine access for late seating, and more accessible seating options.
STEP INSIDE WITH 360-DEGREE VIEWS 
Mecanoo provides a virtual-reality window inside the Doris Duke Theatre with these simulated interiors.
On a desktop or laptop computer, click and hold your cursor, then drag to see your surroundings from these select viewpoints.
On a mobile device or tablet, move your screen through the space in front of you, and the rendered visuals will change automatically based on your point of view.
MEET THE DESIGN TEAM
Netherlands-based architecture firm Mecanoo, led by their renowned Creative Director and Founding Partner Francine Houben, is serving as the lead architect for the new building project, in partnership with New York-based architecture firm Marvel as the U.S.-based architect of record and landscape designer. Theater, acoustic, and experience consultants Charcoalblue are supporting the project. 
Jeffrey Gibson, Choctaw/Cherokee, is serving as a consultant on the building's relationship to the site and Indigenous values, a key element of the building's design.
The design team was selected through a competitive, international process led by Susanna Sirefman of Dovetail Design Strategists in 2021.
"Jacob's Pillow has always been at the forefront. The new Duke Theatre will enable Jacob's Pillow to harness the digital revolution to serve a more inclusive, innovative, and engaging vision for dance."
President and CEO, Doris Duke Foundation
"The design creates a year-round space that will serve as an incubator for a new generation of artists seeking to integrate technology into live performance and create art native to the digital realm. It will be a porous, indoor/outdoor space for creation, performance, and community engagement that speaks to the lessons we've learned during the pandemic about the need for community-building, and our innate connection with nature, which we at the Pillow treasure greatly."
Executive and Artistic Director, Jacob's Pillow
"We wanted to make a building which embodied Indigenous principles of connecting with the land and thinking seven generations forward. The sequence of moving between outdoors and indoors and the sculptural layering of the building emphasizes the feeling of movement in space, while firmly rooted to the site in this special place in the Berkshires."
Creative Director and Founding Partner, Mecanoo
Remembering the Original Duke: Take a virtual walking tour of our digital Doris Duke Theatre Memorial Exhibition using a 3D scan of the original building, and browse the stories, photos, and videos in our archives.
Explore
Summer PillowTalk and Exhibit: Visit campus during this summer's Dance Festival to experience our free exhibit "Envisioning a Theater," and on August 12, hear from architect Francine Houben of Mecanoo in a special free PillowTalk.
Learn More
Stay Updated: Receive the latest news and information about the reimagined Doris Duke Theatre by joining our email list, and follow this project in the coming months. The new theater is anticipated to be completed in 2025.
Sign Up