Contemporary Performance Ensemble
Program Director Milton Myers & Associate Program Director Francisco Martinez
July 3 – July 23 | At the Pillow
Choreographers Jennifer Archibald, Cayetano Soto, and Ronald K. Brown with Arcell Cabuag | Music Director John Levis | Festival Artist lead additional classes and talks | Read about the Artist Faculty
For 24 early-career, company-ready, or advanced-level contemporary dancers; minimum age 16. Dancers need to meet Jacob's Pillow COVID-compliant protocols, which will be announced in 2023 and subject to change pending new developments.
---
The 2023 Contemporary Performance Ensemble will work daily with renowned mentor, choreographer, Horton technique teacher, and an artistic voice for The School, Milton Myers. Joining him are Associate Director Francisco Martinez and guest choreographers who collectively provide experiences that evolve a dancer's artistic voice and build the skills and connections necessary to be an exceptional performer-collaborator in the field.
Performance Ensemble Sample Schedule
Studio days begin with either ballet or contemporary technique classes and are followed by artist-led workshops to embody and investigate a choreographer's specific creative development approach while engaging the dancer's own creativity. Discussion sessions with the artists follow workshops once or twice a week. Afternoons are spent in new work creation rehearsals, where dancers receive in-depth coaching in the multiple roles choreographers expect of them from studio to stage.
Weekly performances are where dancers strengthen performance skills and the artistry needed to meaningfully express choreographic intent. Post-performances, dancers speak about the impact of living and working as an artist at Jacob's Pillow with audience members, funders, or social media fans. The first and second program weeks conclude with informal Pause-in-the-Process showings in the Perles Family Studio. On July 22nd dancers appear on the iconic outdoor stage in works created on them before a live, and live-streamed, Pillow audience, including invited artistic directors of companies the dancers hope to work with in the future.
In addition, expect to participate in:
Career-building seminars and discussions

led by Festival Artists, Artist Faculty, and Pillow Alumni that focus on dance citizenship and achieving the momentum needed to confidently and resiliently forge ahead in the field.

Assignments

that

connect to choreographic processes, including improvisation, collaborative movement invention, or research in the

Jacob's Pillow Archives

, where time to pursue personal dance interests also occurs.

Viewing Dance Works

curated from the Jacob's Pillow Archives that are available pre-arrival and assigned for discussion.

Attendance at Festival performances, scholar-led talks, and other events

that occur on two stages and across the Jacob's Pillow grounds.

Building a Career Network that evolves seamlessly from interactions with peers, staff, artist faculty, artistic directors, company members, dance supporters, audiences, community members, and visitors. 
The Jacob's Pillow School Experience is a day-to-evening conservatory style curriculum designed to instill the stamina, perseverance, entrepreneurial, collaborative, and creative voracity required to live and work as a dance artist. As dancers work alongside the Festival's international artist community they discover artistic growth, multiple artistic points of view, and a vision of the possibilities that exist in dance. On departure as Jacob's Pillow Alumni, an influential global alumni network helps to advance your work in dance, as well as adds friendships that can last a lifetime.
TO APPLY
Open the sections below to learn what you need for a complete application.
2023 Contemporary Application Deadlines & Notifications
Participation Requirements & Policies
Jan 23 at 12am/midnight EST | Priority Deadline | $40 processing fee
Feb 27 at 12am/midnight EST | Regular Deadline | $45 processing fee
After Feb 27 at 12am/midnight EST | Rolling Basis* | $50 processing fee
Acceptd offers financial assistance to applicants who meet fee waiver requirements. Fee waivers are subject to approval by the Acceptd Support team and are granted based on proper documentation, only if provided in advance to the submission of the application. Contact Acceptd Support.
*Applications are reviewed on a rolling basis by Program Directors and School staff; with admittance status sent by email on a rolling basis if spaces are available.
Want free streaming access to a performance from Festival 2022? Submit your application by the priority deadline, and you'll receive free access to stream New Zealand-based Black Grace's 2022 performance on Jacob's Pillow On Demand from February 6 through March 19, 2023.
Clicking BEGIN YOUR APPLICATION takes you to Acceptd, our application portal where you will upload materials described below.

Review the

Application Guidelines

located there in order to submit a complete and competitive application.

Before submitting, review your work carefully, as only complete applications are considered for acceptance. Scholarship applications, if applicable, must be submitted with you program application. For more information, see below.

If you need any assistance, contact school@jacobspillow.org.
Required Program Application Materials to Upload
1. Audition Video
Footage must be of clear viewing quality and preferably shot within three months, or as recent as possible, prior to submission. Media-enhanced, highly edited, or promotional type videos are not reviewed. Adjudicators prefer one concise video with a table of contents; multiple videos will be viewed if contents are properly identified. Use one of the following file types to successfully upload your video(s): MP4, M4V, AVI, FLV, MOV, WMV, MPG, MPEG, M2V, MKV, and WEBM.
Verbal self-introduction, 1 minute maximum

Your name and current affiliation

Why this program is important for you this year

What you are showing on your reel

Anything you wish to share about your footage: title/choreographer(s) of performance footage, why footage date not as preferred, etc. Remember, we are looking at who you are as a dancer, not where you are dancing.

Technique sampler, 5 minute maximum

Center floor grand pliés, ronds de jambe, extensions, and balances

Across-the-floor progressions with turns, jumps, and leaps; petit allegro, if possible.

Performance sampler, 6 minute maximum

In-studio footage is preferred over performance footage

If performance or group footage, identify who is to be viewed

Identify names of works and choreographers for

2-3 variations, improvisations, and/or repertory excerpts

Excerpts should demonstrate a range of dynamics, levels, tempos, and styles
2. Written Statement 500 words or less
Influences on your current dance work and artistic goals 

Career aspirations and experiences desired to reach them

How you envision this program impacting your vision of yourself as an artist
3. Résumé/C.V.
4. Photos

Headshot (required)

Dance Shot (optional)
5. If 17 or younger, a Letter of Recommendation is required.
You will be asked to list the name, title, phone, and email of a dance teacher or artist who has agreed to write a Letter of Recommendation. On receipt of an email from Acceptd on behalf of Jacob's Pillow, he/she/they should be prepared to address the following:

Technical and performance artistry

Stamina to participate in rigorous, professional level classes, rehearsals, performances before the public, and evening responsibilities

Ability to interact, and live, responsibly as a professional in a diverse artist community

Be ready to list the name, title, phone, and email of a second dance artist or teacher who can speak about your work with staff if needed.
Participation Requirements and Policies
About Scholarships
Read

Program Fees & Scholarships

for program fees and all scholarship opportunities.

The Scholarship Application is found within the Program Application.

If you are a dependent, all financial information provided must be for your parent/guardian(s).

U.S. and international dancers are eligible for scholarships.

If you need any assistance, contact

school@jacobspillow.org

.

Read

Participation Requirements & Policies

for important eligibility details.
The School at Jacob's Pillow is committed to awarding Jacob's Pillow Scholarship Awards to accepted dancers with demonstrated financial need to make their attendance possible. Scholarship Applications are within Program Applications and must be submitted at the same time. Learn more here.
---
Milton Myers
Milton Myers is resident choreographer and instructor for PHILADANCO! and on the faculties of Alvin Ailey American Dance Theater, the Ailey/Fordham B.F.A. Program, Peridance, STEPS on Broadway, and The Juilliard School, where he is the first Horton instructor.
---
Alumni Spotlight

Meet Aaron Choate, Contemporary Program alum from 2019. Aaron joined us twice in the 2022 summer festival, as a dancer in Adam Weinert's restaging of "Dance of the Ages," by Ted Shawn and a second time as a new company member with Hubbard Street Dance Chicago: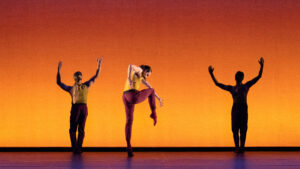 ---
2023 Programs | At the Pillow
Contemporary Ballet
Contemporary
The Dunham Legacy Revisited
Tap Dance
Choreography Fellows Program
2023 Artist Faculty
The School Experience
Alumni of The School
Perles Family Studio
2023 Workshops & Intensives | Around the Country
Jacob's Pillow 360
---
CONTACT US
If you have questions or need additional information, we are happy to help. Please email us at school@jacobspillow.org.
Explore our online Archive resource, Dance Interactive, to experience an invaluable tool able to support your growth as an artist.