As we look back on the 2023 Festival season, we are so thankful for our Berkshire County community and its engagement with Jacob's Pillow. Join us in remembering some of our community events this summer.
JUNE
Third Thursday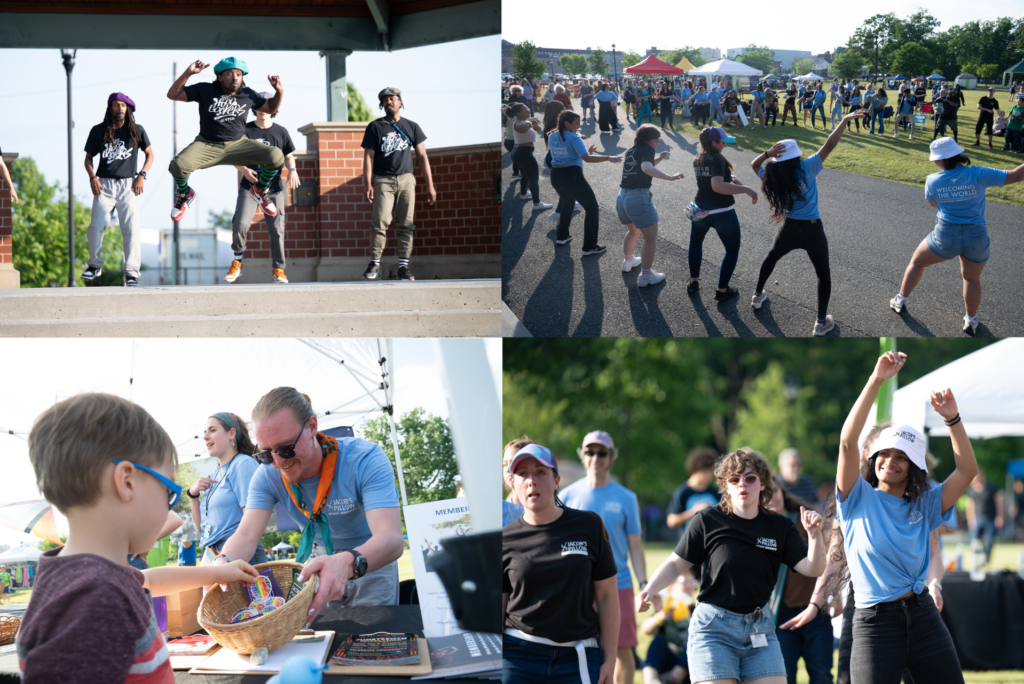 Jacob's Pillow joined Pittsfield's monthly Third Thursday events this summer, and in June, the Pillow brought dance to the Commons! A flash mob by the Pillow staff kicked off the evening, followed by a community Zumba class led by Luana Dias David, and a performance and dance circle with the Philadelphia-based street dance company The Hood Lockers. In July and August, the Pillow was proud to join local organizations in tabling and talking with the Pittsfield community.
Morning Classes
This festival season, Jacob's Pillow hosted Morning Classes including Pilates & Body Conditioning, Modern/Contemporary, Ballet, West African Dance, and Hip Hop led by a wide roster of talented regional artists including Ilana Siegal, Sean Gallagher, Erin Kouwe, Isadora Wolfe, Ian Spencer Bell, Shakia Barron, and Truth Hunter. Morning classes were a great opportunity for both the local community and Jacob's Pillow staff and School students to explore a vast range of dance genres and start their day with movement- departing energized and connected.
Workshops with Festival Artists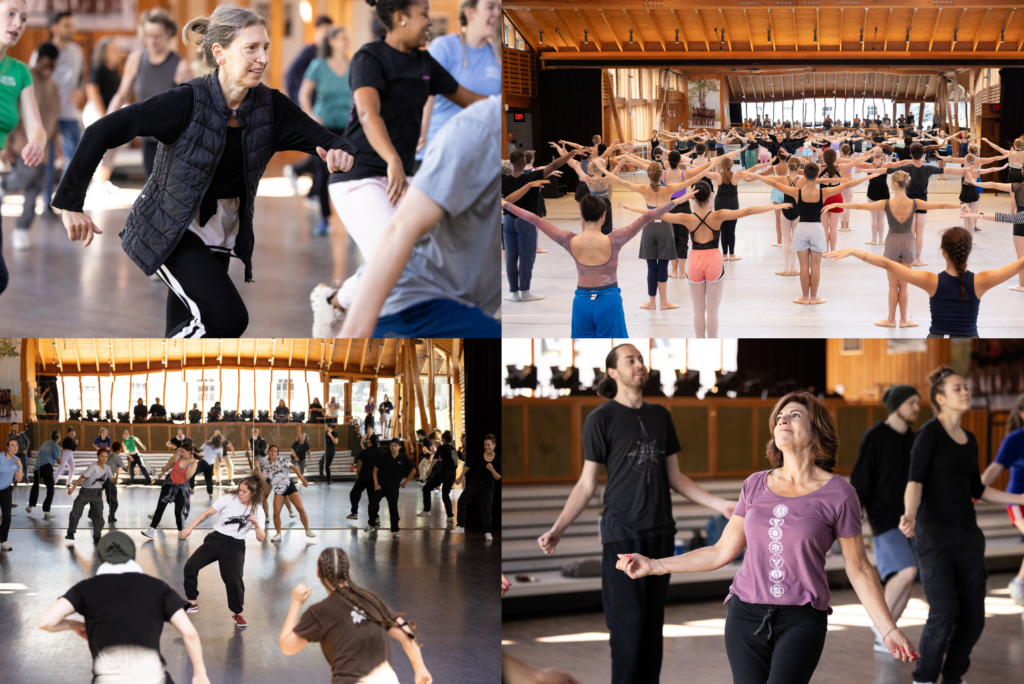 Each Sunday, Festival artists led workshops for community members and movers in their genre of expertise, exploring different techniques and encompassing distinct dance styles from hip hop, to Dunham technique, to tap and ballet, amongst others. Learn more about the different workshops with festival artists here.
JULY
Legacies of the Black Berkshires: An Evening in Honor of David Levering Lewis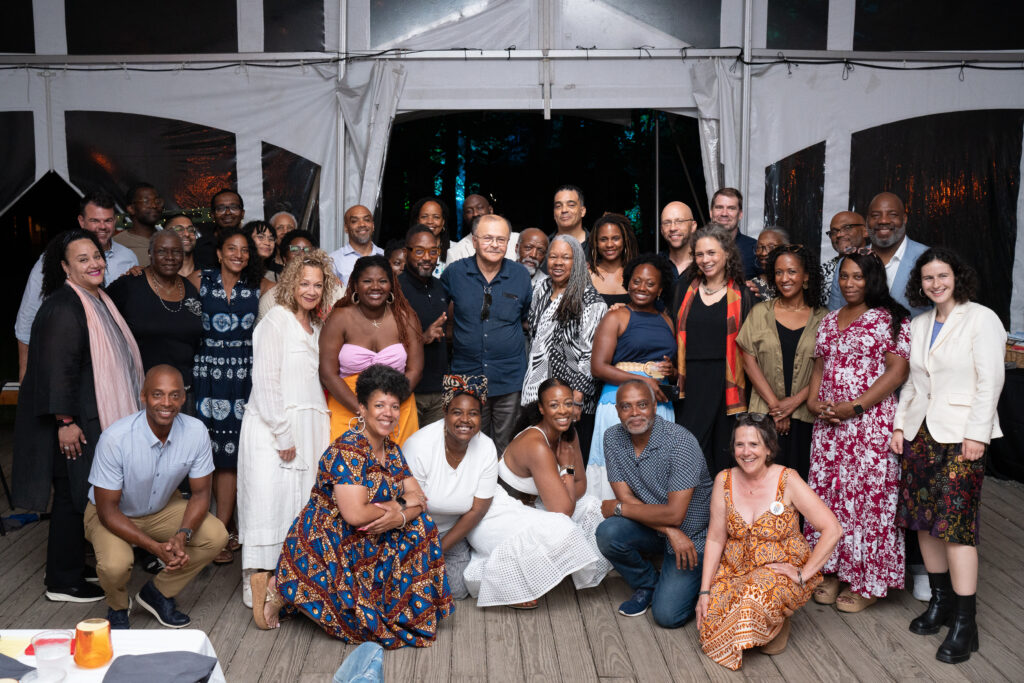 Alongside Great Barrington's Du Bois Freedom Center and the Du Bois Forum, the Legacies of the Black Berkshires' guests enjoyed an evening in honor of historian and Pulitzer Prize-winning Du Bois biographer Dr. David Levering Lewis with a panel of scholars, writers, musicians, and artists. After attending the waheedworks performance, James Beard award-winning chef Bryant Terry created a Du Bois-inspired menu for guests.
Community Workshops in Pittsfield
People of all ages gathered to dance hip hop, share stories of ancestors, and celebrate jazz dance and music in a series of free movement workshops, held annually in Pittsfield. In partnership with the NAACP Berkshire County Branch and the Common Room of Zion Lutheran Church, we welcomed artists from Versa-Style Dance Company, Paloma McGregor, and Decidedly Jazz Danceworks. Participants expressed appreciation to Pillow staff and artists for the opportunity to "share time and space with others" through movement and meaningful conversation. 
Dance Education Laboratories (DEL) Workshops
As a satellite of the nationally renowned dance teacher education program, DEL (Dance Education Laboratory), Jacob's Pillow hosted two workshops exploring the choreographic structures and histories of Eric Gauthier and Martha Graham. Workshops connected dance educators, college dance students, classroom teachers, and professional dancers to the DEL model of dance education. 
Recounting their experience, one participant shared "each of us were participants in a coalescing group dynamic – a shared journey of interior discovery where we were able physically and emotionally see ourselves reflected in the outcome." 
Jacob's Pillow On The Road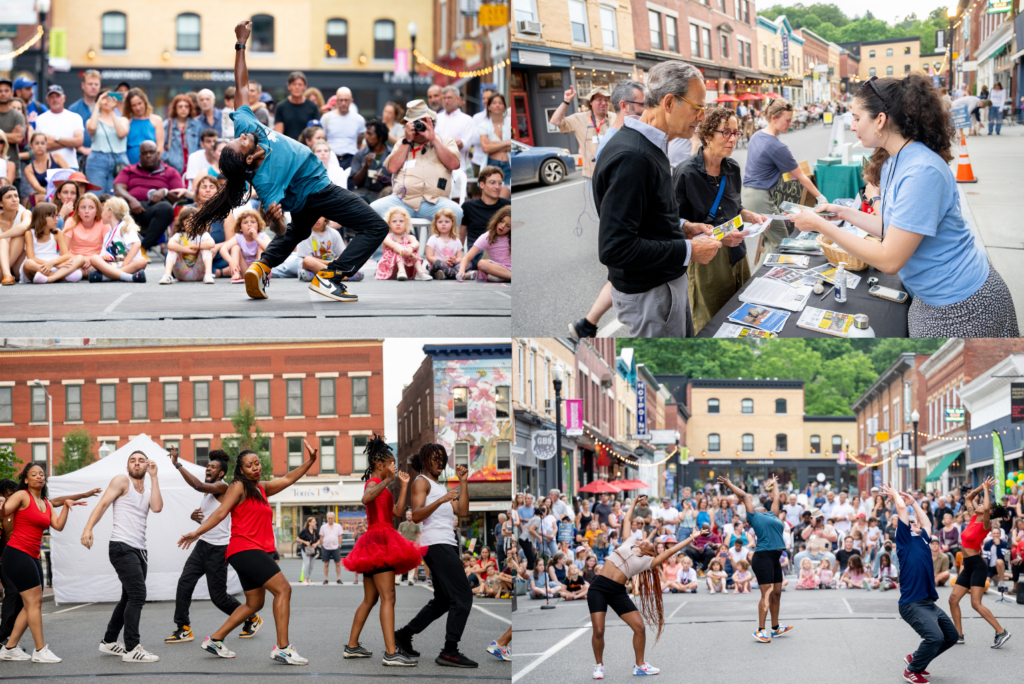 Jacob's Pillow On The Road hosted three evenings full of dance and community in Great Barrington at Berkshire Busk!, Becket, and North Adams, captivating local audiences with performances by Just Sole! Street Dance Theatre, The Funk Box Dance Studio, Luana Dias David, and Suzzanne Ponomarenko Dance.
Curriculum in Motion® Institute
The Curriculum in Motion® Institute engages choreographers in professional development training in community-engaged dance-making practices; applying choreographers' methods to the curriculum, issue, or theme of a community partner. Public presentations by the 2022-23 graduates provided an opportunity for choreographers to present about their projects within their home communities, uplifting the power of dance beyond the stage. 
AUGUST
Community Day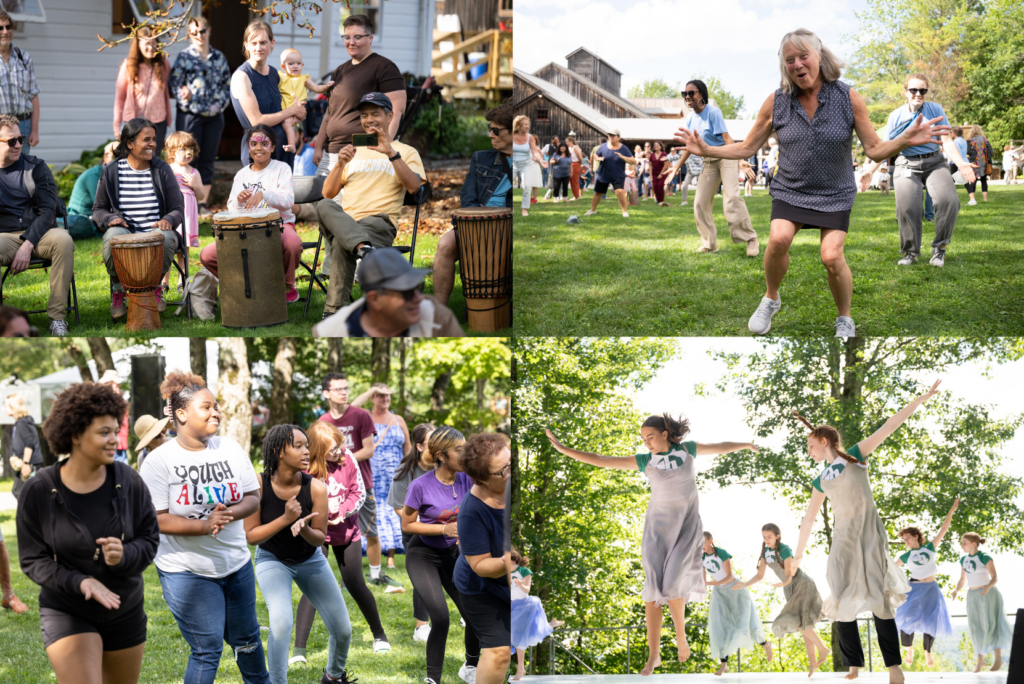 We were so glad to have welcomed hundreds of community members to our campus for our annual Community Day. This family-friendly afternoon featured performances by Berkshire County regional dance artists, movement classes, a drum circle led by Tamarack Hollow Drumming, arts and crafts led by TG's Clubhouse, a meet and greet and book reading with Cooper the Dancing Llama, and much more. We are grateful to our staff, vendors, and community for a memorable day!
Tours of Jacob's Garden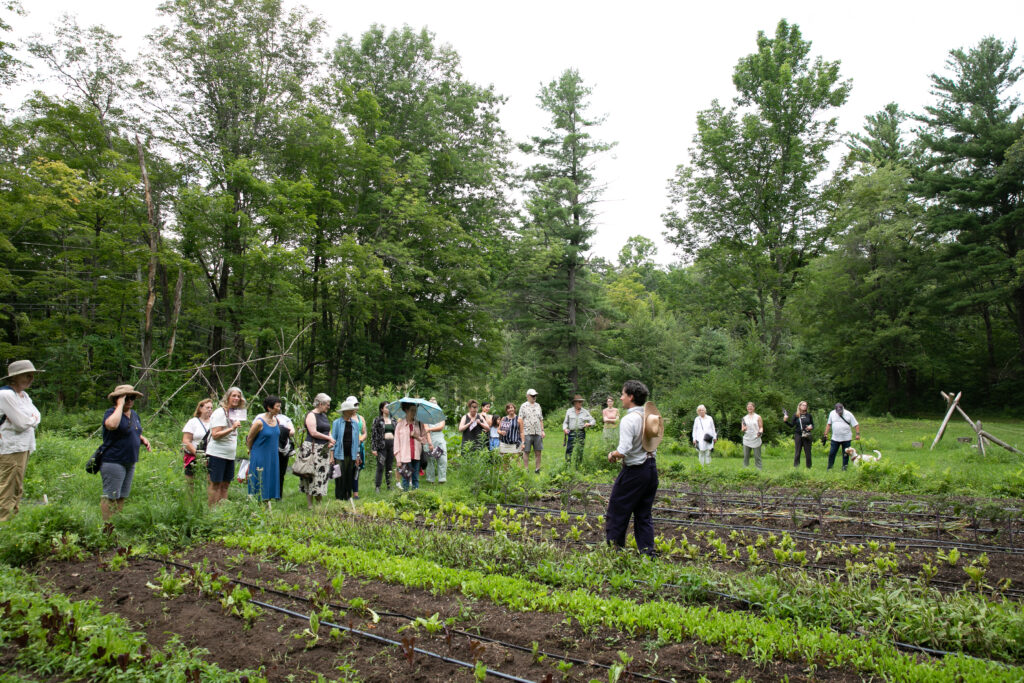 In its third growing season, Jacob's Garden continues to bloom under the guidance of Adam Weinert. This summer, Adam led two tours of the Jacob's Garden for guests, drawing folks to explore Jacob's Pillow in a new way that is deeply connected to the Pillow's history. After a quick, Ted Shawn-style outdoor stretch, guests were given a walking tour of the garden beds, apiary, rainwater harvesting system, and pollinator meadow. Read more about Jacob's Garden here.
Day at the Pillow Visits
Day at the Pillow Visits connect the community to the varied experiences and resources of Jacob's Pillow in tailored and personal ways. This year, we welcomed: Rites of Passage and Empowerment Program (ROPE), Latinas413, Community Access for the Arts (CATA) artists, Center for Peace Through Culture, Youth Alive, Dance for Social Justice Community Residency participants, and Berkshire Community College students and faculty.
Thank you to our many partners for organizing and engaging with us!
STEAM Team Summer Camp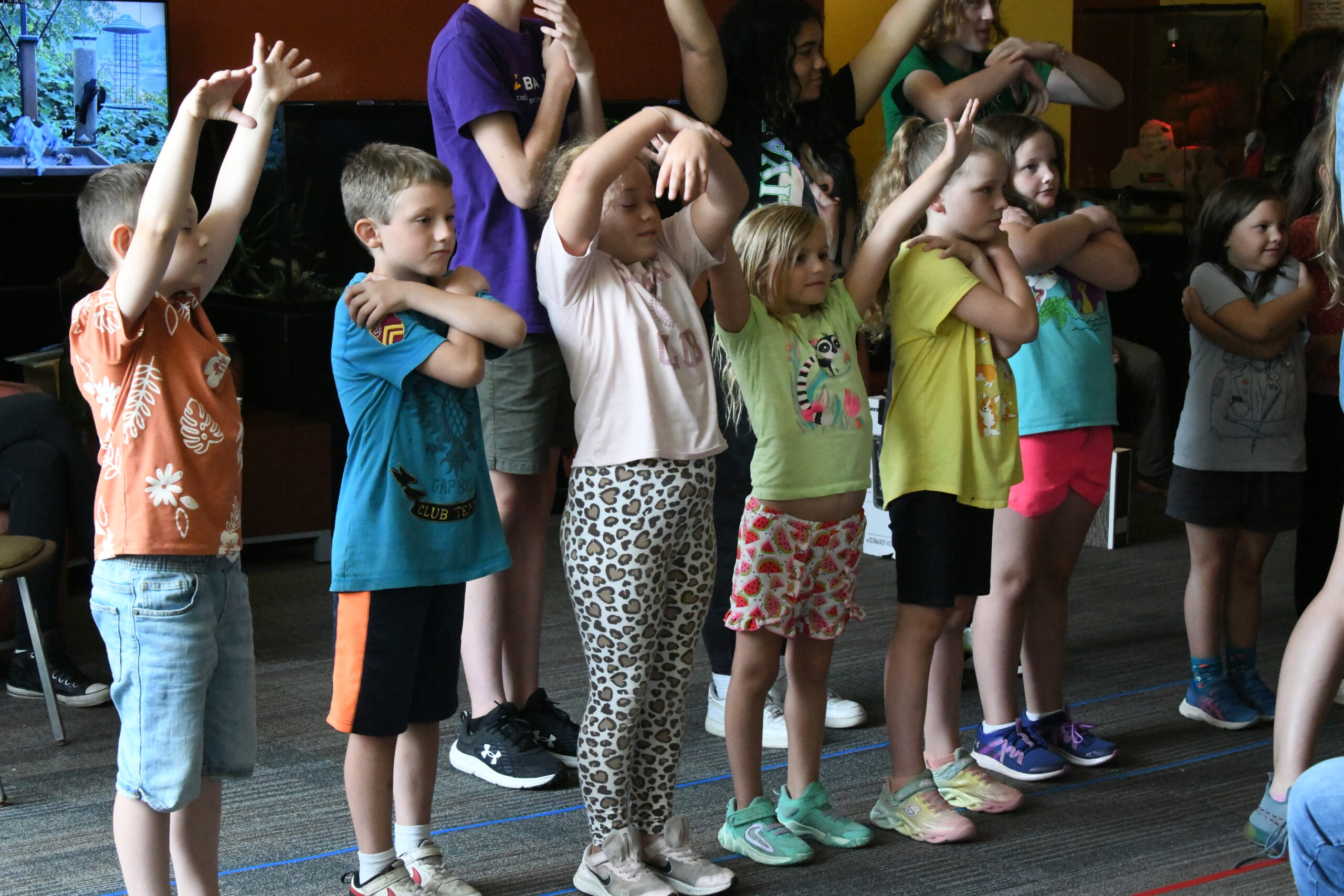 Launched in 2017 in partnership with Berkshire Art Center and Flying Deer Nature Center, this one-week arts integration and environmental science summer camp takes place on the campus of Berkshire Community College in Pittsfield. Rising third-grade students from Pittsfield Elementary Public Schools engaged in learning about local Berkshire ecology and the habitats of birds through creative movement, outdoor recreation, art-making, and science labs. Students work with a dance artist, a visual artist, a scientist, and an outdoor recreation leader in exploring curriculum and building community in the immersive nature setting of the college campus.
Eastern Woodlands Homesite
The Pillow was honored to welcome back Andre Strongbearheart Gaines Jr., Founder of No Loose Braids, Daishaun TallHairRedDeer Garate, and William SmallearCoyote Connors to light the fire at the Eastern Woodlands Homesite. The homesite brings Eastern Woodlands peoples and the public together to highlight urgent issues of access, health, and the sustainability of cedar swamps in the Eastern Woodlands. The event included a 1.5 hour interactive talk including the making of a fire, cooking of food, and continued work on the fishnet. View this video to learn more about the Eastern Woodlands Homesite Installation at Jacob's Pillow in May 2022.
This Pillow Pick was written by Bonnie Spann and published on August 27, 2023.
Stay Connected
Get connected to year-round community engagement programs by signing up below.