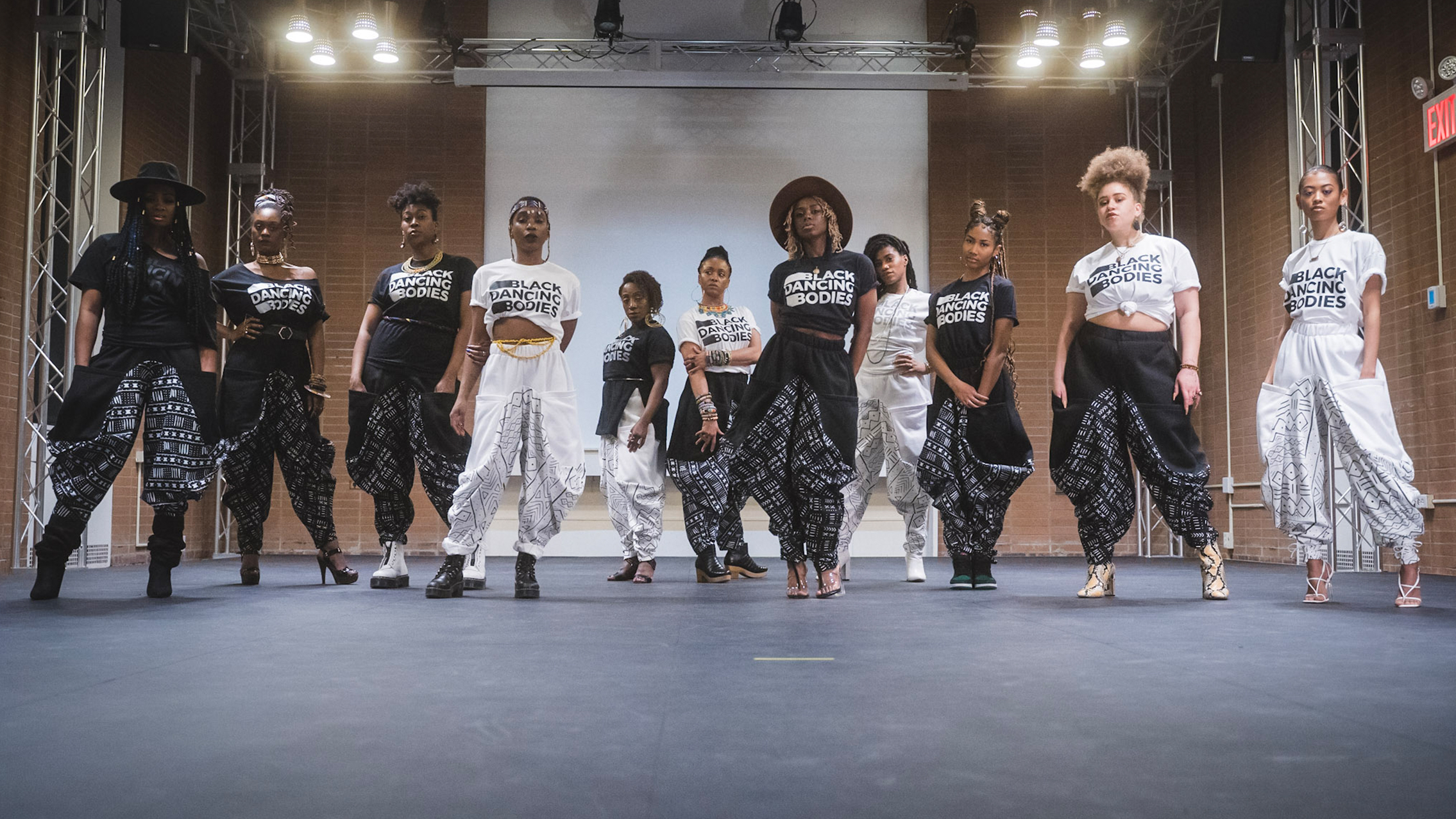 Inside the Pillow Lab is an intimate film series that captures works in process and behind-the-scenes moments of what it's like for artists to live, work, and rehearse together in residencies on the Pillow's retreat-like campus. Enjoy a look into our 2021-2022 Winter/Spring Pillow Lab series, and stay tuned for the release of more films later this spring.
Emma Cianchi
Residency: March 30 – April 10, 2022
In collaboration with American Dance Abroad, the Pillow welcomed Naples-based choreographer Emma Cianchi as a part of Woman Made, an initiative focused on international women choreographers, which is a winning project of Boarding Pass Plus '21/'22 of the Italian Ministry of Culture. Woman Made is a project of the Italian Ministry of Culture and is intended to promote the courage of international female choreographic voices. Organized by ArtGarage, the creative work will originate in seven countries with a view to sharing intentions and achieving common goals including the positioning of women in powerful roles in dance through international cultural exchange.
Cianchi is the leading force of ArtGarage, and artistic curator of dance at the Teatro Bellini in Naples. As a choreographer her work embraces the use of new technologies in an eclectic and original manner. In 2017, she received the Coreografo Elettronico Award. As a part of this exchange, Cianchi developed a new work with U.S.-based dancers in the Pillow Lab, and acclaimed New York-based choreographer Kimberly Bartosik travelled to Italy to develop a new work with dancers from across Italy.
Ananya Dance Theatre
Residency: March 21 – 29, 2022
Ananya Dance Theatre is a company of cultural activists and BIPOC women, womxn, and femme artists who believe in the transformative power of dance. In dancing stories where the lives and dreams of typically marginalized communities occupy the center, they shift the landscape of mainstream culture, build understanding about arts and social justice, and empower artistic voices. Their artistic work unfolds through Yorchhā™, a unique movement aesthetic of contemporary dance that draws on traditional Odissi, the martial art Chhau, and Vinyāsa Yoga, and a social justice choreographic methodology, to celebrate a transnational feminist practice. Their work invites audiences to participate in their strategy of #occupydance, the movement of dancing as civic action.
Ananya Chatterjea is Professor of Dance at the University of Minnesota. Her second book, Heat and Alterity in Contemporary Dance: South-South Choreographies, re-framing understandings of Contemporary Dance from the perspective of dance-makers from global south locations, was published in November 2020.
Fresh off of a tour of their newest work Dastak: I Wish You Me, Ananya Dance Theatre began the creative process for a new evening-length work during this Pillow Lab residency. Ananya developed Nūn Gherāo (surrounded by salt), an evening-length devised dance theatre piece, responding to the 1978-79 massacre of 10,000 refugees from Bangladesh on Marichjhnapi island in West Bengal, India, and adjacent stories of genocide and eco-displaced communities.
Gesel Mason
Residency: March 5–14, 2022
Gesel Mason is artistic director for Gesel Mason Performance Projects and associate professor of dance and choreography at the University of Texas at Austin. She was a member of Liz Lerman Dance Exchange and Ralph Lemon/Cross Performance Projects. Her company, Gesel Mason Performance Projects (GMPP), serves as a medium for her creative work. GMPP is a project-based dance company that seeks to create meaningful, relevant, and compelling art events as a way to encourage compassion and inquiry. In her work, Mason utilizes dance, theater, humor, and storytelling to bring visibility to voices unheard, situations neglected, or perspectives considered taboo.
Mason used her time in the Pillow Lab to work on Yes, And, a collection of performance events that center an expansive vision of Black womanhood as the operating force in the creative process. An iterative approach informed by the expertise and lived experiences of self-identified Black women and femmes, Yes, And asks: "Who would you be and what would you do if, as a Black woman, you had nothing to worry about? What would you create and how might you be in community with others?" The questions frame a methodology of undoing and re-imagining that offers participants and witnesses the freedom "to find" and to "be found" from this recalibrated place. The project is supported by National Performance Network and New England Foundation for the Arts.
Ladies of Hip-Hop
Residency: February 16 – 27, 2022
Ladies of Hip-Hop Dance Collective, LDC, is an all female intergenerational dance collective that creates dance works illuminating the strength, power, and diversity of women in hip-hop. Ever present in the work is the freestyle, ciphering, family dances, and call and response that serve as the essence of street and club dance culture, while exploring cultural forms for proscenium performance. Founded by director and choreographer Michele Byrd-McPhee, LDC creates collaborative works that celebrate and center feminist narratives examining the intersections of gender, race, and resistance.
Building on their formative January 2021 convening in a Works & Process at the Guggenheim bubble residency at Bethany Arts Community, culminating in a rare-for-the-time video performance filmed at the New York Public Library for the Performing Arts at Lincoln Center, and subsequently, their summer 2021 On The Road engagement with Jacob's Pillow, which took free performances to towns across Berkshire County, the hip-hop collective used the Lab to further develop their Black Dancing Bodies project. The project was created to capture the beauty and power of Black female street dancers in movement by Black female photographers. Through a series of movement sessions, the project aims to tell their stories through interviews and photographs, documenting the importance, power, and presence of Black women in hip-hop.
Kayla Hamilton
Residency: January 24–30, 2022
Kayla Hamilton, a Black Disabled choreographer, used the Pillow Lab to engage in the beginning stages of a creative work and dialogue around Black Disabled artistry alongside several collaborators. Hamilton is an artist, producer, and educator originally from Texarkana, Tex., who now resides in Bronx, N.Y. She is a member of the 2017 Bessie Award-winning collective of skeleton architecture, or the future of our worlds, curated by Eva Yaa Asantewaa. In addition to Skeleton Architecture, Kayla has danced with Gesel Mason Performance Projects, Sydnie L. Mosley Dances, and Maria Bauman-Morales/MBDance. Kayla's work has been presented at Gibney, Performance Space New York, and New Live Arts. When Kayla is not dancing, she's a special education teacher at the Highbridge Green School who loves to watch Law and Order while sipping on green tea.
In the Pillow Lab, Hamilton had the rare opportunity to bring collaborators together who reside in different quadrants of the country, including collaborators on this project, and gave them time and space to be generative. Hamilton's collaborators for this residency include: Nicole McClam, Joselia Hughes, Jerron Hermon, Christopher Unpezverde Núñez, and Brandon Kazen-Maddox.
Yve Laris Cohen
Residency: December 1–11, 2021
New York-based artist Yve Laris Cohen makes installations and performances that traverse the visual arts and dance. Exploring questions of labor and value, Laris Cohen's work stages trauma and care, conflict and support, vulnerability and dependency.
In this Pillow Lab, Laris Cohen developed a new work using the remains of the Doris Duke Theatre, which burned on the Jacob's Pillow campus in November 2020. This work will open as an installation titled Studio/Theater at The Museum of Modern Art (MoMA) in New York City in October 2022. By bringing architectural structures from the fire's aftermath into MoMA's performance space, Studio/Theater raises questions about what constitutes a theater and how these spaces are themselves fragile and dependent.
---
Videos produced by Nel Shelby Productions

Discover more on YouTube
Enjoy dance films, talks, behind-the-scenes footage, and more.
---
Lead support for the Pillow Lab is provided by the Mellon Foundation

Explore more dance films online
Discover Jacob's Pillow's collection of dance made for the camera through these captivating Virtual Commissions.