Support Community Programs
Your gift helps bring a wide range of dance experiences to families in the Berkshires.
Why Your
Support Matters
Contributing to the Pillow is contributing to the vibrant influence of art-making and dance practice in our local communities. Gifts to the Pillow fund year-round community programs produced by Jacob's Pillow on-site and throughout Berkshire County that provide myriad opportunities for people of all ages to experience dance. Community dance classes, year-round activities for the whole family, and programs that introduce kinesthetic learning into public school curriculum open the doors to dance for people of all ages.
"Every body moves. Dance is a universal language and can be a powerful agent to address the issues of our time. We want to be a partner and active citizen in our local community and provide opportunities for all residents of Berkshire County to engage in and with dance. We have the opportunity to bring people together in a shared arts experience – on-site at Jacob's Pillow and throughout Berkshire County – in our schools, our community centers, at local festivals, and with partner organizations. There is a home for every body in dance."
Community Member Stories
"To see this group of students be that engaged in the material and that representative of who they are and their individuality was just breathtaking. To see their creativity and the concepts they came up with and the collaboration and communication and the team building – it was impressive."

Read more
Conte Community School Principal, talking about Jacob's Pillow Curriculum in Motion®
"This is about giving the experience of taking an idea, exploring it with your body, putting together your creativity with your intellect, to deepen your learning in both. It is the children's creativity and choreography that provide a structure for their success and to make the connection between what they're doing and what they're learning."

Read more
Jacob's Pillow Curriculum in Motion® Artist-Educator
"The best thing we have is dance. In our community it's what we do, so we were like, 'Let's just express ourselves that way and see what we can come up with, and who can hear us.' The body speaks more than the mouth does sometimes, you know? The body tells more stories."

Read more
FLEXN Dance Pioneer & Leader of D.R.E.A.M. RING Dance Competition 2016
"[The] most important skill for a child or anyone to learn is self-appreciation and communication. Programs like this are essential. This is what our country needs right now."

Read more
Pittsfield resident
"I believe a huge component of this work is not only about understanding the curriculum but also about the ways that we build community in a classroom."

Read more
Jacob's Pillow Curriculum in Motion® Artist Educator, speaking about her work at Monument Mountain Regional High School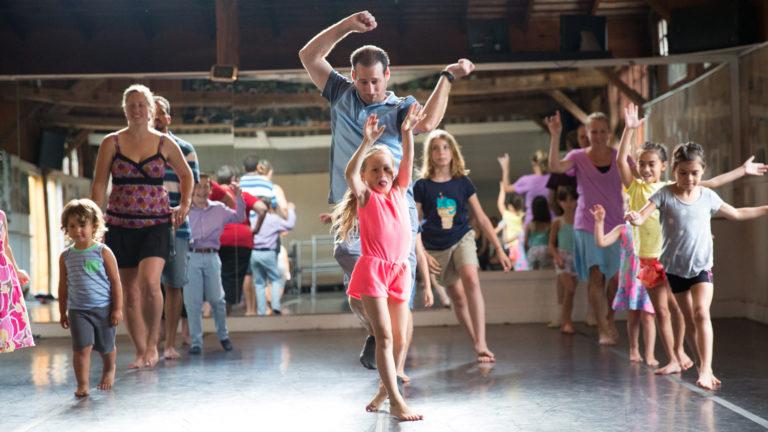 Focused on Families
Community programs strengthen communities by encouraging friends and families to discover dance together. The Pillow aims to create meaningful, shared experiences through dance across age groups, building a continuum of involvement with an intergenerational audience. We want to change perceptions about contemporary dance that discourage families from attending performances and build receptive audiences across generations. Supporting our community programs allows for shared experiences and broadened horizons.
Supporter Stories
"We support Jacob's Pillow and its mission not only for our personal enrichment but for that of the community at large and future generations."
Supporter Stories
"Jacob's Pillow nurtures the human spirit."
Kenny Karen and Marni Larose-Karen
Ways to Support Community Programs
Your support allows us to create meaningful, shared experiences through dance for Berkshire County and beyond. Thank you!