On August 7th, the Pillow welcomed the Dance for Social Justice™ (DSJ) Community Residency Program to the Henry J. Leir Stage, led by artists Mar Parrilla and Dey Hernández of Danza Orgánica. In partnership with close to 30 Berkshire residents ages 3 to 70+, they they shared a work-in-process and community reflection.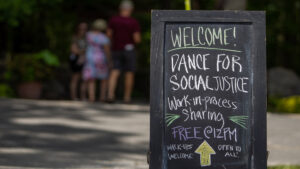 This 4-part workshop series explored methods of creative strategies through movement, conversation, and art-making for effective collaboration in our Pittsfield and Berkshire community centering around the question:
"How do we work together towards liberation?"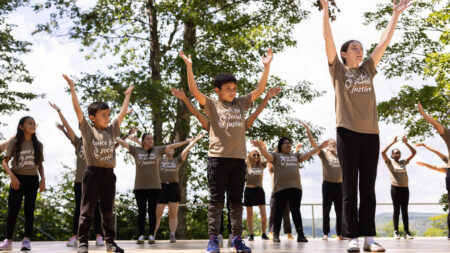 Participants range from families, community organizers, and Pittsfield residents, including recent immigrants, and elementary, middle, and high school students. Participants also shared this work in process as a part of Pittsfield's Third Thursday on July 21.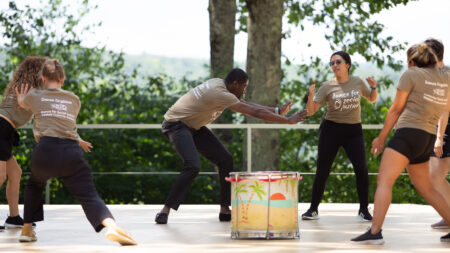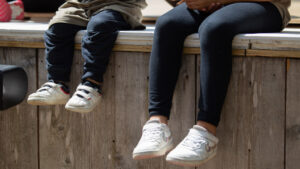 Dance for Social Justice builds on the community-based, collaborative practices of Pittsfield Moves! which recently celebrated its four-year anniversary. Pittsfield Moves! launched in Fall 2017 as a year-long artist residency led by choreographer Paloma McGregor (Director of Angela's Pulse) and MK Abadoo (Lead Facilitator of Angela's Pulse) alongside Berkshire County residents, artists, and partner organizations Youth Alive!, NAACP – Berkshire County Branch, Manos Unidas Multicultural Education Cooperative, Railroad Street Youth Project, Berkshire Children & Families, and Transformative Development Initiative, among others.
Edited by Catherine Ashley. Published September 2022.