Kimberly Lara
2022 American Dance Guild | Jacob's Pillow Scholarship Award
Dance Theatre: Afro-Latin Immersion Program
I went into this program afraid, doubtful, insecure, uncertain as to what I had gotten myself into. If I was even worthy of being a part of it. I never possessed the title "Dancer" or considered myself one for that matter, being that I did not grow up with the privilege to attend dance studios, take classes, etcetera. But from the moment I sat in our first company circle, I knew I had to let go of those fears; that these people would be the very thing that would water the seed of confidence that I needed to grow and become who I was meant to be through this. I had to do it afraid.
I left the Pillow, grounded, affirmed, and closer to my ancestors and self than I have ever been my whole life. What the Afro-Latin Immersion ensemble experienced together was other-worldly, beautifully unexpected, and forever soul-binding. Although being almost two thousand miles away from my motherland, I was able to connect myself everyday with my ancestors, the earth they graced upon, and the struggles they endured for me in order to have the life that I have today.
Our Artist Faculty Maria Torres, Akasia Ruthy Inchaustegui, Dwayne Beach, Jaime Lozano, Milteri Tucker, Oreste Abrantes, and Wes Veldink were our safe havens and greatest challengers, inspiring us to go beyond what we thought we were ever capable of achieving as a company and as individual artists while finding our voice through movement and giving us the care we need to understand our own humanity within the process.
I am so honored to have been a part of the first ever Dance Theatre: Afro-Latin Immersion program at The School at Jacob's Pillow. To be able to embrace my culture, TAKE UP SPACE, and emerge myself into my artistry has been fulfilling in unimaginable ways. We may have been the first of this program, but we certainly are not the last. We made history and now have a legacy to continue to uphold, not only for ourselves, but for the future of POC individuals/artists trying to find their voice in art. May we continue to make the revolution irresistible.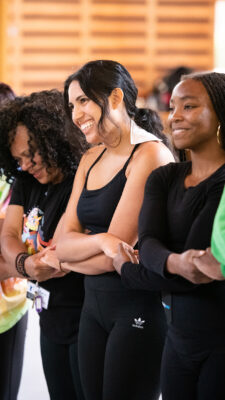 Written by Kimberly Lara. Edited by Gillian Ebersole. Published September 2022.