The last comprehensive inventory of the Jacob's Pillow Archives' extensive costume collection was in 1981. Starting January 2018 we worked with the costumes again in preparation for the exhibit at Williams College Museum of Art called Dance We Must:​ Treasures from Jacob's Pillow, 1906-1940. It features costumes, photographs, paintings, and other ephemera from the Pillow Archives relating to The Denishawn Company & Ted Shawn and His Men Dancers. Archives Fellow and co-curator Caroline Hamilton joined the Pillow team for this project, follow her discoveries below!
These vintage Polaroid images were made by Norton Owen, current Director of Preservation, while the sketches were created by Charles Schoonmaker, the Pillow's former Resident Costume Designer, in 1981.
---
Many of the costumes in our Archives were still housed in the original Denishawn and Ted Shawn's Men Dancers trunks. Some of the original trunk markings remain, including remnants of a Ziegfeld Follies label from the 1927-28 tour (not pictured).
Norton Owen and Caroline Hamilton moved Trunk 8 much like the Men Dancers did themselves every day while touring the country in the 1930s.
 During this project Caroline went through 36 trunks to do a complete inventory of all the costumes and re-house them all in new archival boxes.
---
Ted Shawn's costume for Cuadro Flamenco is one of the few items from our Archives costume collection that has been exhibited previously.  Purchased by Shawn from a bullfighter in Spain who had been gored while wearing it, this traditional traje de luces (suit of lights) and capote de brega (bullfighter's cape) have extensive traditional gold embroidery, which must have shone beautifully when Shawn performed in them.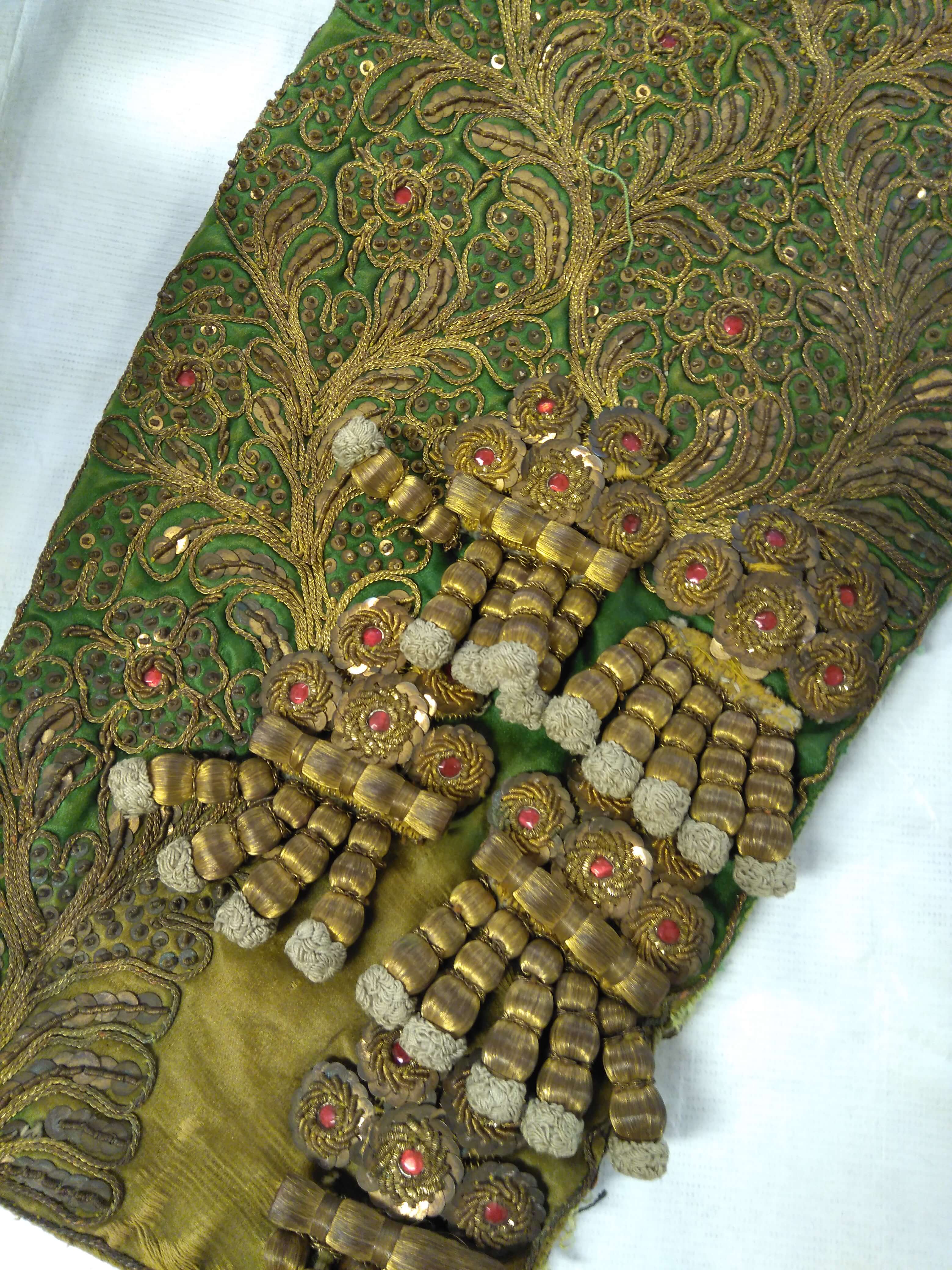 ---
Ruth St. Denis' costume for Kuan Yin (goddess of mercy), which she created in 1919. Caroline began this 2018 costume project with four trunks of Ruth St. Denis costumes. Notice the buttons and beads decorating the headdress–the necklaces and belts strung together to form the body jewelry. In performance St. Denis transformed these everyday bits and baubles into sumptuous jewels.
---
Caroline gave each costume piece a unique number, so the Pillow can keep track of the thousands of costume items. Then she had to carefully sew an archival label with that number into each costume. It took some practice to master the technique, which involves no knots and minimal stitches.
---
Ruth St. Denis's costume from The Legend of the Peacock. St. Denis performed this work for decades after its premiere in 1914. On the bodice and skirt, new glitz was sewn over old faded hand-sewn sequins.
---
Our first shipment of archival costume boxes arrived at Jacob's Pillow in snowy January. Those metallic briefs from Ted Shawn's Dances of the Ages are just one of the thousands of costume items in the Archives that were re-housed in these big, new, acid-free, archival boxes.
---
Ted Shawn's Dance of the Ages was a multipart evening length work based on the four elements (Fire, Earth, Water, and Air). Many of the costumes are here in the Pillow Archives. In the Water section Shawn wore this striking long-sleeved leotard. The stylized rope headpieces were worn by the Men Dancers in the Fire section.
---
This BIG costume was the outermost of 6 kimonos worn simultaneously by Ruth St. Denis in O-Mika dating from the mid 1920s.
Close inspection shows that a traditional Japanese kimono was altered to add more rolls of multicolor silk to the bottom and sleeves. Caroline had to call in some other Archives staff to help maneuver this behemoth safely into a box.
---
Re-housing costumes is more complicated than just sticking them in archival boxes. Moderately sized pieces in good condition, like this red flowered Denishawn kimono, can be folded with acid free tissue between each layer and stacked in a box. Delicate items, like this crumbling dress from Dance of Theodora (1918), need special packing. For Theodora, Caroline created extensive tissue supports to cradle the delicate cloth. Items made of chains and strands, like this necklace from Kuan-Yin, are strapped onto archival board with cotton ties, so they won't get tangled and damaged.  
---
Radha was one of Ruth St. Denis' earliest solos, first performed in 1906. St. Denis revived the work again at various points throughout her career. This bodice and parts of this headdress appear to date from her 1941 version performed at the Pillow—watch them in action in this video excerpt on Jacob's Pillow Dance Interactive.
---
Two headdresses from Denishawn's Angkor Vat—a 1930 work inspired by carvings at the Cambodian temple complex Angkor Wat.
Ruth St. Denis's headdress has a crown of seven cobra heads while the other depicts a stack of human faces.
Visit the Jacob's Pillow Exhibits
Experience a variety of art and photography to deepen your Festival experience.
---
Co-curators Kevin Murphy and Caroline Hamilton speak with The New York Times about the costumes and what they reveal about the dances — and about Ruth St. Denis and Ted Shawn in
this article.
Dance We Must: Another Look
Enter the world of Ted Shawn and Ruth St. Denis in Blake's Barn for another look at Dance We Must.