Meet the Director
As Executive & Artistic Director of Jacob's Pillow, Pamela Tatge sets the artistic vision and strategic goals for all aspects of the organization.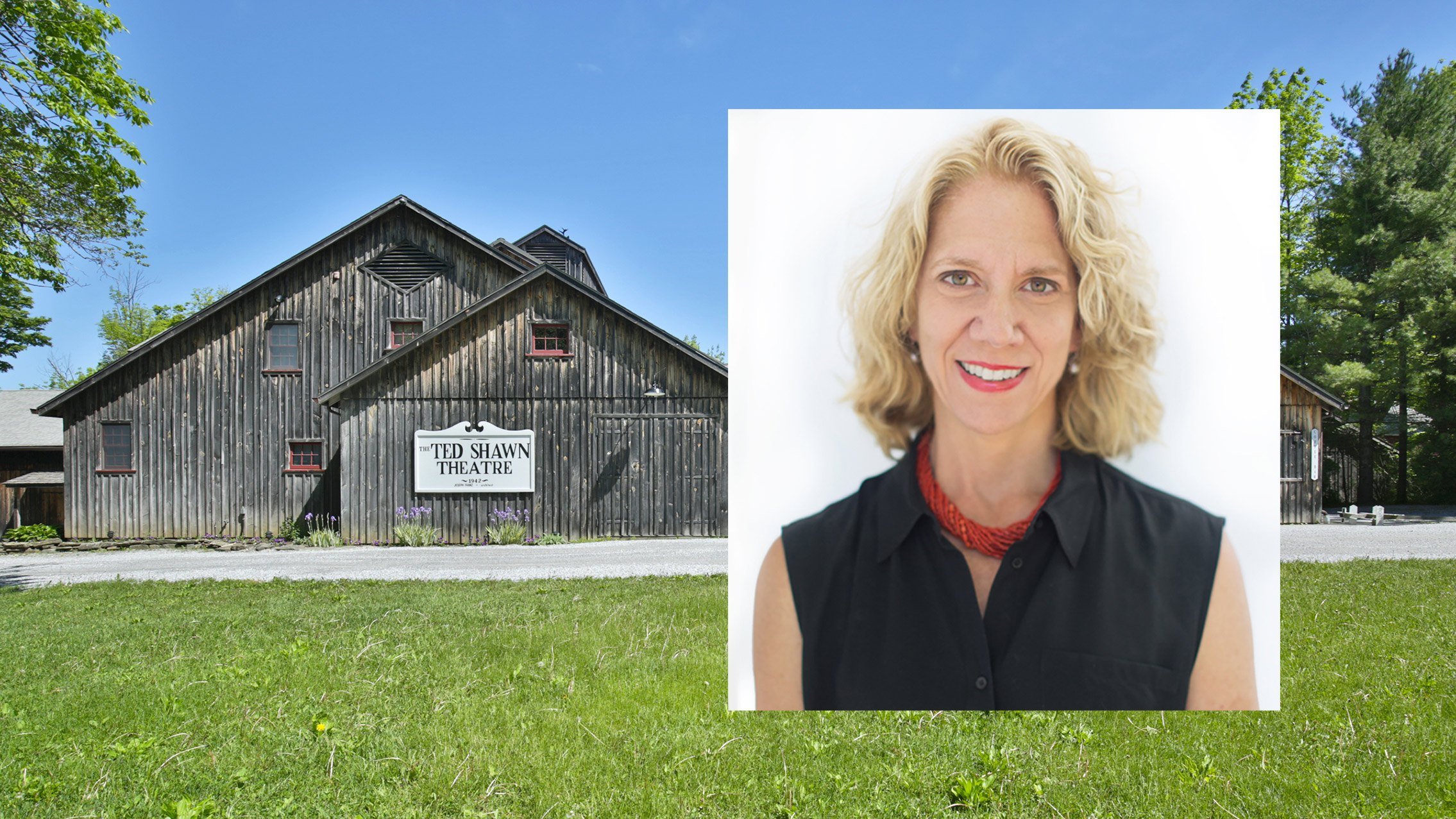 Welcome to Jacob's Pillow!
I'm so honored to introduce you to this magical place and all that it offers, including our storied ten-week dance festival, the oldest in the country; The School at Jacob's Pillow, one of the most prestigious professional dance training centers in the U.S.; growing community engagement programs throughout Berkshire county; our extensive Archives, that chronicle more than a century of dance; and so much more.
Dance is a universal language that uplifts us, delights us, and reminds us what it means to be human. We hope you continue to join us in the celebration of this art form online, at the Pillow, or wherever you may meet us.
ABOUT PAMELA TATGE
Pamela Tatge is the Executive & Artistic Director of Jacob's Pillow, an international dance Festival, professional School, and Archives located in the Berkshires in Western Massachusetts. Tatge is responsible for setting the artistic vision and strategic goals for all aspects of the organization, including Festival programming, education, preservation, audience engagement, residency programming and artist support, long-term planning, collaborative programming, fundraising, marketing, and more.
In June 2017, Tatge spearheaded the creation of Vision '22, a strategic approach to the Pillow's development through 2022. As a blueprint for enabling Jacob's Pillow to become a year-round center for dance research and development, the initiative highlights three areas of focus: creating the Pillow Lab, an incubator of new work; enhancing the Pillow's civic leadership and community engagement; and renewing campus facilities.
For nearly 17 years, Tatge served as the Director of the Center for the Arts at Wesleyan University in Middletown, CT, overseeing robust programming and acclaimed artistic initiatives for dance, music, theatre, and the visual arts, including the Breaking Ground Dance Series. Initiatives that were launched and developed during her tenure include the Creative Campus Initiative, integrating arts into non – arts areas of the curriculum; the Green Street Center for Teaching and Learning; Feet to the Fire, examining environmental sustainability through an arts lens; and the Institute for Curatorial Practice in Performance, the first-ever Masters degree in Performance Curation.
Tatge was named one of "The Most Influential People in Dance Today" by Dance Magazine in 2017 and is the recipient of the Association of Performing Arts Presenters' 2010 William Dawson Award for Programmatic Excellence and Sustained Achievement in Programming. She has served extensively as a panelist for grants and awards including as both a Hub Site and an Advisor to the National Dance Project and most recently, as a member of the jury for the 2016 Pulitzer Prize in Music. She also serves on the Board of the New England Foundation for the Arts. Prior to her work at Wesleyan, Tatge spent a decade as the Director of Development at Long Wharf Theater in New Haven, CT.
Tatge holds a B.A. in History and an M.A.L.S. from Wesleyan University in Middletown, Connecticut.
"New director Pamela Tatge is making the most of Jacob's Pillow's vast resources. She's reenvisioned the dance mecca as a year-round institution, not only expanding the Creative Development Residencies but giving those residents 24-hour access, a generous stipend and funds to bring in an outside eye. "
Nancy Wozny
Dance Magazine
"So when I discovered that the new director of the Pillow was [Pamela Tatge], I knew we were in for unbounded energy, amazing vision and assuredly, a remarkable growth spurt."
Liz Thompson
Former Pillow Director, 1980-1990
"The Pillow is stronger than ever, and I know that Pamela will build on that success and take Jacob's Pillow in exciting new directions while honoring our mission to present and support the very best in the world of dance."
Mark Leavitt
Jacob's Pillow Chair, Board of Trustees
Get to know Pamela in a conversation with Alan Chartock of WAMC Northeast Public Radio.
Listen Now
Pamela discusses the magic of Jacob's Pillow with Connecting Point.
Watch Now
Hear Pamela discuss the manifestation of Vision '22 with Joe Donahue of WAMC Northeast Public Radio.
Listen Now