Vision '22
A strategic plan for the Pillow's future: strengthening the artistic core, boosting civic leadership & community engagement, and renewing campus facilities.
Jacob's Pillow is a national treasure—a revered destination for dance artists, dance audiences, and dance lovers of all kinds.
At the milestone of its 85th anniversary, Jacob's Pillow embarked on a new era of change and evolution. Vision '22, a five-year plan, will fortify the Pillow's existing programs and put new emphasis on three goals, outlined below.
Realizing these goals will transform the Pillow and enhance its ability to showcase the best of dance from around the world, prepare the next generation of dance artists and dance professionals, serve its neighbors and growing global community—and bring people together to experience the power of dance.
In spring 2021 we launched Dance We Must, the final phase of the Vision '22 campaign, to fortify our future and to serve the imaginations of artists and audiences. This work is anchored by the renovation of the Ted Shawn Theatre. Read more here.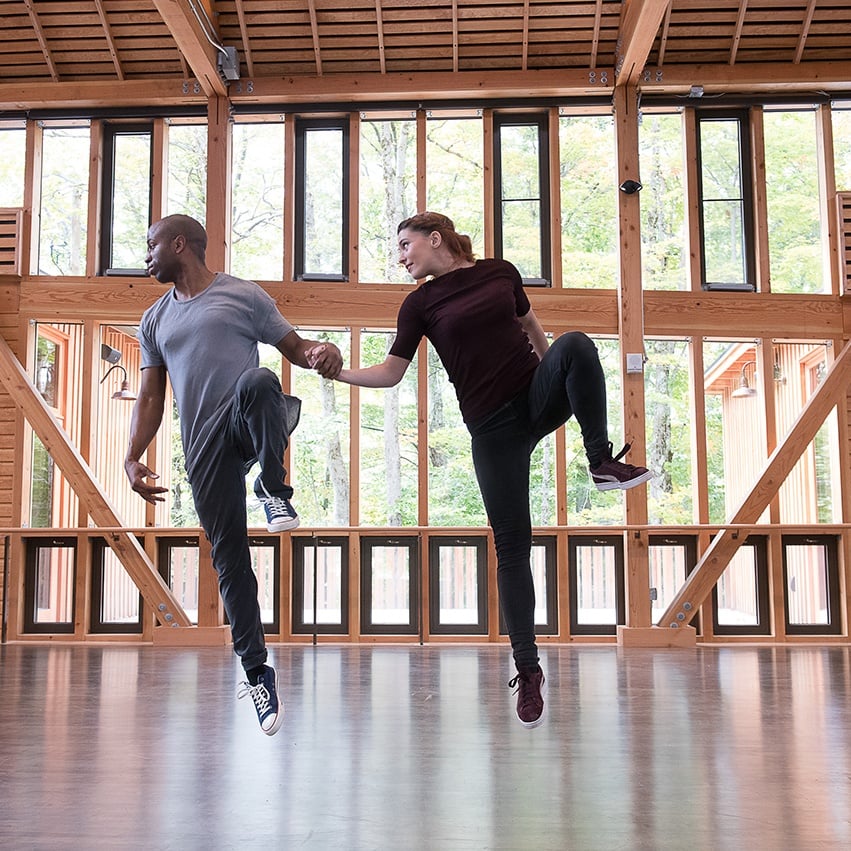 Become a year-round, international center for dance research and development by:
Sustaining and evolving our renowned 10-week summer dance Festival
Creating and growing the Pillow Lab, a residency program that enhances artist development and nurtures the process of choreography
Expanding online access to our unparalleled Archives
Teaching creative excellence to the next generation of dancers and choreographers through The School at Jacob's Pillow
Serving as a preeminent leader in the dance field by hosting conferences, workshops, and other events
By 2022, the campaign will enable:
Tailor-made research and development residencies for choreographers
Unparalleled professional training for emerging choreographers
Opportunities for faculty from regional colleges and universities to use Pillow resources in their teaching
Convenings for dance professionals to discuss and address issues in the field
Program endowments to secure these leadership initiatives
Strengthen connections with our neighbors in the Berkshires and surrounding counties by:
Expanding our Jacob's Pillow Curriculum in Motion® program to all elementary schools in Pittsfield
Collaborating with Pittsfield & Becket schools to enhance the presence of dance in curriculum
Providing public programs such as Pillow Pop-Up performances and interactive community dance workshops
Forging partnerships with local dance schools to bring students to the Pillow
By 2022, the campaign will enable:
Increased community performances and participatory dance events
Hundreds of third graders and their teachers to enhance non-arts curricula with professional choreographers
More dance students in the Berkshires to connect directly with Pillow programs
Program endowments to secure these leadership initiatives
Bring the famed Jacob's Pillow campus up to date and make facilities more comfortable for artists, audiences & staff by:
Upgrading and modernizing the historic Ted Shawn Theatre
Completing the Perles Family Studio
Improving intern, apprentice, and artist housing
---
By 2022, the campaign will enable:
Expanded and improved rehearsal and performance facilities
A modernized Ted Shawn Theatre – without any change to its look and feel
Improved housing accommodations for festival staff, and accommodations for year-round residencies
Support the future of Jacob's Pillow and ensure the success of Vision '22!
For more info, contact our Philanthropy office at 413.243.9919 x124