About
This performance took place July 31-August 4, 2019.
Scroll for bonus content!
A Jacob's Pillow Dance Award winner, Doris Duke Artist Award winner, and MacArthur "Genius" Fellow, Kyle Abraham's "skill as a dancer is a fact" (The New York Times). One of today's most in-demand choreographers—recently the first black choreographer commissioned to create a work on New York City Ballet in over a decade—Abraham was born into hip-hop culture of the late 1970s and incorporates an artistic upbringing of classical cello, piano, and the visual arts into his work.
After embracing a different identity for his company, A.I.M made its Ted Shawn Theatre debut performing a mixed repertory program that demonstrated the company's diverse range of styles and Abraham's own artistry as a performer with INDY, his first major solo in nearly a decade. A.I.M's dynamic dancers performed Andrea Miller's all-female state set to Reggie Wilkins' hypnotic electronic score, as well as Show Pony, The Quiet Dance, and Drive, marked by Abraham's "urgent and expressive choreography" (The New York Times). Read more in the program and in PillowNotes.
Explore A.I.M by Kyle Abraham
Watch the Post-Show Talk
Choreographer/artistic director Kyle Abraham and dancer/rehearsal director Tamisha Guy in conversation with Jacob's Pillow Scholar-in-Residence Brian Schaefer.
In the Press
Though the vocabulary that he creates for himself and his dancers — a lush mix of modern and hip-hop dance — is weighted, the performative physical quality of it is hyper-tactile, the movement executed with a hushed precision." Read more from Janine Parker in The Boston Globe.
The company was founded around his vision, Tatge said, and he and they have evolved toward making him one member of a collective — and they are quickly becoming one of America's most significant contemporary dance companies. Read more from Katherine Abbott in The Berkshire Eagle.
Dive into Jacob's Pillow Dance Interactive:
This ever-growing collection includes dance videos filmed at Jacob's Pillow from the 1930s to today and new illustrated essays. Explore more from A.I.M by Kyle Abraham on JPDI:
Event Dates
Oh no! You missed this one! Check our calendar for future events.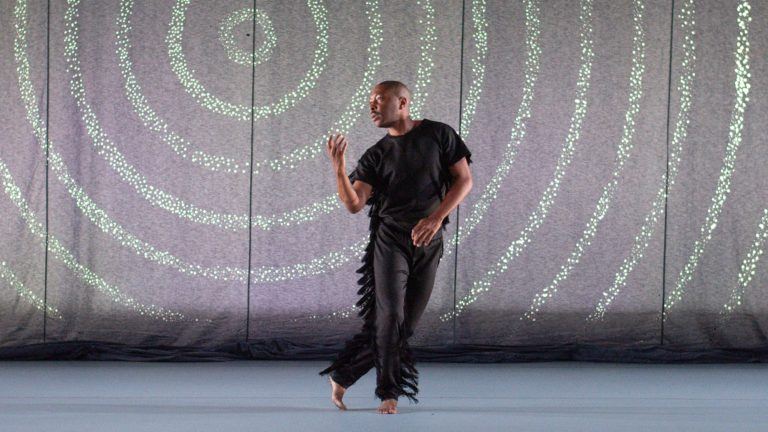 A.I.M by Kyle Abraham – 2019
At Ted Shawn Theatre: Jul 31 - Aug 4