About
This performance was scheduled to take place on June 22, 2022. Scroll for more information and resources.
Ted Shawn's historic "Dance of the Ages" (1938) came alive once again at Jacob's Pillow in this special engagement with Adam Weinert and collaborators. Ted Shawn, founder of Jacob's Pillow, considered "Dance of the Ages" to be his masterpiece. This iconic choreography was based on the radical queer text Towards Democracy (1833) by Edward Carpenter and comprised Shawn's response to what he saw as the rise of fascism around the world. This new performance brought a fresh perspective to the piece, offering subtle updates to themes of gender performance and national identity.
---
About the artists
Chase Buntrock (Performer) is from Chicago, Illinois. After attending Chicago Academy for the Arts, he received his Bachelor of Fine Arts from The Juilliard School. Following graduation, Chase was a dancer with Ballet BC under the direction of Emily Molnar. He is a collaborator with Paramar Dance Chicago, and BODYSONNET. Chase has performed works by Crystal Pite, Sharon Eyal, Merce Cunningham, Roy Assaf, Johan Inger, and more. @boyposes
Aaron Choate (Performer) is a native of Lexington, Kentucky, and attended The Juilliard School as a member of the class of 2022. At the end of their high school career, they were honored to have been named a 2018 Presidential Scholar in the Arts and a YoungArts Gold Medalist in dance. Aaron was one of six choreographers to create for Juilliard's Choreographers and Composers 2021 and will be one of seven to create for Juilliard's Senior Production 2022. In the Summer of 2021, they received the George J. Jakab Global Enrichment Grant Award from Juilliard to create their first fully realized collaborative dance film. This May, their piece was performed at 92 Street Y's "Future Dance Festival"
Michael Edwards Jr, today known as MJ Edwards (Performer) was born in Middletown, NY. They began their professional training at Fiorello H. LaGuardia High School. While at LaGuardia, they trained on scholarship at American Ballet Theatre JKO School, Steps on Broadway, and French Academie of Ballet. They further studied and performed with MOVE|NYC| where they had the opportunity to work with notable faculty such as Jermaine Spivey, Sidra Bell, Mallek Washington, Navarra Novy-Williams, and Jamall Callender along with many others. Additionally, they performed the works of Aszure Barton, Shamel Pitts, Nigel Campbell, Yin Yue, and Gregory Dolbashian. In 2017 MJ began studying at the San Francisco Ballet School. There they achieved the San Francisco Ballet School 2018-2019 Choreographic Fellowship and had the privilege of premiering their own choreography Constant Search for the San Francisco Ballet School's 2019 Spring Festival Performance. They are a 2019 YoungArts Winner in Modern/Contemporary, as well as a 2019 Meringoff Family Foundation Valedictory Prize Winner. MJ also attended The Juilliard School in pursuit of a BFA in Dance. During their Juilliard career, they worked with choreographers such as Ohad Naharin, Sonya Tayeh, and Amy Hall Garner and performed the work Crossing the Rubicon by Donald Mckayle at The David H. Koch Theater. Outside of Juilliard, they were an artistic assistant and performer with The Francesca Harper Project. They most recently joined the Limón Dance Company in 2021.
From Brooklyn, New York, Johnson Guo (Performer) began his dance training under Eliot Feld's Ballet Tech Program. There, he had the honor of performing in works by choreographers Eliot Feld, Brian Brooks, Julia Eichten, and Stephanie Terasaki at the beautiful Joyce Theater. Upon graduating from Ballet Tech, Johnson continued his dance education at the Conservatory of Dance at SUNY Purchase. During his in-person semesters at Purchase, Johnson had the wonderful opportunity of performing in works by Rena Butler, José Limón, and Eve Chan. Other notable dance performance experiences include a summer fellowship with James Sewell Ballet, and a summer training program with Burklyn Ballet Theatre. Currently, Johnson is dancing with the Limón Dance Company.
A graduate of The Juilliard School, Brett Perry (Performer) has performed works by acclaimed choreographers Lar Lubovitch, Ohad Naharin, Crystal Pite, Robert Battle, Medhi Walerski, Eliot Feld, Jose Limon & Sharon Eyal. Brett begin his professional career in Boise, Idaho as a founding member of the celebrated Trey McIntyre Project. With TMP he toured 18 nations, serving as a United States Cultural Ambassador. He has danced with Ballet British Columbia, Aszure Barton & Artists, LED, Ballet Idaho, and Adam Weinert. Perry was a 2010 recipient of the Princess Grace Award for Dance and is the inaugural 2020 Alexa Rose Foundation Fellow. When he is not in the studio or onstage Brett is cultivating the land at Meadowlark Farm in Nampa, Idaho under the tutelage of food activist, Janie Burns.
David Sytkowski (Musician), pianist and vocal coach, is a Visiting Artist in Residence at Bard College and the Bard College Conservatory of Music, where he is Director of Music for Opera Workshop, leads the Musical Theater Performance Workshop, coaches singers and teaches private piano. In September 2019, he made his Joe's Pub debut in Under The Influence with legendary cabaret artist Justin Vivian Bond. This led to Auntie Glam's Happy Hour, a weekly livestream during the initial COVID-19 shutdown that New York Times critic Zachary Woolf proclaimed one of "The Best of the Year's At-Home Divas" in December 2020. They continue to perform together around the country. He frequently appears at venues such as Carnegie Hall, Weill Recital Hall, Jazz at Lincoln Center, Joe's Pub, Feinstein's at The Nikko San Francisco, and the Fisher Center for the Performing Arts.
JM Tate (Performer) is an interdisciplinary artist. He grew up on the east coast and attended the Cooper Union. His research surrounds the evolutionary purpose of creativity.
Genevieve Waller-Whelan (Performer) is a dancer born and raised in Harlem, NYC. She has trained with Ballet Hispanico, the Martha Graham School of Dance, and Fiorello H. LaGuardia High School of Music & Art and Performing Arts. She earned a BA in Sociology from Vassar College in 2021 where she danced in over 20 works with Vassar Repertory Dance Theater (VRDT). She has performed works by Martha Graham, Janis Brenner, Dwana Smallwood, and more. Since graduating, Genevieve has performed in and choreographed for various projects including dance films, music videos, and documentaries. She hopes to further her choreographic prowess and continue to collaborate with various artists in and outside of the dance world.
Noah Wang (Performer) hails from San Francisco, CA, where he received training at the San Francisco Ballet School and Ruth Asawa School of the Arts (SOTA). In 2020, he received his BFA in dance from The Juilliard School. He has performed in both new and classic works at Juilliard by John Higgenbotham, Peter Chu, Martha Graham, Stephen Petronio, Paul Taylor, Twyla Tharp, and Jose Limon. Since graduation, he has worked as a guest artist with Alonzo King LINES Ballet, ODC Theater, Buglisi Dance Theatre, and the Asian Pacific Islander Cultural Center in San Francisco. Noah is currently a company member with Peridance Contemporary Dance Company, based in New York City.
Adam H Weinert (Director, Performer) Hudson-based choreographer, researcher, and gardener Adam Weinert is critically acclaimed for reconstructing the work of Ted Shawn with a distinguishable contemporary resonance. Weinert was a 2013 Jacob's Pillow Research Fellow and performed early solos by Shawn as part of a series hosted at The Museum of Modern Art and Tate Modern. In 2016, Weinert premiered the evening-length work MONUMENT at Jacob's Pillow Dance Festival, praised as "impressive, strange, a puzzle you want to solve" ( The New York Times), where he revived works by Doris Humphrey, José Limón, and Ted Shawn. In 2020 Adam helped launch Jacob's Garden, a working farm and living archive on the Jacobs Pillow campus inspired by the one tended by Ted Shawn and His Men Dancers years ago.  The food grown here is served at the Stone Dining Room and shared with local food pantries. For more information, please visit www.jacobsgarden.org.
Ben Youngstone (Performer) is originally from Richmond, Virginia where he began dancing through Richmond Ballet's Minds In Motion outreach program. After continuing training at the School of Richmond Ballet and the Nutmeg Ballet Conservatory, he went on to perform with Charlotte Ballet II, Wonderbound in Denver, CO, Sacramento Ballet, and Oregon Ballet Theater, where he is a current company member. He has been privileged to perform works by choreographers such as Amy Seiwert, Trey McIntyre, Dwight Rhoden, Danielle Rowe, and Sarah Tallman, as well as presenting his own creations with Wonderbound, Sacramento Ballet, Symbiosis Arts, and Leon Gallery in Denver. He has performed at the Vail International Dance Festival and is looking forward to returning to Jacob's Pillow for the first time since performing there in 2014. Outside of the studio, Ben loves cooking, growing food, and practicing his mandolin.
Ted Shawn (Originating Artist) was born Edwin Myers Shawn in 1891 in Kansas City, Missouri, and later moved to Denver. It was there that he took up dancing as a remedy for paralysis that had resulted from a bout of diphtheria and, within three years, he had started a school and touring company based in Los Angeles. He met the pioneering dance pioneer Ruth St. Denis in 1914 and became her partner both onstage and off, co-founding their Denishawn company and school in 1915 and spawning the next generation of dance icons including Martha Graham, Doris Humphrey, Charles Weidman, and Jack Cole. He founded Jacob's Pillow in 1933 as a home for his company of Men Dancers, creating works here each summer and touring them to more than 750 cities across the U.S., Canada, Cuba, and England. After disbanding the Men Dancers in 1940, Shawn continued at the helm of Jacob's Pillow until his death in 1972.
Jess Meeker (Composer) was the accompanist and composer for Ted Shawn and His Men Dancers from the company's inception until its final performances in 1940. He was born in Arkansas City, Kansas, in 1911, and Shawn knew of him through a Denishawn dancer who was also from Arkansas City.  After joining Shawn's new venture at Jacob's Pillow in 1933, he composed nearly 20 scores for the company, including several full-length works such as Dance of the Ages. Meeker's music has been performed at Carnegie Hall, Boston's Symphony Hall, on Broadway, and in the most prominent concert halls and theaters across the U.S. Up until his death in 1997, he remained on the staff of Jacob's Pillow, accompanying classes and occasional performances.
Explore Dance of the Ages
Read the program
Dive into Dance of the Ages on Jacob's Pillow Dance Interactive
Event Dates
Oh no! You missed this one! Check our calendar for future events.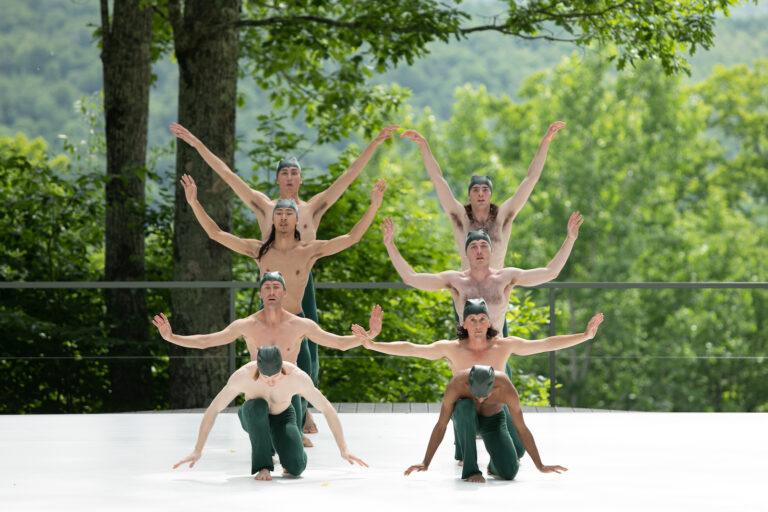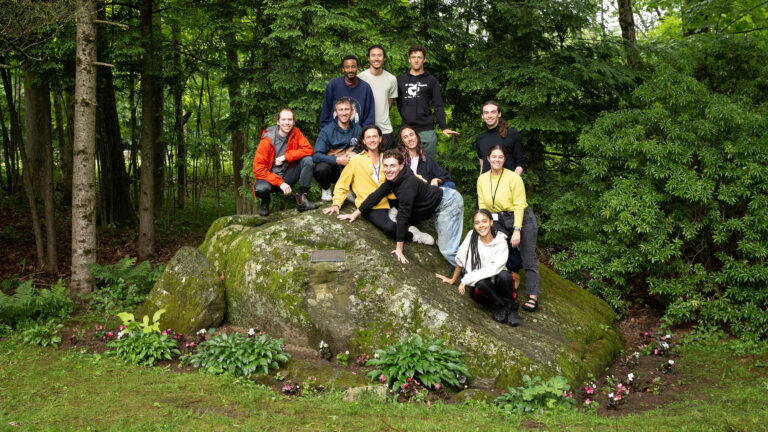 Bring Jacob's Pillow Home
Dance of the Ages
At outdoor Henry J. Leir Stage: Jun 23