About
Legacies of the Black Berkshires:
An Evening with David Levering Lewis
Friday, July 7
Join Great Barrington's Du Bois Freedom Center and the Du Bois Forum for an evening in honor of historian and Pulitzer Prize-winning Du Bois biographer Dr. David Levering Lewis. 
---
Schedule
4:30pm: PillowTalk at Blake's Barn
Scholars, writers, and artists will reflect upon Dr. Lewis' scholarship, public engagement, and expansive intellectual legacy. 
6pm: waheedworks Performance on the outdoor Henry J. Leir Stage
Choose What You Pay tickets
Tommie-Waheed Evans merges urban street dance and contemporary dance through movement propelled by gospel music and polyrhythmic sounds. He established waheedworks in Philadelphia in 2006 with a mission to create a radically collaborative body of work that speaks to human life through movement. At the Pillow, Evans and his company will present Bodies as Site of Faith and Protest, a work that explores the idea of bodies uniting in protest, moving alongside and within Dr. Martin Luther King's speech "We Shall Overcome."
7:30pm: Dinner at the Pillow Cafe with Bryant Terry
Fixed price menu $65, registration is required 24 hours in advance, limited availability
Join James Beard award-winning chef Bryant Terry, author of Black Food, for a Du Bois-inspired menu under the stars, working in collaboration with the staff of the Pillow Cafe. This event also features a performance by Lecolion Washington and the Community Music Center of Boston, the largest outside provider of arts education to the Boston Public Schools.
---
This event is sponsored by The Du Bois Freedom Center, The Tufts University Center for the Study of Race and Democracy, The Du Bois Forum, and Community Music Center of Boston.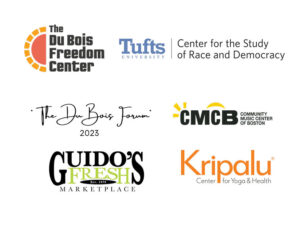 Event Dates
Oh no! You missed this one! Check our calendar for future events.
Legacies of the Black Berkshires: An Evening in Honor of David Levering Lewis
At Pillow Grounds: Jul 7