About
The Principles of Uncertainty
August 23-27, 2017
Jacob's Pillow Dance Award-winner John Heginbotham and acclaimed illustrator Maira Kalman join forces for the world premiere of The Principles of Uncertainty. Imaginative set design meets whimsical dance theatre, promising a delightful evening full of wit and charm.
Co-commissioned by the Pillow and the Krannert Center for the Performing Arts, University of Illinois at Urbana-Champaign, and developed during multiple Pillow Creative Development Residencies, The Principles of Uncertainty is an evening-length dance theatre work choreographed and directed by Heginbotham, inspired by Kalman's written and visual art, set to an original score composed, arranged, and curated by Brooklyn Rider and Silk Road Ensemble's Colin Jacobsen. Members of The Knights, Jacobsen's innovative chamber orchestra, will perform live.
Related video on Jacob's Pillow Dance Interactive: Dance Heginbotham in Chalk and Soot in 2014 
*Programming subject to change.
Event Dates
Oh no! You missed this one! Check our calendar for future events.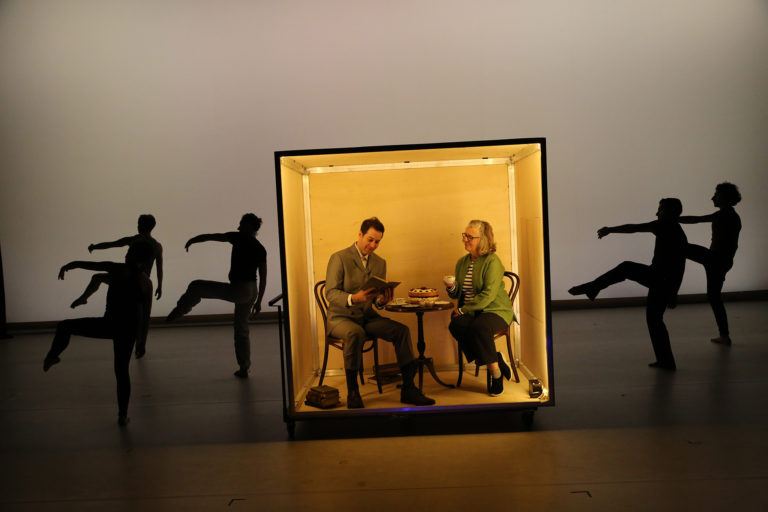 What People Are Saying About Dance Heginbotham
"…buoyantly musical, courteous with hints of mischief…"
The New York Times
"Audiences have a chance to enter into Heginbotham's entertaining universe, and they shouldn't miss it. …His works seem to have personalities of their own. You want to know them."
The New Yorker
"Tempered energy, effortless charm and droll wit…"
San Francisco Chronicle
The Principles of Uncertainty
At Doris Duke Theatre: Aug 23 - Aug 27