About
This performance took place on June 29-July 3, 2022. Scroll for more information and resources.
Ronald K. Brown / EVIDENCE has deeply moved audiences for over 30 years. "No major choreographer has worked harder to bring spiritual awareness to the human heart than Ronald K. Brown," writes the Washington Post. "His dances concern our struggle to find love and connection, where compassion alone can ease the grueling physical journey of life." 
In 2020, Jacob's Pillow honored Ronald K. Brown with the Jacob's Pillow Dance Award. For Festival 2022, EVIDENCE performed a series of works including Gatekeepers, Upside Down, and the world premiere of The Equality of Night and Day, featuring an original score played live by composer and jazz pianist, MacArthur Fellow Jason Moran. With text by civil rights activist Angela Davis and visuals by Deborah Willis, the sweeping and poetic work examined the concepts of balance and equity, in our history as well as in the current political climate as it affects young people, women, and people of color today.
---
EXPLORE RONALD K. BROWN / EVIDENCE
Watch the Post Show Talk
This Post-Show Talk features Ronald K. Brown / EVIDENCE: Founder/Artistic Director Ronald K. Brown, Composer Jason Moran, and Scenic and Lighting Designer Tsubasa Kamei, moderated by Scholar-in-Residence Suzanne Carbonneau.
Read the Program and PillowNotes:
In the press
"Throughout the evening I was struck by the seemingly ceaseless rise of energy, wondering how it could be maintained. But even in the moments of pause or stillness, the dancers continued to emit radiant strength; their commitment to the dance, to the art, to Brown, to each other, to us, is formidable, precious. Breathtaking and life-sustaining and hopeful." Read more from Janine Parker in the Boston Globe.
"Brown's choreography responds mainly with a ritual of prayer and grief: the dancers circling around a testifying soloist or retreating into a corner, hands raised, or removing the top halves of their costumes and placing them like offerings or bodies in a pile." Read more from Brian Seibert in The New York Times.
Watch Ronald K. Brown / Evidence On Jacob's Pillow Dance Interactive:
Watch Ronald K. Brown / EVIDENCE Inside the Pillow Lab:
Read more about Ronald K. Brown / EVIDENCE on Jacob's Pillow Dance Interactive:
---
See rehearsal photos of The Equality of Night and Day, captured in May as part of the Living Legacy program at the Maggie Allesee National Center for Choreography (MANCC) at Florida State University.
Event Dates
Oh no! You missed this one! Check our calendar for future events.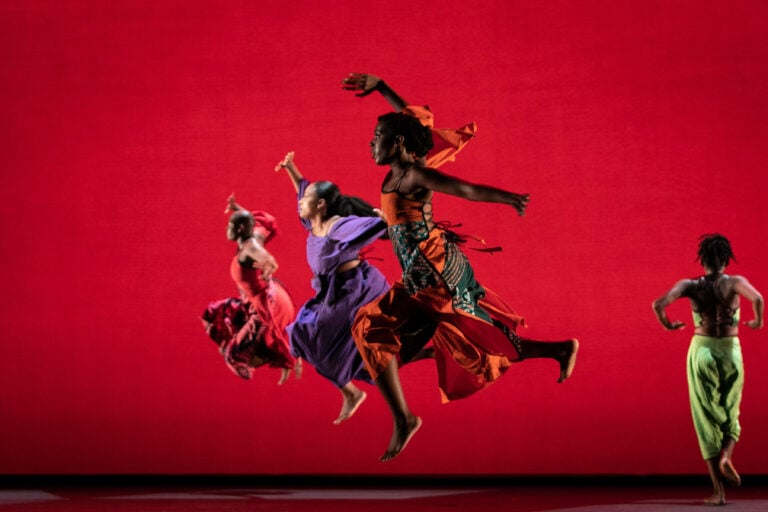 Bring Jacob's Pillow Home
Ronald K. Brown / EVIDENCE
At Ted Shawn Theatre: Jun 29 - Jul 3