About
Tero Saarinen Company & The Boston Camerata | Thursday, August 20, 2020 at 7pm
Presented in association with Hancock Shaker Village
This event took place as part of Virtual Festival 2020.
The resonance of Borrowed Light's U.S. premiere in 2006 led to a rare return engagement as part of the Pillow's 80th anniversary celebration in 2012. The work is inspired by Shaker music (edited and arranged by The Boston Camerata Director Emeritus, Joel Cohen) and dance, and succeeds in seamlessly integrating singers and dancers onstage to create a work that is unstoppable once it starts. Tero Saarinen Company's new home is in the Cable Factory in Helsinki, Finland, a cultural hub that houses the company's TSC Studio as well as space for rehearsals, workshops, and artistic residencies.
Artistic director Tero Saarinen founded the company in 1996 as a venue to stage his own choreography, after having first made a name for himself as a soloist with the Finnish National Ballet. In addition to his ballet training, he also studied butoh in Japan and Nepalese dance in Katmandu. One of the most important lessons that Saarinen learned from butoh is a sense of respect for his own history. He quotes his butoh teacher, Kazuo Ohno, as saying, "I am dancing on top of my ancestors." This philosophy fits perfectly with the goals of The Boston Camerata, which endeavors to preserve and reawaken human memory through music.
Pre-Show Talk with Jacob's Pillow Scholar-in-Residence Maura Keefe; Post-Show Talk with Artistic Director Tero Saarinen and Boston Camerata Director Anne Azéma.
Tero Saarinen Company
Tero Saarinen Company is the flagship troupe of Finnish dance abroad. Since its founding in 1996, it has toured at leading festivals and venues in 40 countries on all continents. Alongside Jacob's Pillow, U.S. audiences might remember TSC from performances at the Brooklyn Academy of Music and The Joyce Theater in New York City or its performances with the Los Angeles Philharmonic at Walt Disney Concert Hall in Los Angeles.
In addition to Borrowed Light, choreographer Saarinen's key works include the group's international breakthrough Westward Ho! (1996), his The Rite of Spring reinterpretation solo HUNT (2002), Morphed (2014) to the music of Esa- Pekka Salonen, Jean Sibelius's Kullervo (2015) in collaboration with the Finnish National Opera and Ballet and, most recently, Third Practice (2019), a creation based on Monteverdi's music performed together with The Helsinki Baroque Orchestra. His newest creation Transit—set to premiere in October 2020 at the Malmö Opera in Sweden—features 16 dancers, new music by composer Sebastian Fagerlund, and an animated film installation by internationally recognized visual artist duo IC-98.
Tero Saarinen Company's core activities include an international teaching program of TERO-technique, presenting other dance companies in Helsinki and community outreach projects. It also provides residencies and produces demo performances at its TSC Studio in Helsinki. TSC's operations are supported by Finland's Ministry of Education and Culture and The City of Helsinki.
The Boston Camerata
Directed since 2008 by French-born singer/scholar Anne Azéma, the Boston Camerata occupies a unique place in the densely populated universe of European and American early music ensembles. Camerata is one of the longest-lived groups to be functioning, and vigorously so, up to the present day. Camerata has continued to create, over more than a half-century of activity, a very large number of concert and recorded productions. These typically combine extensive original research (as in the case of Borrowed Light) with high performance standards maintained by a distinguished roster of outstanding vocal soloists and instrumentalists.
Borrowed Light, with a musical score arranged and edited by Music Director Emeritus Joel Cohen, conceived especially for Tero Saarinen's choreography, toured extensively, with over eighty performances from 2004 to 2015. Camerata has recently appeared in concert at the Théatre de la Ville, Paris (2015), the Alcântara Festival in Brasil (2016), The Metropolitan Museum's The Cloisters (2017), Rockefeller Chapel Chicago (2018), La Philharmonie de Paris (2018), the Basel (Switzerland) Early Music Festival (2018), and the Boston Early Music Festival (2019). Two new recordings were issued in 2019 (NAXOS and Harmonia Mundi) to critical acclaim.
Camerata's numerous distinctions include the American Critics' Circle Award, grants from the National Endowment for the Arts, residencies at the Massachusetts Institute of Technology, the University of Tennessee, the University of Oregon, and the Grand Prix du Disque. Both Anne Azéma and Joel Cohen are recipients of the Ordre des Arts et des Lettres of the French Republic.
WATCH Tero Saarinen Company & The Boston Camerata ON JACOB'S PILLOW DANCE INTERACTIVE:
Additional Tero Saarinen Company & The Boston Camerata VIDEO:
---
This event is produced in collaboration with


Nel Shelby, Producer | Loren R. Robertson, Assistant Producer/Editor
Cherylynn Tsushima, Project Manager | Vincent Vigilante, Videographer
Benjamin Richards, Videographer/Editor/Graphic Animation
Ashli Bickford, Videographer/Editor | Amber Schmiesing, Editor
Jacob Marks, Recordist | Kathryn Brodie, Intern
Event Dates
Oh no! You missed this one! Check our calendar for future events.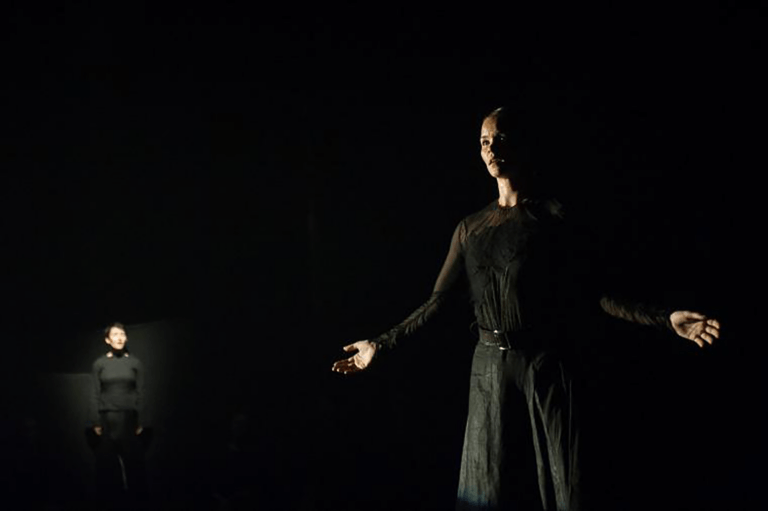 Tero Saarinen Company & The Boston Camerata
At Youtube.com: Aug 20