Violeta Galagarza is an award-winning choreographer and founder of Keep Rising To The Top (KR3Ts); a dance company that has been launching the careers of top-performing dance professionals for more than 30 years in East Harlem. Acclaimed for her ability to seamlessly integrate traditional dances with hip-hop and other street dance styles has made her a force in the industry. Recently, KR3TS dancers performed dance scenes in Lin Manuel's In The Heights movie. She has created work for top artists like Aventura, Prince Royce, Jill Scott, Joe, Omarion, Millie Quezada, Jim Jones, Shenseea, TKA, Coro, Lissette Melendez, El General. In 2012, Violeta won a Latin Grammy Award for "Best Choreography Flash Mob" (Verizon FiOS), a 2012 Bessie Award for "Special Achievement in Dance," was one of seven women honored with a 2012 Mamás Latinas Award.
What brought you to dance, and to found KR3TS? Can you talk a bit more about the organization?
My first influence in dance was the hustle. My sister was a hustle dancer. From there I grew up being the guinea pig of all, and being thrown around into many different types of dance which I loved. That brought me to audition for the Alvin Ailey School where at age nine I got a scholarship for four years. After studying jazz, ballet, modern and African dance, for those four years, I got another scholarship, but during that time became a young mom. But I knew dance was my passion and I had to continue, that I wanted to share it with my community and make sure that no one takes it away from anyone else. So at 17 I started my dance company. It's been 33 years now that we have been developing from amateurs into professionals, as well as advocating for them, and providing education in all different dance styles and cultures. We help all of our dancers with branding themselves, helping them succeed with whatever they dream of doing, whether that be as a dancer, a choreographer, a stylist… the options are endless.
All parts of this culture of care, education and support are so important to me because many who come to us are having a hard time finding and pursuing their passion due to lack of resources  It's really hard, but we are truly a family, and that is a part of everything that we do.
At the end of the day,  I'm thankful for many out there now that are fighting to the end,  to continue to build programs and companies like ours.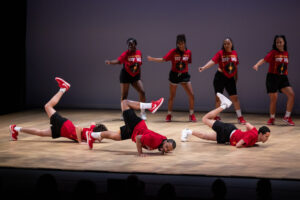 What are the stories you are hoping to tell on the Henry J. Leir Stage with your show? 
So we wanted to gather and create a mixture of hip hop with Latin and with contemporary. This is because throughout the 50 years, that's what I experienced.  We also want to focus on krumping, and flexing, because we know there is a lot of curiosity in our audience and in our community to know. A lot of audience and community members seem to be thinking  "wow, I didn't know those types of styles existed or the story behind them." So we wanted to share from dances that have been a part of our group for years, We wanted to bring them out to the community and to these types of events. This was how we decided on including voiceovers, because we wanted to mention the important parts of hip hop, and the connection with Latinos in hip hop.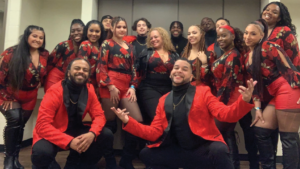 What are you most proud of in your company?
It's so important for me to actually see all these dancers, and the many of mine (alumni of KR3TS) that have become celebrity dancers, who now travel all over the world, and do all styles. But they are still here. It's also important to me to connect with the HoodLockers, as one of my alum, Noel Rodriguez, dances with them. Additionally, many of my dancers are featured with Ladies of Hip Hop. So it's a great reunion and we all have something special to share with you guys.
This Pillow Pick was edited by Tadea Martin-Gonzalez and published on July 30th, 2023