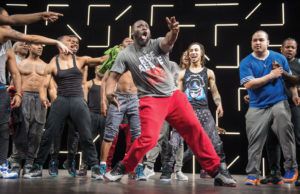 "The body speaks more than the mouth does sometimes, you know? The body tells more stories."

Reggie 'Regg Roc' Gray
Jacob's Pillow was thrilled to collaborate with Brooklyn-based Flex dance pioneer Reggie 'Regg Roc' Gray in two ways for Festival 2016: in co-hosting his D.R.E.A.M. RING  Dance Competition Event with Pittsfield's Berkshire Museum on July 22, and by presenting his ground-breaking production, FLEXN, in the Ted Shawn Theatre August 17-20.
Jacob's Pillow Festival Intern Chelsea Zibolsky recently had the chance to speak with Gray about what inspires him, the world of FLEXN, and the impact of D.R.E.A.M. RING on the community.
What do you want the D.R.E.A.M. RING Competition to bring to the community of Pittsfield? How would you like it to influence the audience and the participants?
The D.R.E.A.M. RING Competition is a way to open up and to build community…It's about skill-building with your partner, and free-styling with your partner…Coming up with different types of ways to do different movements. I just want people to come out and get as creative as possible. Because you know, the world we live in now is in need of so much creative change.
"D.R.E.A.M. RING Competition is promoting community, and it is opening doors for people to be seen and heard."
How do you use dance to speak on certain issues, as a way to express yourself?
We've been expressing ourselves through FLEXN for a number of years now…it's been a long time that we've been expressing how we feel through dance.
And then, you know recently when things start to happen–as far as Trayvon Martin, different types of shootings that were going on, about this injustice–me and my friends decided to do a video, a special tribute to Trayvon Martin, things like that, about what's been going on. And when we did that, it was more about how we can't speak about our issues because no one really hears us too much.
We had a social media presence, you know Facebook, Twitter, and everything else, but nothing happens. So what can we do? And the best thing we have is dance, you know? In our community it's what we do, so we were like, let's just express ourselves that way and see what we can come up with, who can hear us. Through dance instead of just expressing our voices. The body speaks more than the mouth does sometimes, you know? The body tells more stories.
How would you say FLEXN has changed your life?
It's made me look at life a little different, and not only that, it's given me different perspectives on different social issues and political issues now. Instead of looking at it one way, you look at it in so many different ways. So you have so many different angles to reach. You know when you're paying attention to it. That's probably the most it's given me, is a lot of perspective.
Do you think that your performances give other people perspective as well?
Oh yeah, definitely. Everyone perceives the show in their own way. Within the FLEXN show, it has so many different angles to it that people look at it and they link it to themselves, to their lives, and once you link to your life you feel connected to the performance.
Community members of Pittsfield and participants from the D.R.E.A.M. RING will be here for the FLEXN show. What's important for the younger generation to take away from these experiences?
What I would love for them to take away is complete self-freedom, and knowing who you are as a dancer, as a person. Within our community, the strongest thing about FLEXN is that it is a chance to be yourself no matter who, what, size, color, shape–it doesn't matter what it is, you have the power within your body, within yourself to be who you need to be, to be who you are, and that's what FLEXN teaches. You can express those characteristics through movement and emotions.
That would be the biggest thing I would love for them to take away, become who they are and be themselves. Because that's what FLEXN is all about.
"FLEXN has so much to offer someone to build the confidence, to become leaders."
What keeps you motivated?
Honestly, the people I work with every day. I get on stage with them and I see something new every single time. They just constantly evolve into these amazing dancers and I look at them and think, "How do you do the things you do?" I watch it every day and I see the dancers constantly breaking boundaries. It's like the best thing in the world for me, watching the people I work with every day, people in the community grow to be amazing performers, dancers, entertainers, whoever they need to be. It motivates me to keep going because I feel like I'm going on the right path, I'm doing something right.
Is there anything you want to add about coming to Pittsfield and Jacob's Pillow?
When everyone comes out, just come with so much love and a lot of energy. Don't be afraid to be yourself, just have a great time and be prepared to have your mind blown by FLEXN.
Experience D.R.E.A.M. RING & FLEXN
Learn more about Community Programs
Pillow artists and staff develop programs that connect participants to the inspirational world of dance.