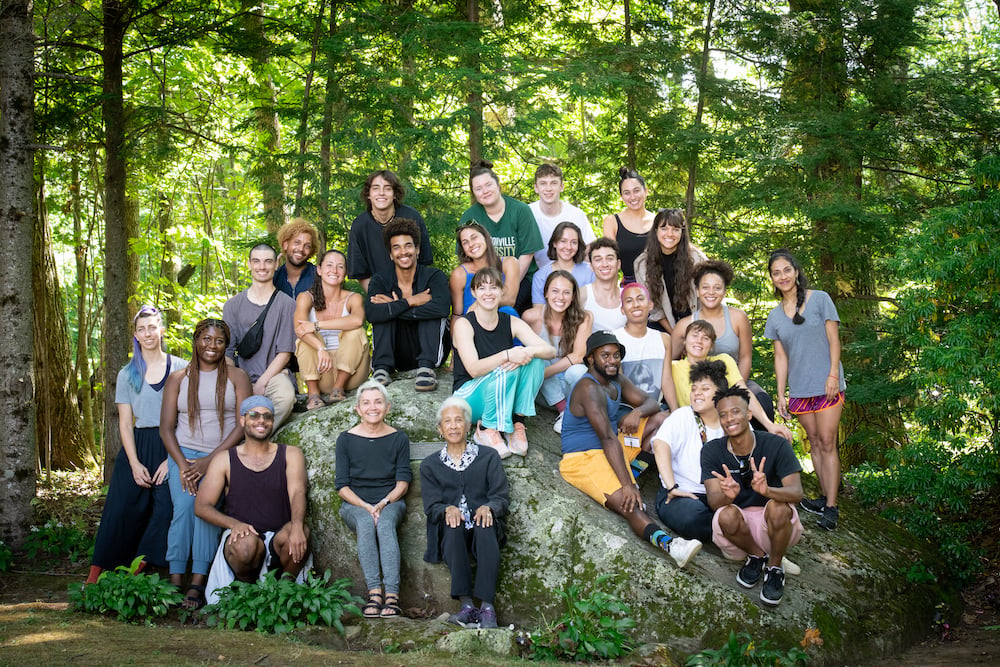 In 2018, The School at Jacob's Pillow set forth to develop a new choreography program. This program, brought to life by Ann & Weston Hicks and the Jacob's Pillow artistic team, would revive a choreography program at The School and offer eight emerging choreographers the chance to foster their creative skills by bridging access to Festival resources and the Pillow's retreat-like campus once the Festival ends. Central to the Ann & Weston Hicks Choreography Fellows Program are Co-Directors Dianne McIntyre and Risa Steinberg.
Dianne McIntyre is regarded as an artistic pioneer, with an impressive career as a choreographer for dance, theatre, Broadway, television, and film. Her collaborations with live music for her company and for independent projects are renowned. She has toured internationally and received numerous honors for her work. Her residency and performance project with Lester Bowie was presented by the Pillow in 1998.
Risa Steinberg is a lifelong dancer, having previously danced with the José Limón Dance Company before pursuing a rich solo and teaching career. She has served on The Juilliard School's faculty since 2001 and is a mentor to countless choreographers. Risa performed at the Pillow with artist Matteo while Ted Shawn was still living, returning years later as both a performer and teacher.  For both, the Pillow holds special significance.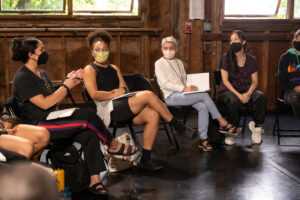 In 2018, Risa and Dianne, hardly knowing one another, met in a New York cafe to begin planning the program. Now, 5 years later, the two work in tandem, maintaining loyal collaboration, and both agreeing how much they have learned from one another. Each year, the pair start planning for the upcoming program in December. They watch hours of application footage, considering artists from a variety of backgrounds and with a variety of goals. Now in its fifth year, whether working onsite at the Pillow or online during 2020 and 2021, forty choreographers have been guided and mentored in their artistic development.
This year, The School welcomed a new group of eight choreographers, each bringing two dancers with them. For ten days, the cohort attends, absorbs, and discusses all Festival presentations while receiving space for rehearsal time and accessing the Pillow Archives for assignments and individual research. Risa and Dianne bring in both emerging and established choreographers, as well as collaborators such as costume,lighting, and multi-media designers, to meet with the Fellows. During the first week of the program, while the festival is still running, Fellows watch performances each night, discussing them at lunch the next day. The cohort establishes a tight-knit community early in the process.
"Even today, which is the first full day, you could just tell that they've become a cohesive entity…it feels like we've been together for months and months," said Risa.
The Choreography Fellows program is unique in that it focuses on the process, not a finished product, and choreographers are entrusted to research and rehearse through their own individualized approaches. Risa and Dianne are there to provide feedback and guiding questions that serve the choreographer's working process and creative exploration.
"It's more than what you call 'feedback'… it's more going deep into their process, so the deep process not only is for this place but something that they can carry forward as choreographers, as creatives in the future," said Dianne.
Many choreographers take their discoveries at the Pillow with them moving forward with their careers. For Kameron N. Saunders, a 2018 Fellow, many memories have stuck with him since his time at the Pillow, but one in particular stands out. 
"I remember very vividly, at the time, being very defensive about my work and saying to Risa that I had a formula, that in order to be a successful choreographer you needed to have a compelling, upbeat piece of music with clever and athletic choreography. That, in my mind, is what got butts into the seats to see your work. Especially as a black choreographer. I felt like in order for companies to take a chance on you, you had to have this "wow" factor about your work. Risa looked at me and said, 'Okay.. so this formula has worked for you up until this point… but do you really want to be doing this same formula at 70?' I had no words! It was sarcastic, yet extremely needed! She had given me permission to release the pressure of trying to please people with my work and to genuinely create work that I felt compelled to create. I realized later that up until that point I wasn't doing that. I was creating work to satisfy others.
Risa was the first person to bring that to my attention. From that moment on I trusted her completely. Both her and Dianne. My entire time there was transformative to say the least." 
For Kameron and other Fellows, Risa and Dianne remain close mentors, even past their time at the Pillow.
"The time and space I was offered to research and develop work as a Choreography Fellow in 2018 is an experience that will be resonating with me for years to come. The mentorship of Risa Steinberg and Dianne McIntyre is priceless and I continue to lean on and cherish their presence in my life,"  said Bret Easterling.
"Dianne and Risa were so generous with their investment in every single fellow's individual voice and aspirations, and I felt so supported and challenged by their mentorship. This program has welcomed me into a family of diverse and inspiring artists. From fellow emerging choreographers to established, seasoned creators, leaders, and mentors – my connections with many of these incredible folks have continued beyond the program and have supported my current professional endeavors,"  added 2020 Fellow Mia J. Chong.
"Being a part of the choreography fellowship at Jacob's Pillow was a dream come true, and a year later, I'm still digesting everything that happened over that ten day period," said 2021 Fellow Kia Smith.
This year, Kameron was one of three recipients of the Princess Grace Award in Choreogrography. The other two recipients, Omar Román de Jesús and Maleek Washington, are also Pillow alumni, Román de Jesús a 2020 Hicks Fellow and Washington an alum of the 2008 & 2009 Contemporary Program. Apart from awards, Hicks Fellows are experiencing active choreographic careers. For Risa and Dianne, watching the fellows flourish is a special honor.
"I feel like I have a small part of it, not a big part, but it's just an extraordinary thing to know that pretty much all of them are serious about continuing their journey with it. That's just remarkable," said Risa.
For current Fellows, alumni, and the Co-Directors, the Hicks Choreography Fellows Program is a special opportunity to hone in on the art of choreography and soak in all the Pillow has to offer.
"It's magical," says Dianne.
Written by Emma Garber. Published September 2022.