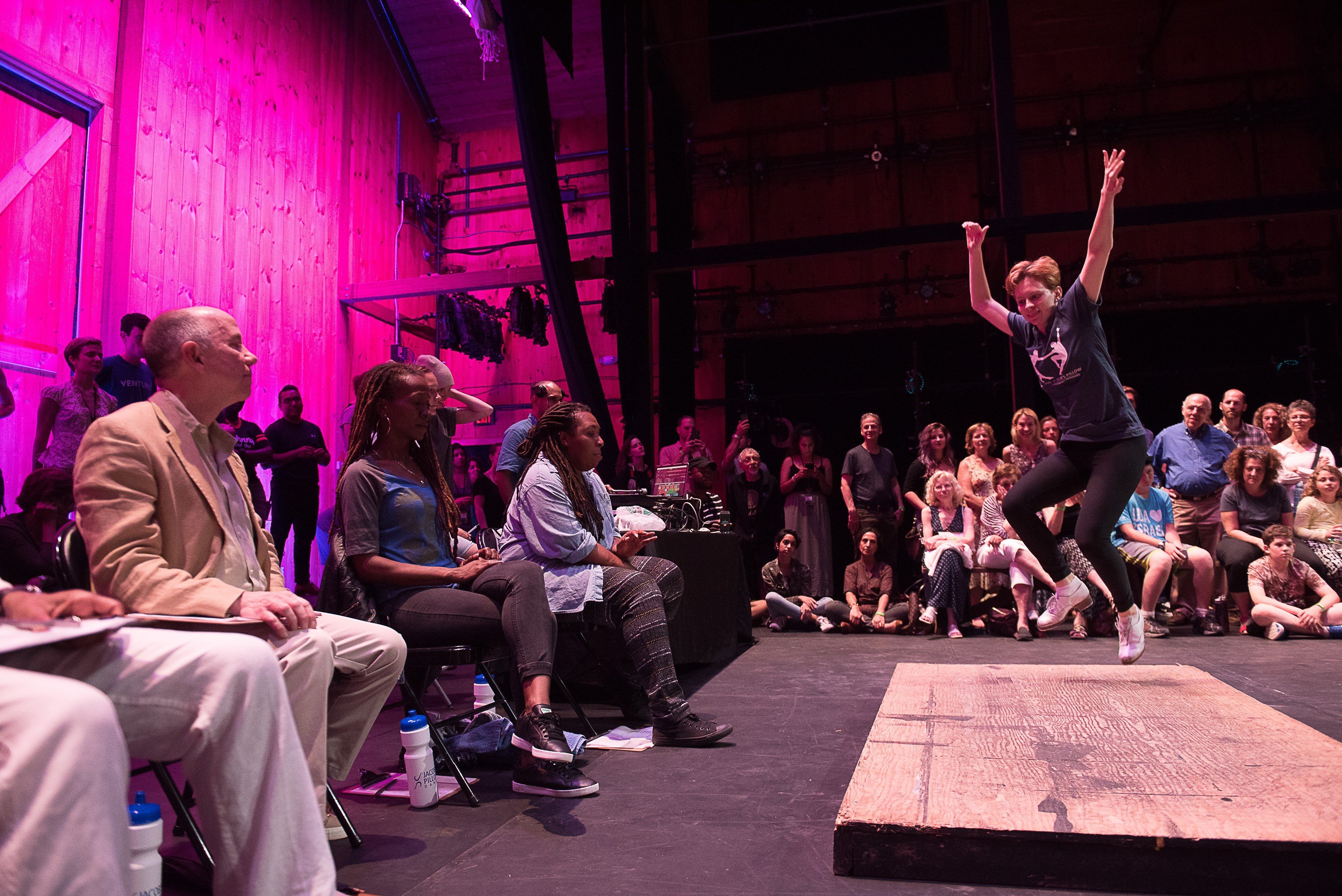 The School at Jacob's Pillow welcomed 25 tap dancers to participate in a 2 week-long program dedicated to training and improving tap technique with today's masters. Aubrey Cheek sat down with Pillow intern Madison Florence to talk about the road that led her to The School at Jacob's Pillow and her experience. She shared a look into what they learned through a tap jam session with fellow dancers Tommy Wasiuta and Sydney Burtis.
Did you always want to be a dancer? How did you start?
I started dancing when I was three as is typical. My mom was a swimmer and growing up she took us to the recreation center and there was a dance class. I said "I want to do that Mommy," and that is how it began.
She didn't put me in class, it was "little" me who knew what I wanted

Aubrey Cheek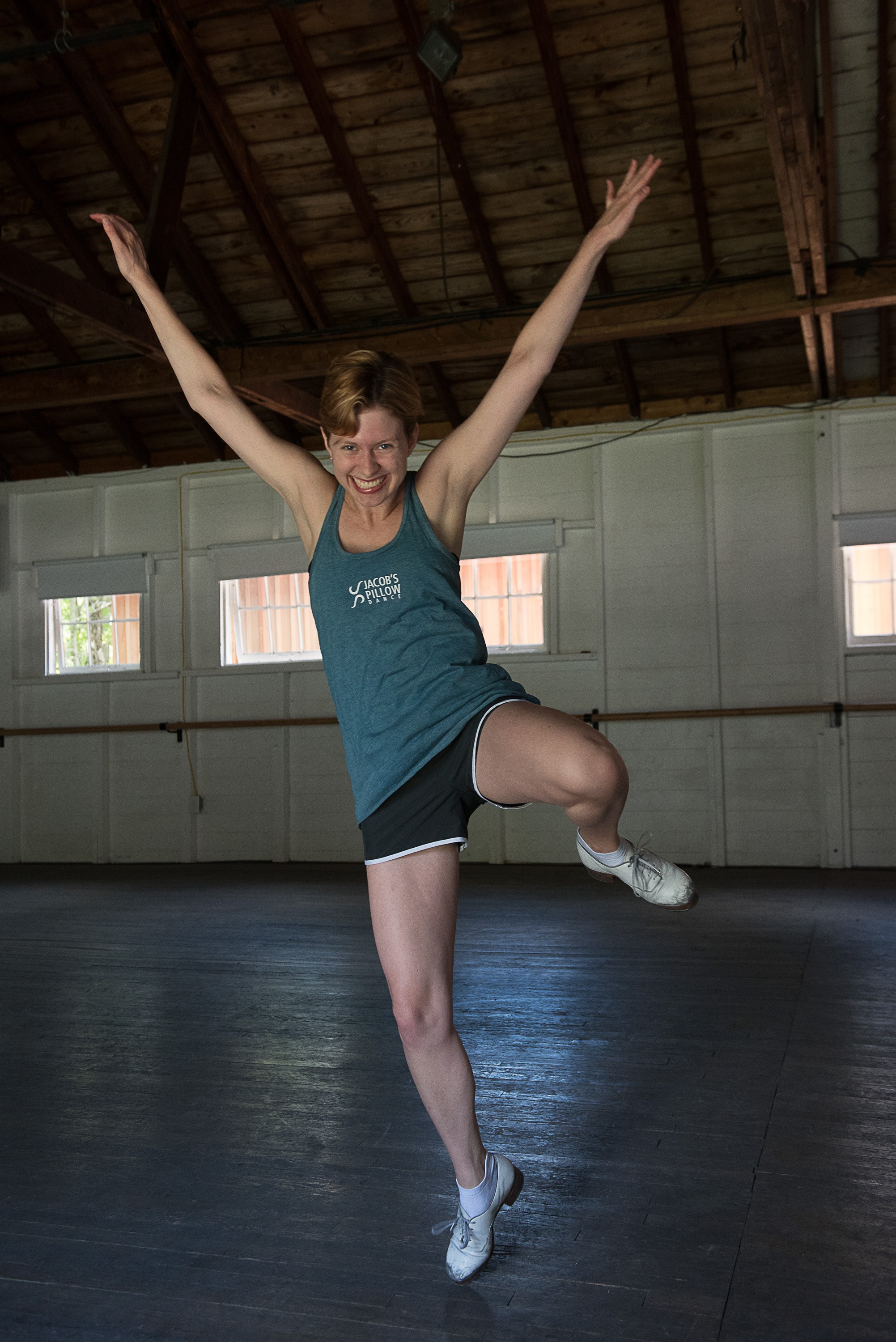 I'm originally from Florida and grew up dancing in studios, but it was hard to find good training, especially good tap training. I started going to tap festivals when I was 11. When I was 15, I started training with Professor Robert Reed who ran the St. Louis Tap Festival for over 20 years. That was a really significant festival because he brought in old hoofers who, in essence, developed our art form. I started going to his festival and I met Reed there. Reed had a lot of experience working with the masters, so I trained with him for a few years and started fine tuning my own technique. One of my favorite things he said was, "an amateur practices until they get it right, a professional practices until they cannot get it wrong." That really pushes me to strive to always get it right.
I studied with him until I went to school to be a dance major for a few years. I decided to transfer and finish school in New York City because I knew that I needed to be there for dance, especially for the tap scene. I've grown a lot since since I moved to New York City. I've been studying with Derrick Grant for about two and a half years. It is really amazing to think back to when I would go to festivals and I did not have ongoing training with someone. I think because of my training in New York City, I was able to get into this program.
Why did you choose to come to the Pillow? Did you originally want to be here or did you just go to audition?
I knew I wanted to be here since the last time there was a tap program offered. I actually auditioned the first time, but did not get in. That was before I was living in the city and I didn't feel like I had a chance at getting accepted. This time I felt more confident, so it was really exciting for me. I knew that once I was accepted, I was going. That was not a question for me. 
There is just no other program out there like this one

Aubrey Cheek
Would you say that preparing to perform on the Inside/ Out stage is different than other venues you have experienced?
I would say one of the big differences is that we have such a diverse range of choreographers and each has their own distinct style that has been developed over many years. The challenge for us is to step into their class and try to embody their style, but with our own personal twist. We also need to envision what they want the piece to look like. Normally in a show you perform all one choreographer, so this is much different. It makes you more adaptable and helps you to grow.
What has been the most influential advice you've been given?
There's so much. I think taking risks. Derrick talked about that a lot and knowing that you have a community to support you. For example, improvisation can be scary sometimes, but the more you do it the more comfortable it becomes. Over the years I feel like I understand and  express myself more through improvisation and now have more musicality. When he talked about taking risks, he encouraged us to go outside of our "bag", watch something that one of the other dancers does, and try to do something inspired by that. That advice for me was incredibly influential.
Michelle Dorrance said, "when you are at your most exhausted, how much more can you give?" That was really relevant to this intensive program. Most of us are not used to tap dancing this many hours a day, so it was physically, mentally, emotionally, and in all respects, very exhausting. You just need to keep pushing and if you push through, you will achieve so much more.
What advice would you give future Tap Program participants?
Something that Derrick said, don't compare yourself to other dancers but instead, be inspired by them. Everybody is so amazing and you can almost shy away from that. Watch somebody do something amazing and be inspired by that.
Never mark a dance. Respect yourself to give as much as you possibly can.

Aubrey Cheek
Watch the tap jam session with Aubrey Cheek, Tommy Wasiuta and Sydney Burtis below for a closer look into the Tap Program at The School at Jacob's Pillow.
The School at Jacob's Pillow
---
The 2017 Tap Program is part of an annually changing program of The School at Jacob's Pillow.