The 2021 Tap Dance Program was led by Program Directors Michelle Dorrance, Derick K. Grant, and Dormeshia. Together, they coordinated an onsite Performance Ensemble of eleven dancers and a Virtual Program of 31 dancers. Dancers also had the opportunity to work with Artist Faculty Jason Samuels Smith, Maria Torres, and Dianne Walker as well as Festival Artist LaTasha Barnes, who led two Master Classes for the dancers. The 2021 Tap Dance Program included orientation sessions during the week of July 26 and ran onsite from August 1-15 and online from August 2-13. 
Prior to the program beginning, Program Director Derick K. Grant spoke about his experience teaching virtually over the past year and remarked, "Being on Zoom and being in people's homes and being a part of being a fly on the wall, as they practice in their personal space, I had no idea how fruitful that would be. It certainly didn't seem like it would be initially and then all of a sudden, I developed these relationships with students from around the world really. And we're able to help them improve in ways that, now knowing what we can accomplish, we will never go back. It's changed the way I teach from this point forward and it's changed my expectations. It's changed the way I relate to dancers."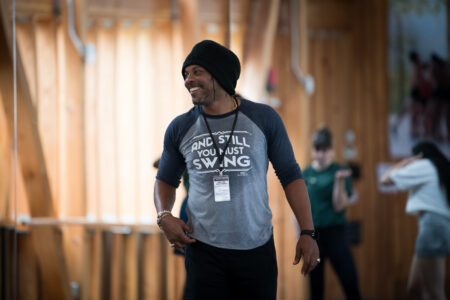 Grant's experience adapting to virtual tap dance helped shape the program. Fellow Program Director Michelle Dorrance said, "Derick has really been mentoring a number of students in the art of improvisation through the entire year all on zoom and through phone calls talking about how they're feeling about a given tune, so he'll be able to help us help guide these folks online."
For dancers, the way the Program Directors demonstrated onsite and online collaboration created a community experience despite distance, time zones, and internet connectivity. Virtual dancer Natalie Allan was pleasantly surprised by how connected the onsite and online programs were. Online dancers even had a chance to choreograph on members of the onsite performance ensemble. Of the experience, Allan says, "I will carry a newfound sense of belonging. As hard as I work, it's easy to fall into bouts of self-doubt. This experience showed me I am capable of doing anything I set my mind to."
Virtual dancer Luke Stanich echoes this excitement. He says, "The highlight of my time with The School at Jacob's Pillow was seeing how all of our choreographic work that we had set on the on-site dancers finally came together. It was amazing to see our visions come to life, and to have dancers that were so willing to cooperate with our choreographic ideas."
For virtual dance Skyler Poiley, "Collaborating with four other dancers on a collective piece over Zoom was such a smooth process! We picked music, arranged it to our liking, chose which chorus spoke most to us, incorporated themes and through-lines, and created something we were all really proud of! Each time we had a group meeting we were immediately flowing with ideas and creativity."
Curious about how the collaboration between onsite and online dancers looked in real time? Watch a bit of the rehearsal process on our Instagram.
Virtual dancer Ella Steele spoke about how the program left her feeling "inspired to fully be myself in and out of dance and not separate my passions but find ways to integrate my whole self into everything I do."
Ella Steele, University of Manitoba
When asked to give advice for future dancers at The School at Jacob's Pillow, virtual dancer Zoe Lesser recommends, "This program is the best way I know to invest in yourself as an artist and a contributor to Tap Dance."
"The challenge of dance, of dancing, during turmoil is always there. The challenges change, day to day, year to year. There's always something around the corner waiting to kind of knock us off track," Grant says, "And we have to figure out a way through it if it means that much to us, you know and the survival, not just survival – because that really doesn't do it justice – but to elevate the form, in spite of the challenges, is always kind of what's on the menu, as far as i'm concerned. How do we get to the next place in spite of any obstacles in our way?"
Reflecting on her experience, onsite dancer Ashton Carter says "The fact that the program was so small made it to where we were all truly connected on a deeper level. This experience helped me to form connections that I know will stick with me forever."
Catch an Instagram live conversation with onsite dancer Sterling Harris and online dancer Claire Miller here.
Keep up with The School at Jacob's Pillow by liking their Facebook page and stay tuned on Instagram for more opportunities to hear from dancers and alumni!
Written by Gillian Ebersole. Published August 2021.