About
DELving Mini-Workshop: Martha Graham
August 19, 2023 from 10am–1pm
Workshop Facilitators: Ann Biddle (Director, DEL at Jacob's Pillow) and Felice Santorelli (DEL Facilitator).
This interactive movement workshop explored the work and legacy of modern dance icon and pioneer Martha Graham. Considered revolutionary at the time, Graham's invention of a new modern dance technique has endured for almost 100 years. Her impact on the field of dance was enormous and far-reaching. The Martha Graham Dance Company continues to preserve her legacy and has brought her work into the 21st century in new and innovative ways.  
In this workshop participants:
Explored different approaches to looking at a choreographer's work 

Engaged in embodied research

Participated in movement exploration and collaborative dance-making

Discovered applications of workshop content to dance education
Drawing from the extensive resources of Jacob's Pillow Dance Interactive, participants engaged in meaningful dance learning activities that explore diverse dance artists, genres, and eras within a cultural, historic, and social context. Multi-modal teaching strategies include movement observation, embodied reflection, reconstruction practices, collaborative research, and collective dance-making.
As an added bonus, participants in this workshop received a ticket discount to attend the matinee performance of the Martha Graham Company performance.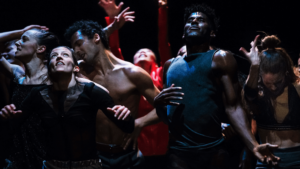 DELving Mini-Workshops focus on exploring a choreographer's voice through the Dance Education Laboratory (DEL) model. DEL facilitators guide participants through an exploration and investigation of a choreographer's work through multiple entry points in order to design accessible lessons and activities for all dance learners.
DELving Mini-workshops may link to the work of the Pillow Lab Artists or dance companies featured during the Summer Festival. Participants may be invited to attend a showing (in person or live streamed) of a work in progress by a Pillow Lab artist where they may engage in an interactive dialogue with the artists or receive a discount to attend a performance during the Festival.
---
Lead support for the Dance Education Lab at Jacob's Pillow is generously provided by the Arnhold Foundation.
Event Dates
Oh no! You missed this one! Check our calendar for future events.
DELving Mini-Workshop: Martha Graham
At Sommers Studio: Aug 19