About
This performance took place on July 10, 2021. Scroll for bonus content.
In a pilot partnership with Adam Weinert and Brett Perry of the Dancing Farmer, LLC, Jacob's Pillow inaugurated Jacob's Garden, a place to grow fruits and vegetables and connect both dancers and audiences to the multiple histories that exist on the land of Jacob's Pillow, while pointing to a more sustainable future. Drawing direct inspiration from Shawn's original 1931 "friendship garden," the shared cultivation of a 1.5 acre garden will be at once a working farm and a living archive while inviting coordination with local community members.
The early-summer inaugural event featured Kristen Wyman (Nipmuc) of Eastern Woodland Rematriation; who provided an offering to the Earth; a movement-based activation performed by Orlando Zane Hunter Jr. and Ricarrdo Valentine of the Bessie Award-winning company Brother(hood) Dance!; and Adam Weinert who was honored with a 2020 Bessie for Outstanding Revival for his work around the legacy of Ted Shawn. Brother(hood) Dance! regularly explores the lineage of land ownership in their work, centering work that is Black Liberation with a specific slant towards agrarianism by way of gardening and farming. Weinert, along with Brett Perry, Cynthia Koppe, Brandon Washington and Ching Ching Wong, presented Tillers of the Soil choreographed by Ted Shawn and Ruth St. Denis in 1916 and led the audience in a line dancing event accompanied by live music.
Event Dates
Oh no! You missed this one! Check our calendar for future events.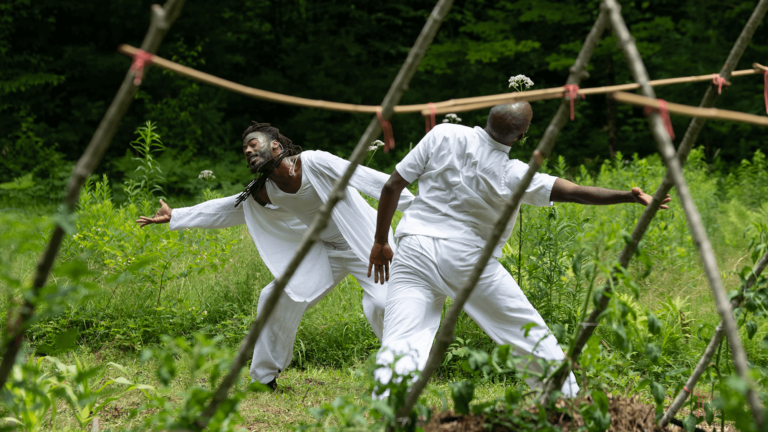 Onsite Event:
Commemorating the Opening of Jacob's Garden
(Site-Specific)
At Pillow Grounds: Jul 10