About
This performance took place August 11-15, 2021. Scroll for bonus content!
The Jazz Continuum exploration centers the prolific artistry of Jazz music and dance as a cornerstone of Black American dance forms. Through this acclaimed series, LaTasha Barnes and her cast of masterful dancers and musicians embody, amplify, and showcase the power of Jazz dance and Lindy Hop to their personal dance journeys and the artform as a global phenomenon.
In this world premiere of the second exploration of the Jazz Continuum series, this powerful cast investigated the energetic and generative relationships within Jazz and Lindy Hop and shared their imaginings of its reapplication. Barnes is an internationally recognized and award-winning dancer, choreographer, educator, performer, and ambassador of culture. She has been honored to be a frequent collaborator with Dorrance Dance, Ephrat Asherie Dance, Ladies of Hip-Hop, and Caleb Teicher & Co.
Explore LaTasha Barnes Presents The Jazz Continuum
Watch the Post-Show Talk
Dancer/choreographer LaTasha Barnes, musical director Jon Thomas, and dancer Reyna Núñez, in conversation with Jacob's Pillow Scholar-in-Residence and Associate Curator Melanie George.
Watch the PillowTalk
As a foremost tradition-bearer of Black American social dance, LaTasha Barnes places jazz dance in the context of House, Hip-Hop, Waacking, and Lindy Hop.
Read the Program and PillowNotes

Performance details begin on page 20.
View all Festival 2021 program books
The world premiere of The Jazz Continuum took place on May 19, 2021 in the Solomon R. Guggenheim Rotunda. The Jazz Continuum was commissioned by Works & Process at the Guggenheim and supported by a Works & Process bubble residency at the Catskill Mountain Foundation, May 6 – 19, 2021. Works & Process bubble residencies were made possible by The Andrew W. Mellon Foundation and Doris Duke Charitable Foundation.
Event Dates
Oh no! You missed this one! Check our calendar for future events.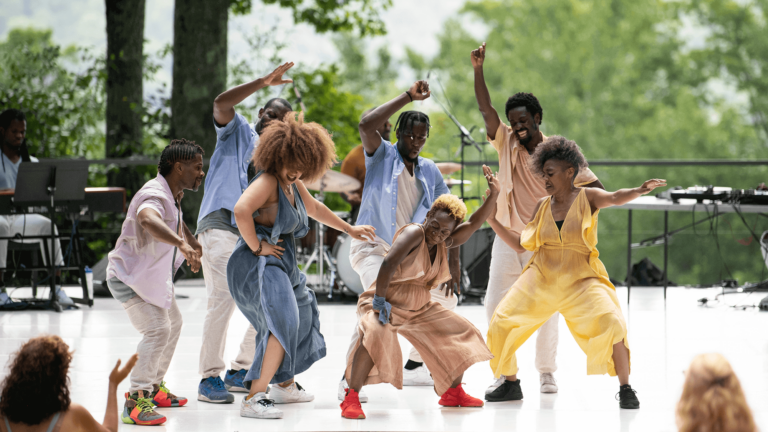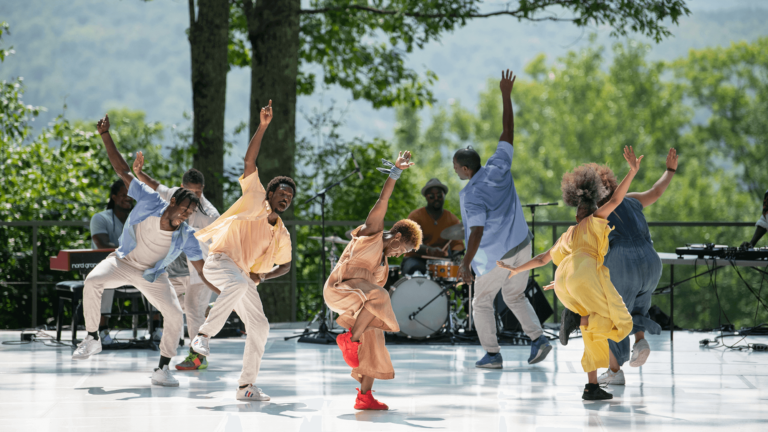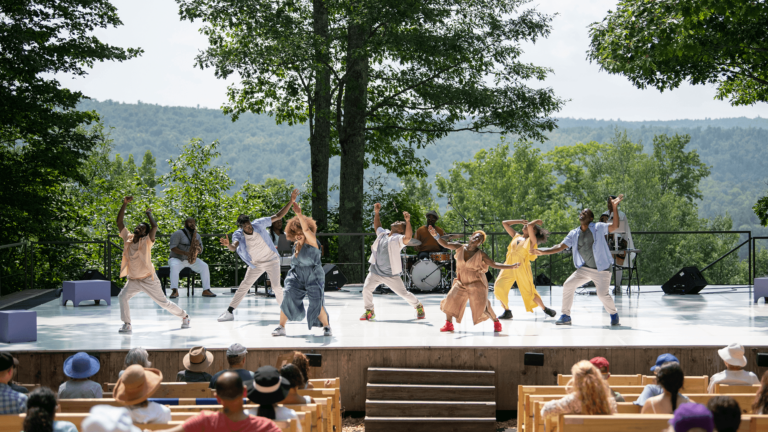 Onsite Event:
LaTasha Barnes Presents
The Jazz Continuum
(Leir Stage)
At outdoor Henry J. Leir Stage: Aug 11 - Aug 15