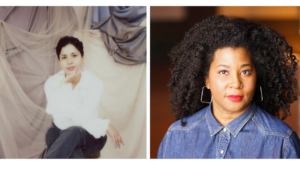 Though Associate Curators Melanie George and Ali Rosa-Salas have entirely different dance backgrounds, each year they work in tandem to develop each festival. 
Melanie George grew up a "studio kid", having started dance in preschool. Upon graduating from Western Michigan University with a degree in Dance, she pursued a performance and teaching career. Melanie went on to receive her Master's from American University before directing  the dance education program at Kent State and later returning to American University in Washington D.C as program director. Melanie then became the Scholar in Residence for the American Dance Institute (now known as LUMBERYARD Center for Film and Performing Arts), later transitioning to work as the only full time Dance dramaturg in the country. At the start of the pandemic Melanie joined the Pillow as Associate Curator. 
Ali Rosa-Salas hails from a dancing family, her mother a former professional Flamenco dancer. She grew up immersed in art and movement before attending the Ailey School. Ali graduated from Barnard College with a passion for utilizing movement as a catalyst for social change. She began a career in curation in New York, ultimately landing at Abrons Arts Center before joining the Pillow with Melanie in 2020 as Associate Curator. Ali also performs in addition to her curatorial work.
Now in their third year at the Pillow, the two weighed in on the curatorial process and looked ahead to future festivals. 
What does your work entail as Associate Curators?
M: "We are part of a team that decides who's going to be at the Pillow in all kinds of ways, whether it be residencies, performing at the Festival, digital content. All of that is curation."
A: "Melanie and I, in conversation with Pam, bring ideas, research questions, and artists to our meeting to collectively vision what it is that we feel aligns with the value of the Pillow, the mission of the organization, and our capacities as an institution. We're moved by ideas and artists and concepts that excite us, but just as much as we're motivated by those questions I think a lot of curatorial work is motivated by logistics and resources. A lot of curatorial conversations revolve around timing of when something can happen and what kinds of the resources are available  As a team we have our sort of distinct subject positions, experiences, and histories that become evident in really exciting ways in terms of the different strands of programming that the Festival ultimately winds up looking like."
"We're moved by ideas and artists and concepts that excite us"
Going into this historic 90th season, what were some of your goals? 
A: "This was only my second Festival, so I'm still learning a lot. One of my personal goals was to get a better sense of what the Festival is like closer to how it used to operate. Curatorially, any sort of anniversary is an opportunity to reflect on the legacy of a place. What has happened informs what is happening now, which informs how we can impact the future. For example, with 'America(na) to Me', which was the program that Melanie and I co-curated, it was really utilizing our resources, like the Archives, to answer questions like 'what was the first program in the Shawn? What was the curatorial ethos behind that? How have things changed? How have things remained the same? How do we want to reflect on the history of this place?'"
M: "You know, we're not that far removed from 2020, so the pandemic still looms over everything. I feel like with anyone, you want artists to leave feeling supported and successful, you want box office revenue to be strong, you want everything and you don't necessarily get to have all those things at the same time. I think ultimately, there's lots of ways to measure what a successful Festival is and more so, a successful Festival during a pandemic has completely different metrics in that way."
What are your biggest considerations while planning for a festival? 
M: "You want everything to come off as planned, but you're also dealing with weather, and travel, things don't always go as planned. In terms of the venue, it's really meaningful to a lot of people. I try to stay conscious of that to not take it for granted in terms of the artist's I program. The other thing to note is that the Pillow is in a remote location and because of that there are many first time guests, with that comes with a lot of responsibility on our part to make sure that their experience is very welcoming and supportive, that they want to return." 
A: "We're unique as an organization because of where we're situated geographically, and the retreat-like atmosphere. We're unique because of the interns and Fellows and all they contribute to our organization. I'm really excited to see how all of those unique facets continue to become more integrated and how curatorially, the throughlines are reflected  across all aspects of the organization. I think curatorial practice is a way to have values reflected in the work that's presented onstage. I think there's so much work that we can continue to do to connect those dots across all of the amazing things that are happening."
"Next year's festival is going to be different from this year's festival, which is going to be different from the previous year's festival."
What are you looking forward to for the Pillow's future?
A: "I think attending to archival silences and expansion of audiences that particularly now which, speaking to Melanie's point, with Covid has become more complex. I think this is a time where the field is in an unprecedented moment ThePillow provides exciting opportunities because of our access to outdoor space and iconic outdoor presentation sites, but also its remote location presents challenges in terms of attending to the archival silences that we want to address. I think that will forever be what makes this work interesting. How do you attend critically to a history and build upon the values of an organization, while also creating more access?"
M: "I'm looking forward to whatever next summer will be, which we've already begun to plan, because I think the thing that Ali said about interdepartmental relation to curation, it takes time to learn how those things intersect and I'm able to think about those things in a way I could not have in 2021. Last year was like 'How do we pull off a festival when we can't have anyone indoors? How do we pull off a festival when we have to keep everyone Covid-safe?' So that's going to be one of the interesting things for us. Next year's festival is going to be different from this year's festival, which is going to be different from the previous year's festival."
Written by Emma Garber. Published October 2022.