Q: Vanessa, you have extensive dance experience: especially within cultural dance traditions, you have done everything from Tap to Bomba, to Bhangra, to Zapateado, to name a few. Can you tell us more about the start of your dance career and what training or experiences were imperative to the art you make in the present?
A: I can genuinely say that every experience I have had, when it comes to both dance training, travel, and community engagement, has led me to where my dance career is today. I began dancing at a very young age (4 years old!), but it wasn't until my 20's that I started finding my artistic voice and creating my path. I dove into over a decade of continuous training, dancing, performing, and learning at home in San Francisco and abroad, keeping the integrity and lessons of my ancestors and community at the heart of every step. I spent two years living and learning about rhythm, dance and life in my family's homeland of Veracruz, Mexico, traveled and trained throughout Brazil, Colombia, Guadalajara, New York – anywhere I could go to learn not only about dance, but also about where the voices of my community fit in (or didn't fit in). It was through these experiences that I was able to define the vision for my artistic practice rooted in ancestral teachings and intentional engagement – what would eventually become La Mezcla. Now, the firm practice of being a student, always and forever, is what allows me and La Mezcla to continue to grow.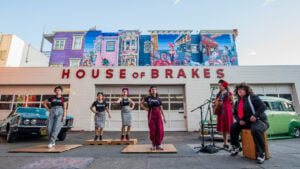 Q: La Mezcla is a poly-rhythmic and multidisciplinary dance and music ensemble rooted in Chicanx, Latinx, and Indigenous identity. What was your inspiration for creating an artistic outlet such as La Mezcla? 
A: I wanted to create a space where our communities not only feel welcomed – but also see themselves, their experiences, their stories represented in a way that doesn't romanticize or exploit them. I also wanted to create a space that challenges the concept of folkloric/cultural versus contemporary work, aiming to abolish the hierarchy of technique in dance performance spaces rooted in white supremacy. La Mezcla brings together multiple dance and music traditions that have survived hundreds of years of colonization and enslavement to tell contemporary narratives; by not fitting into either category, we hope to push the envelope and show that dance and music rooted in a specific cultural experience are not just of the past. Finally, I wanted to create an artistic space that brings the art to the gente – Yes, stages and festivals are amazing to be a part of, but let's get our tap boards and tarimas on the farm fields and street corners to bring our work to the people who have inspired it. 
Q: Vanessa Sanchez & La Mezcla are making their Jacob's Pillow debut with Pachuquismo,  a work inspired by the Zoot Suit Riot Era of Los Angeles. Could you explain this historical event, its impact, and its importance to Chicanxs?
A: During World War 2, there was a great divide within the United States – anyone seen as "unpatriotic," i.e., not white enough, was deemed unamerican. Rather than hiding in the outskirts, young Mexican-Americans adopted a signature style of pachuquísmo inspired by the African-American Jazz scene of the 1930s and 40s; with this, they moved confidently throughout Los Angeles with the intention of being seen, and white America did not like this. For ten days in June of 1943, servicemen attacked any young Mexican American they saw, cutting their hair, ripping off, and burning their suits on the streets. This began in the downtown areas and soon moved into Mexican neighborhoods. It wasn't until, what became known as the Zoot Suit Riots gained national attention that the government stepped in to stop the attacks. These attacks brought the consistent racism faced by communities of color to the public eye and inspired grassroots movements and collective resistance within Mexican-American communities around the country.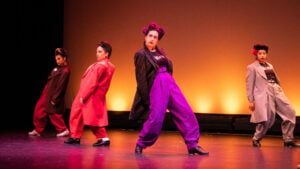 Q: The history of violence against brown and black communities in the United States has been largely dismissed, diminished, and narrated by voices of privilege. What research did you incur to be able to put together the history of the Zoot Suit Riot Era and contextualize it within your art?
A: My first encounter with the zoot suit and the culture of Pachuquísmo occured when I was six years old, when my older cousins watched a movie portraying Zoot Suiters while babysitting me; I have been interested in the culture and its history since that day. I mention this life experience not to say that I began researching at seven years old but rather to explain that the zoot suit culture and the significance of the Pachucxs of the 1940s are elements that are integral to many Mexican-American communities, especially in California. I began my formal research in 2015. I wanted to develop the work based on both past and present accounts of the culture, through historical facts and community storytelling. I spent days in the Los Angeles public library reading through slides of various newspapers and publications from the 1940s, most of which are not digitized. I spoke with many Mexican-American community members, some of who identify as Chicanxs, about the meaning of the Zoot Suit Riots and Pachuquísmo for them. I connected with Pachuca cultural leaders, including El Pachuco Zoot Suit in Fullerton, Ca; I also connected with historians on the subject, reading academic books, including "The Woman in the Zoot Suit," whose author, Catherine Ramirez, soon became an advisor for the show. All the while developing rhythmic choreography based on my findings. 
Q: Pachuquismo brings an all-female cast to portray the female experience during the Zoot Suit Riot Era. Could you elaborate on what differs those experiences and why you felt it necessary that these stories be brought to the stage?
A: Throughout history, the work and impact of womxn, non-binary and trans-identifying people are largely overlooked. Pachuquísmo aims to not only share the experiences and significance of las pachucas during the Zoot Suit Riot Era, but also celebrate and empower their voices and the voices of young womxn everywhere.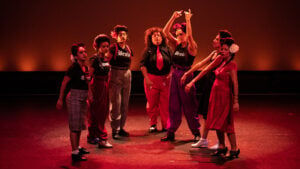 Q: Can you walk us through your artistic process for you and your dancers while building this piece? 
A: The development of this piece began in 2015 and has gone through many iterations. It started as an 8-minute percussive acapella trio in 2016. Since then, it has been a series of intensive development periods with dancers, both one on one and in groups, exploration and development sessions with our Musical Director, technical residencies with our tech director and audio engineers, virtual advising, and songwriting sessions with our maestra in Mexico, and many in-progress showings in our community. The historical narratives have been weaved into the choreographic content through layered, percussive conversations between tap dance, Zapateado Jarocho, and live instrumentation. It has been an ongoing process with our different casts and crews over the years.
Q: Your Identity, as well as your collaborators' identity, is an essential aspect of your work. Can you elaborate on what it means to share your experience, voice, and artistry through an outlet such as Vanessa Sanchez & La Mezcla? 
A: The work I do with La Mezcla is based not only on my voice and experiences but also on the voices and experiences of my ancestors and communities that have brought us here. It is crucial that any collaborator or artist that works with us understands this vision and shares the same intention. It is this intention that maintains the integrity of La Mezcla's work. 
Q: What's next for Vanessa Sanchez & La Mezcla? 
A: We are excited to continue our first national tour of Pachuquísmo throughout 2022. We are also developing La Mezcla's mixed repertoire show which will premiere in March 2023. Our Dance Film, Ghostly Labor, will be screening at national and international film festivals over the next year. We'll be getting back into the research field and the studio at the end of the year to continue developing the full-length dance theater production of Ghostly Labor, with its premiere at Brava Theater in San Francisco on November 17th-19th, 2023, followed by its national tour in 2024! We are also happy to expand our community programming through our paid internship program and workshop series "Connecting Communities with Artists."
Facilitated by Lourdes Del Mar Santiago Lebrón. Published August 2022.