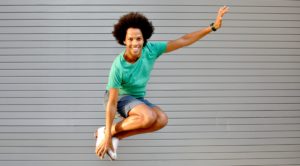 Jacob's Pillow has played a pivotal role in the artistic growth of many dance artists throughout the world, including Brazilian tap dancer Leonardo Sandoval. Read his Pillow story below and learn why the Pillow is proud to create opportunities for artists like him.
BEGINNINGS:
Leonardo Sandoval hails from Piracicaba, Brazil, where he developed a passion for movement at a very young age. Growing up in a musical household where his father was a percussionist, rhythm and musicality came naturally to him. At age 6 Leo took his first tap class, which changed his life forever.
2014:
THE SCHOOL AT JACOB'S PILLOW TAP PROGRAM
Leo moved to the U.S. in 2013 to pursue his dream of tap as a career. Dancing in his apartment in Baltimore, he created an audition tape that won him a partial scholarship to the Tap Program of The School at Jacob's Pillow.
"I left the program a completely different person, not just in the way I approach my own dance and choreography, but in the way that I approach the dancers that will work with me and that I want to work with."
DORRANCE DANCE in ETM: The Initial Approach, Doris Duke Theatre
While participating in the Tap Program, Leo was approached by Michelle Dorrance to perform in the premier of ETM in place of an injured dancer. This was a decisive moment.
"Because I was in the program studying with The School one week before the show premiered, I was in the zone to nail the show," he asserts.
2015:
SOLO PROJECTS: The creation of Music from the Sole
While performing with Dorrance Dance, Leo met bass player Gregory Richardson and began performing on the streets of New York City. These street sessions led the two to create Music from the Sole, which premiered to a sold out house at Creative Alliance in Baltimore. Leo notes "This was another connection that I made at the Pillow that led me to create my own show, my first own full hour of choreography, and that was a wonderful experience."
2016:
DORRANCE DANCE, Ted Shawn Theatre
Leo made his explosive debut on the Ted Shawn Theatre stage with Dorrance Dance in ETM: Double Down.
THIRD THURSDAY, Pittsfield, MA
Less than a month later The Pillow invited Leo and the Parangole Collective to represent Jacob's Pillow in two performances at Pittsfield's Third Thursday street festival. This was the first time that Leo came back to The Pillow as a choreographer, and it marked another crucial step on his career path.
2017:
INSIDE/OUT
During Festival 2017, Jacob's Pillow is honored to welcome Leo and his Company to perform on the Inside/Out Stage. Leo responded to the invitation, "This is magical. If you've got the right support, if you continue to follow your dreams, you will get there at some point. This is all happening because I started as a student at Jacob's Pillow."
Support artists like Leo!
Support from our members and donors is the reason that we can offer opportunities for artists to learn, create, and accomplish their goals.