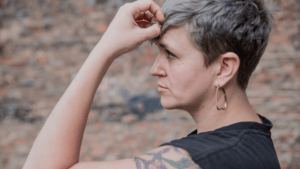 Abby Zbikowski, esteemed dancer, choreographer, and recipient of the 2017 Juried Bessie Award, premiered her work abandoned playground at the Abrons Arts Center in 2017. The work features nine dancers wearing gym shorts, knee pads, and tank tops and incorporates intense, high-energy movement phrases demonstrating elements of Zbikowski's diverse dance background in West African, hip-hop, tap, and postmodern dance forms.
Abby Z and the New Utility will make their Jacob's Pillow debut with abandoned playground, June 26-30 in the Doris Duke Theatre. Scroll to see a behind-the-scenes video.
One of our Marketing/Digital Media Interns spoke with Zbikowski about her company's upcoming Pillow debut, the evolution of abandoned playground, and the importance of teamwork in dance. Read on for an inside look:
Q: This is your Pillow debut. What does this mean to you personally and for your company?
We haven't been presented by a dance festival yet, especially one as historic as Jacob's Pillow, so it's definitely a landmark moment for the company. My dancers are trying not to over process that fact. They just try to think about the work and then maybe once it's done they'll be like, "Oh wow, we did that." My philosophy about stress is to stay true to the work and to focus on the work. At the same time, I'm not in the work, but the work is ready. So now it's about the hugeness of being presented by the Pillow, especially because I think my work plays in between a lot of different dance spaces.
Q: What's something you want to tell people about this piece or what they might experience at Jacob's Pillow?
"I want people to know that they can have whatever reaction they feel is appropriate for what they're watching."

Abby Zbikowski
I'm very open to the fact that I have my own interests in dance and they're very particular. Even if they're not one hundred percent shared with all of my dancers — and I honor that — there's an openness about dance where I want to invite people to come to it from where they are. If you were to applaud or gasp or have a reaction in the moment, I want audiences to actually allow themselves to feel and have that experience. Feel first and then think later.
Q: How has abandoned playground evolved with new cast members?
I think it takes on different textures and dynamics, and that translates to different possible narratives that are being interpreted through those interpersonal relationships. A lot of it has to do with how you're reading the identity of the performers and what kind of relationship exists between these people outside of the work space. Working together toward a shared goal really builds relationships.
"This piece has a very specific rhythmic map to it, and it activates time and space in a very particular way."

Abby Zbikowski
It evolves; even if the performers were the same, their performance would evolve. It's inevitable inside the work because it's so strenuous. You find different efficiencies; the more you do it the more you discover. The end point keeps shifting and it has been from the beginning because we discover again that threshold of possibility. What's beyond what I could do last week, I actually can take it a couple inches further, or discover that actually once I've gotten over this hump–emotionally, mentally, psychologically last week–I've opened up a whole new sort of excitement about finding freedom within this work, it continues to take on different lives.
Q: I read your 2017 Thinking Dance interview with Carolyn Merritt and really liked when you said that, "Sometimes we get hung up on what stuff looks like without being able to see past it to the full dimension of what it's doing." What do you think abandoned playground is doing, along the lines of what you just said about pushing further every time?
The work is not just about pushing for the sake of spectacle. Spectacle is an element of it–it's functional in that it's one of the layers of the ways the piece works, where it's doing something. You can't look away from certain points. It pulls you in and it gives a lot of information that you don't necessarily have time to process, but it provides the sensory mechanism that threads people together within a shared space. There's a lot of relationships that are being built and are reactive, so that is part of what it is doing. I think it's about what is possible and all of it is rooted in these larger existential questions of "why are we doing any of this?"
Dance seems so impossible right now, right? It's hard. Life is hard. I feel like I don't hide that in the work. Making a life with dance is hard, sustaining an institution like Jacob's Pillow for so many years, is hard. There is meaning in it that a lot of people can relate to–the perseverance and pushing through, because whether it's super literal or not, there's something that you need to do to ground yourself to grow and to feel fulfilled in a particular way. There's an openness to the interpretation, but it's about drive and I think a lot of people can relate to that in their own way.
Q: This has been a widely debated topic, but do you consider dance to be a sport? Could you share your thoughts?
I think people assume a lot of things about sports and a lot of things about dance when that question is posed. For years, I kind of got, "oh, well that's just really athletic" with my work. If you look at the composition and you understand the rhythms and you understand the process it took to get to this space and the kind of sharing that happens in the room, you can see that there is a really strong correlation between what I'm doing and the African Diasporic form that I'm trained in.
In terms of the energy and the ethos of the work, and some of my understanding of what bodies can do and actually what you can push bodies to do, yes, it's correlated to my experiences playing sports. I thought I knew what bodies were capable of, but working with some contemporary African choreographers was a whole new level of exploring endurance–exploring the forces and groundedness, what that releases from the body and what that conjures up within the body, and what kind of strength and fortification that process can produce as a result.
At the same time, everything I'm talking about is completely related to some people's relationships to sports. I'm not hung up on what things look like from the outside because there's a whole other system at play. Sports might look one kind of way to people, but if you're not there and you're not doing it, you don't know everything that's going on. There's a lot more than meets the eye with sports. So I don't think that calling something "athletic" or "sporty" is degrading. Sometimes when you call it that, it's because you don't have any other adjective or you yourself might not understand the depth of the athleticism. I have one perspective, and I understand that others do not. That's what I'm trying to do with my work, I'm trying to acknowledge that all these other things live inside of what we already do. I just want to show it to you in a different way.
Q: Like you said, there's a lot of similar underlying technique between dance and sports, including the teamwork aspect.
You learn a lot: how to read your teammates, how to read the room, how to pull energy from one another, and how to support one another in the space. With my work, I think it's becoming more clear that what I borrowed most from people who play sports is their sense…that failure is inevitable, and you just do it again.
"You can learn so much from failing and that's what we do."

Abby Zbikowski
In our country and our world there's not a lot of spaces where we're invited to fail, so I tried to really build that space in rehearsals.
Behind the Scenes: Abby Z and the New Utility from Jacob's Pillow on Vimeo.
Abby Z and the New Utility
Post-Show Talk
Choreographer Abby Zbikowski in conversation with Jacob's Pillow Scholar-in-Residence Maura Keefe.
Bonus Content!
Watch the Post-Show Talk with Choreographer Abby Zbikowski and Jacob's Pillow Scholar-in-Residence Maura Keefe.