The School at Jacob's Pillow is a fully-immersive experience demanding stamina, perseverance, risk-taking, creative collaboration, and a full commitment to work and live as a professional. In any of The School's programs, you learn from the field's most revered choreographers, performers, and master teachers. Artist Faculty lead classes, rehearsals, discussions, and seminars, as well as coach, mentor, and guide you inside, and outside, of the studio.
If you are a dancer in The School's Contemporary Ballet, Flamenco, Contemporary, and Tap Programs, you will perform weekly in front of Festival audiences on the iconic Inside/Out stage. You may learn repertoire or choreographers may create work on you. Creating work, and being a co-creator of work-in-development by acclaimed choreographers, occurs with the typical rigor and fast pace of company schedules. You will be coached and mentored during these in-depth, company-oriented studio experiences. As an Ann & Weston Hicks Choreography Fellow, you will have the chance to create your own work in some of Jacob's Pillow's highly recognized dance venues including the Inside/Out Stage and the Doris Duke Theatre. In these spaces, you will find the rich history of those who have danced there before is palpable enough to inspire and inform your creative process. With access to Jacob's Pillow studios, Archives, and resources, you will experience the multiple facets of the Pillow as you hone in on your craft.
Your schedule living and training on the beautiful historic grounds of Jacob's Pillow includes training intensely in the studio six days a week. Typically, classes and rehearsals run from 9am to 5pm. Pillow studios are open to you 24/7. View a daily Sample Schedule.
Built into your schedule is free and immediate access to the Festival. Weekly opportunities include Master Classes led by Festival Artistic Directors, Career-Building Discussions with Festival performers, seeing 5 different companies on stage each week, hearing PillowTalks led by dance scholars, and having inspiring interactions with the professional international dance members and visitors.
The School moved into the state-of-the-art designed Perles Family Studio in 2018, where all classes and rehearsals take place. The large windows allow you to be immersed in the natural setting of Jacob's Pillow while you are dancing and creating. A dancers deck is perfect for journaling, talking to new-found friends and School supporters, and relaxing between classes. This space is more than a studio; it's a space you will get to know as a home in your time at the Pillow. We frequently hear from dancers, "It's a dance haven."
Immersion in Festival Life
Everyone living and working at the Pillow is immersed in the Festival. As America's longest-running international dance festival, each Festival season includes more than 50 national and international dance companies from all over the world, giving over 150 performances on three stages.
Dancers in The School see five different companies each week, free of charge; a priceless education in and of itself. As you see work representing a full spectrum of choreographic and performance approaches, traditions, and innovations—ballet, contemporary, dance theatre, hip-hop, jazz, tap, culturally-specific dance, and more—your vision of what the possibilities are in dance will deepen.
Bookending Festival performances are some 350+ free performances, talks, tours, open classes, exhibits, book signings, film screenings, open rehearsals, and other events. Scholars give Pre-Show Talks before every performance and moderate Post-Show discussions with artists and audiences twice weekly.
The School's dancers join Festival artists in visiting the Jacob's Pillow Archives to research personal dance interests and assigned topics. The Archives are home to a rich collection of videos, historic films, photographs, programs, costumes, and other materials; covering more than a century of dance. This is time to expand on the gems you found at Jacob's Pillow Dance Interactive, a curated online collection of videos filmed at the Pillow from 1933 to today. Visit now to browse and enjoy.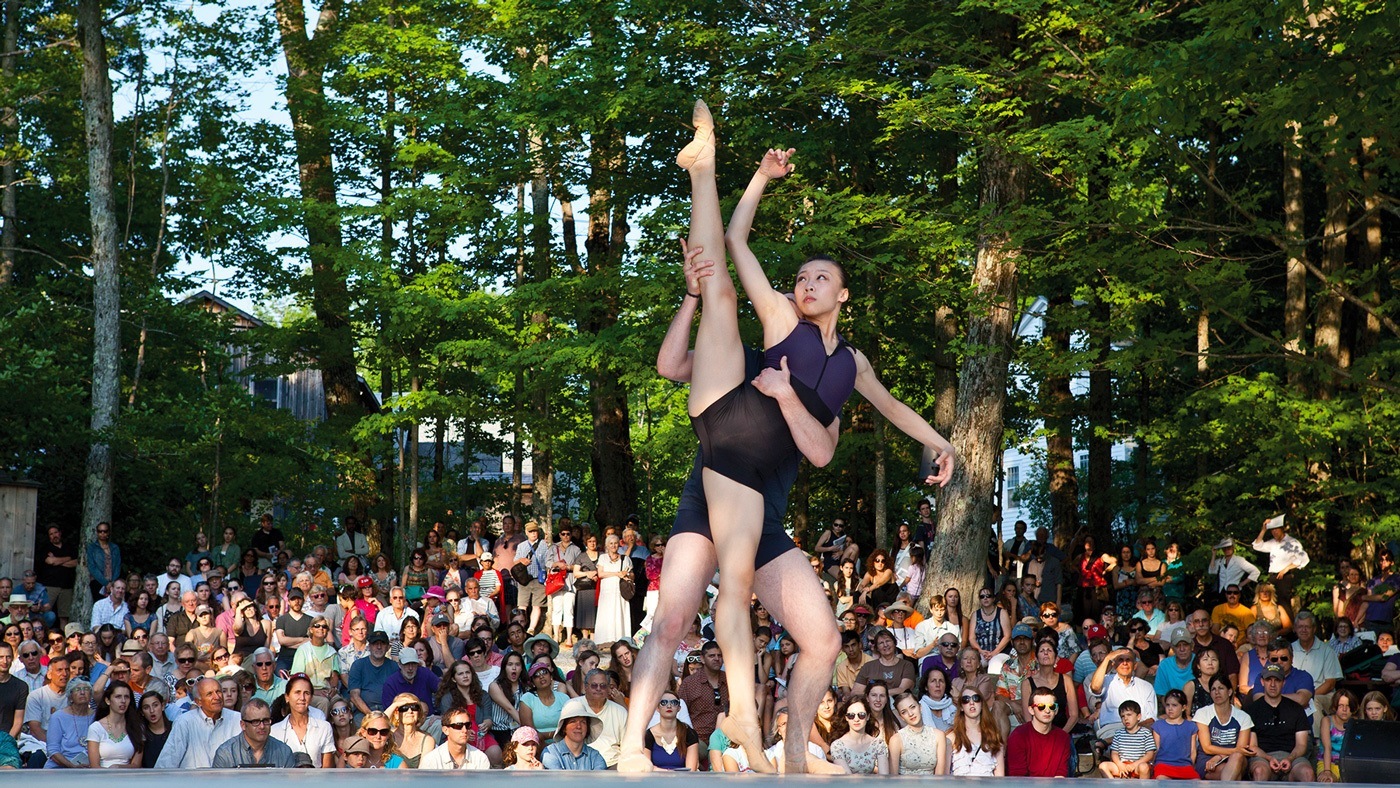 A Community of Artists
Dancers of The School are an international mix of young professionals and advanced level pre-professionals. Many are Grand Prix finalists, Presidential Scholars in the Arts, corps and company members, trainee/apprentice members, or upper division dancers in professional training programs.
The Festival community is comprised of choreographers, artistic directors, performers, collaborating artists, scholars, research fellows, and production and arts administration teams of interns and staff. Working with and alongside these groups fosters thought-provoking conversations and invaluable relationships for the future.
Major dance figures have been coming to the Pillow since the 1930's. Ted Shawn's faculty and performers included Asadata Dafora, Bronislava Nijinska, Agnes De Mille, Pearl Primus, Maria Tallchief, Balasaraswati, Manolo Vargas, Joseph Pilates, José Limón, Alvin Ailey, and Robert Joffrey, among many others. Today's teaching roster continues to include the most distinguished and influential international dance artists of our time. You might find yourself chatting with Kyle Abraham after he observes a class, browsing in The Pillow Store beside Michelle Dorrance, having lunch with Emily Molnar, mingling with Boston Ballet and Martha Graham Dance Company dancers at a cast party, or chatting with Ohad Naharin and Batsheva dancers after a Q&A session.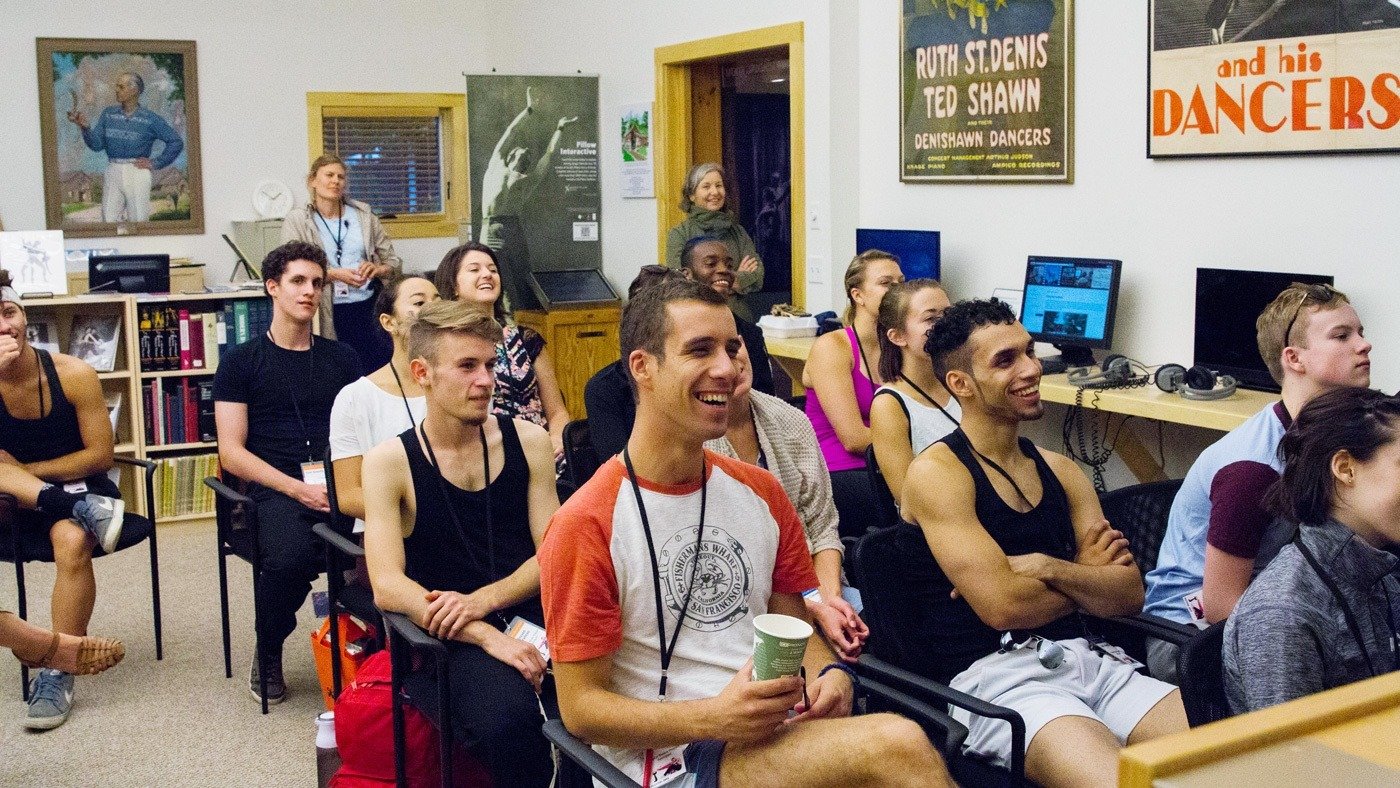 THE SETTING
Jacob's Pillow is a National Historic Landmark and recipient of the National Medal of Arts, the highest arts award given by the United States Government; making the Pillow the first dance presenting organization to receive this prestigious award. Dance professionals, lovers of dance, tourists, and other visitors travel here annually to experience and celebrate the art of dance.
Ted Shawn's students and company members built and maintained much of the property, including roads, studios, wells, and housing. As a dancer at The School, you live on campus, residing near Festival artists, faculty, and staff, in cabins with archival photographs of famous dancers lining the walls. Three meals a day are provided in the Stone Dining Room, which was hand-built in 1935 by Ted Shawn's Men Dancers.
The 225-acre campus includes the historic, proscenium Ted Shawn Theatre, the black-box Doris Duke Theatre, an outdoor stage, five dance studios, exhibition galleries, the Archives, a health office, and a campus center for gathering or cross-training. There are also public food venues, the Pillow Store, gardens, and a woodland trail.
Dancers and staff still share responsibility in caring for the beauty, history, and integrity of the Pillow. They are charged in upholding core values of the Pillow and engaging the public in friendly conversations to help deepen understanding and support of dance. Once you become part of the Pillow community, you will always have an artistic home here.
LOCATION
We are located in the beautiful Berkshire Hills of Western Massachusetts, near the Appalachian Trail. Other nearby cultural institutions are Tanglewood, The Sterling and Francine Clark Art Institute, MASS MoCA, Norman Rockwell Museum, and Williamstown Theatre Festival. New York City and Boston are each less than 3 hours away.