The School at Jacob's Pillow is a fully immersive experience demanding stamina, perseverance, risk-taking, creative collaboration, and passion. Dancers live and work as artists under the direction of a faculty who are the field's most revered legends, choreographers, performers, and teachers. They lead classes, rehearsals, discussions, and seminars as well as coach and guide dancers both inside and outside of the studio.
Living and training on the beautiful historic grounds of Jacob's Pillow involves a six-day week of intensive studio work. Classes and rehearsals run from 9am to 5pm, followed by up to five hours of ushering, attending Festival performances and events, researching in the Archives, and/or taking advantage of Pillow studios, open to dancers 24/7.
Every week brings new opportunities—master classes led by Festival Artistic Directors, lunchtime career-building discussions with Festival performers, and inspiring interactions with members of the international dance community. If you are a dancer in The School's Ballet, Gaga, Contemporary, and Musical Theatre programs, you will perform weekly in front of Festival audiences on the iconic outdoor stage.
During the summer of 2018, The School moves into the state-of-the-art Perles Family Studio, where the public is invited to observe selected classes and rehearsals throughout the week. Dancers may view this daily Sample Schedule. Observation schedules for the public will be available one week prior to program start dates.
Immersion in Festival Life
Everyone living and working at the Pillow is immersed in the Festival. As America's longest running international dance festival, each season includes more than 50 dance companies from all over the world that give over 150 performances on three stages. The work presented represents a full spectrum of choreographic and performance approaches, traditions, and innovations—from ballet, contemporary, and dance theater to hip-hop, jazz, tap, traditional dance forms, and more. The School's dancers will see ten to fifteen companies during their stay, free of charge—a priceless education in and of itself.
Bookending Festival performances are 300+ free performances, talks, tours, classes, exhibits, book signings, film screenings, open rehearsals, and other events. Scholars give pre-show talks before every performance and moderate post-show discussions with artists and audiences twice weekly. The School's dancers join Festival artists in visiting the Jacob's Pillow Archives to research personal dance interests and assigned topics. The Archives is home to a rich collection of videos, historic films, photographs, programs, costumes, and other materials covering more than a century of dance. Jacob's Pillow Dance Interactive is a curated video collection, highlighting dance from 1933 to today, accessible online. Visit now to learn and enjoy.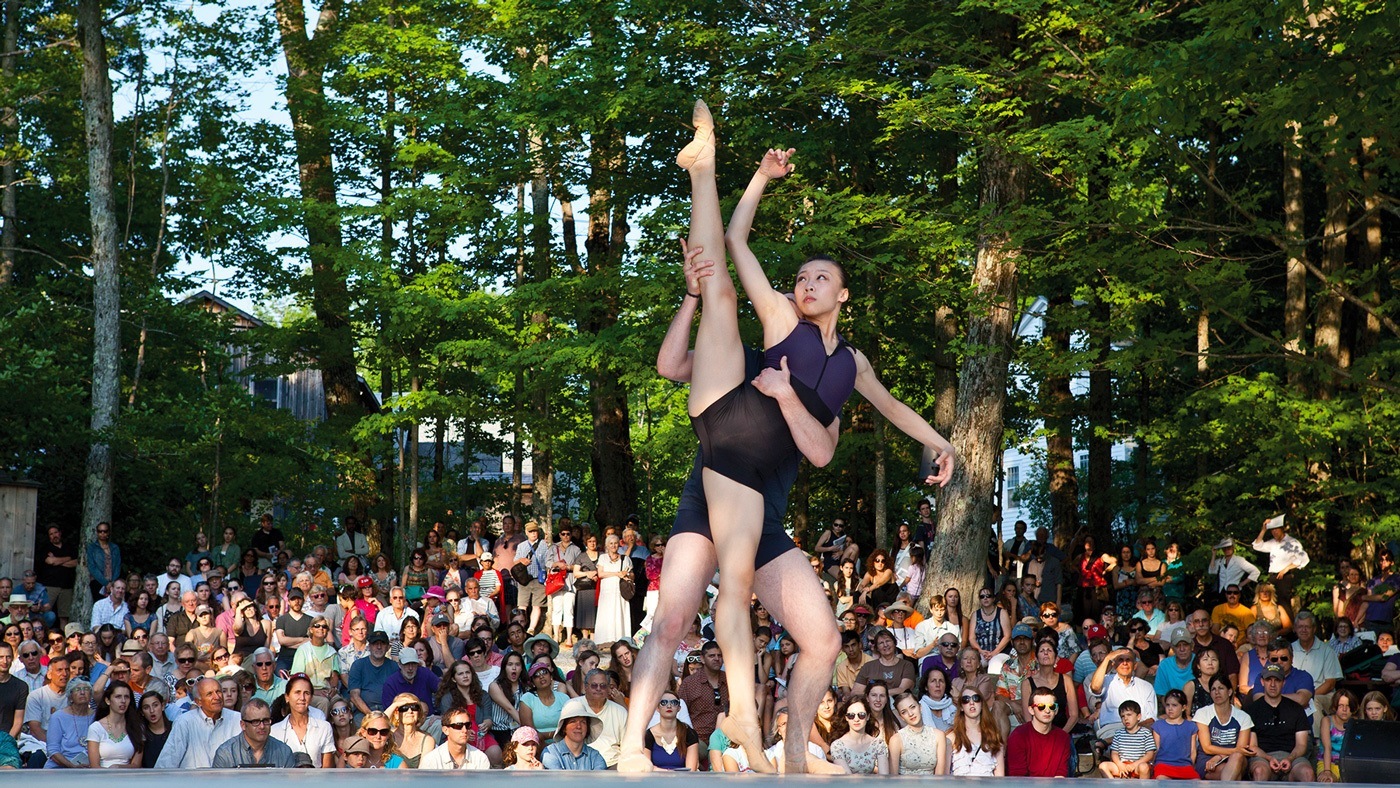 A Community of Artists
Dancers of The School are an international mix of young professionals and advanced level pre-professionals. Many are Grand Prix finalists or Presidential Scholars in the Arts. Others are are corps and trainee/apprentice members of companies, or in the upper division of their school programs.
The Festival community is comprised of choreographers, artistic directors, performers, collaborating artists, scholars, research fellows, interns, and staff of production and arts administration teams. Working with and alongside these groups fosters thought-provoking conversations and invaluable relationships for the future.
Major dance figures have been coming to the Pillow since the 1930s. Ted Shawn's faculty and performers included Asadata Dafora, Bronislava Nijinska, Agnes De Mille, Pearl Primus, Maria Tallchief, Balasarawati, Joseph Pilates, José Limón, Alvin Ailey, and Robert Joffrey, among many others. Today's teaching roster continues to include the most distinguished and influential international dance artists of our time. You might find yourself browsing in The Pillow Store beside Ronald K. Brown, having lunch with Peggy Hickey, mingling with Royal Danish Ballet dancers at a cast party, or chatting with Ohad Naharin and Batsheva dancers after a Q&A session.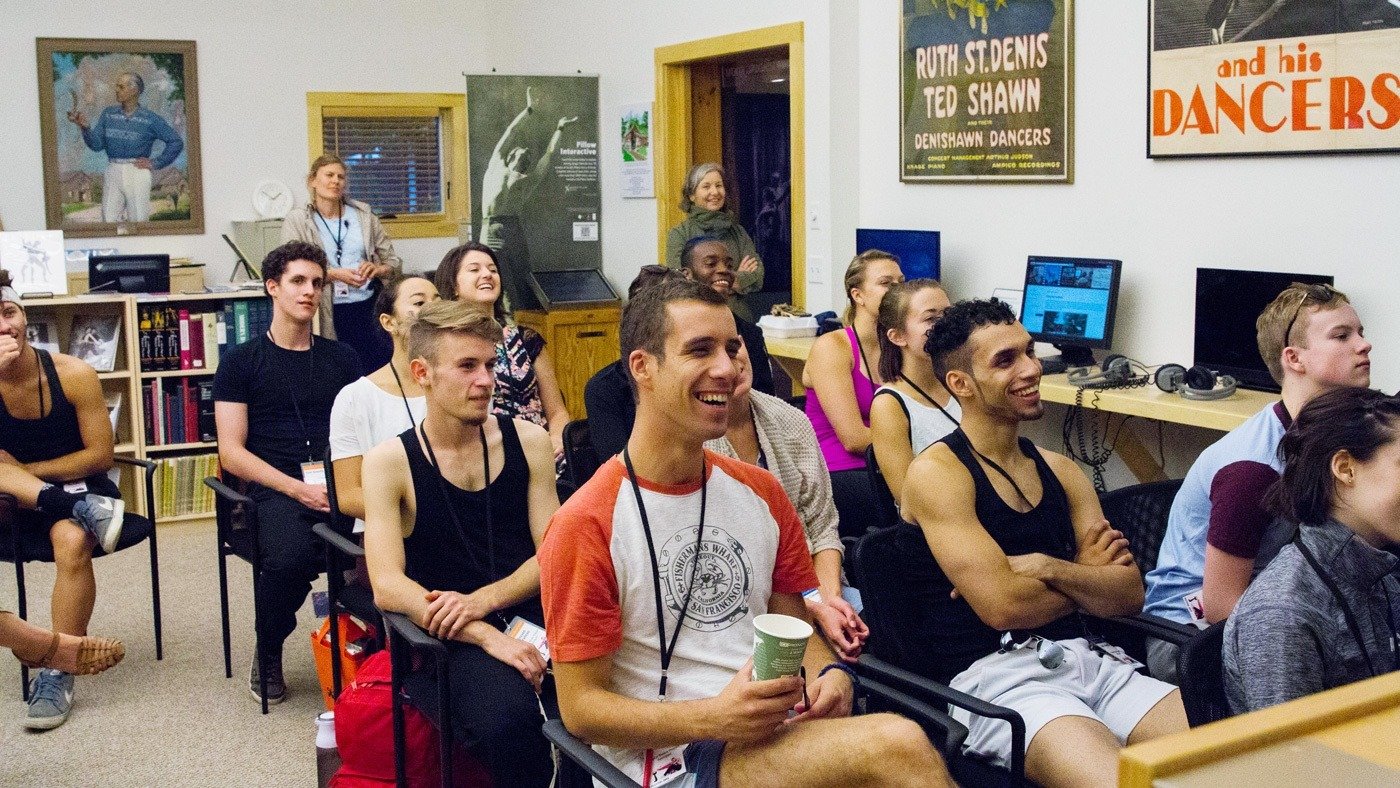 CAMPUS FACILITIES
Ted Shawn's students and company members built and maintained much of the property, from roads an studios to wells and housing. The School's dancers live on campus, residing near Festival artists, faculty, and staff in cabins with archival photographs of famous dancers lining the walls. Three meals a day are provided in the Stone Dining Room, which was hand-built in 1935 by Ted Shawn's Men Dancers.
The 220-acre campus includes two theaters, an outdoor stage, five dance studios, exhibition galleries, the Archives, a health office, and a campus center for gathering or cross-training. There are also public food venues, The Pillow Store, gardens, and a woodland trail.
Dancers and staff still share responsibility in caring for the beauty, history, and integrity of the Pillow. They are charged with engaging the public to help deepen understanding and support of dance. Once you become part of the Pillow community, you will always have an artistic home here, wherever you reside or tour.
THE SETTING
Jacob's Pillow is a National Historic Landmark and recipient of the National Medal of Arts, the highest arts award given by the United States Government; making the Pillow the first dance presenting organization to receive this prestigious award. Dance professionals, lovers of dance, tourists, and other visitors travel here annually to experience and celebrate the art of dance.
We are located in the beautiful Berkshire hills of Western Massachusetts, near the Appalachian Trail. Other nearby cultural institutions are Tanglewood, The Sterling and Francine Clark Art Institute, MASS MoCA, Norman Rockwell Museum, and Williamstown Theatre Festival. New York City and Boston are each less than 3 hours away.