This year's GOTTA DANCE, a benefit for The School at Jacob's Pillow, features choreography and improvisation performed by the dancers of The School at Jacob's Pillow's Tap Program. Led by Program Directors Michelle Dorrance and Dormeshia, 25 tap dancers have spent six days a week rehearsing in the Perles Family Studio throughout the duration of the three-week program. Visit The School during open observation hours to see them in action!
"Artist faculty and dancers are dedicating their performances to Dianne Walker for her contributions to tap not just at the Pillow but also in Berkshire County," says The Carole and Dan Burack Director of The School at Jacob's Pillow, "J.R." Glover, adding that people are still teaching and dancing tap in Berkshire County because of Walker.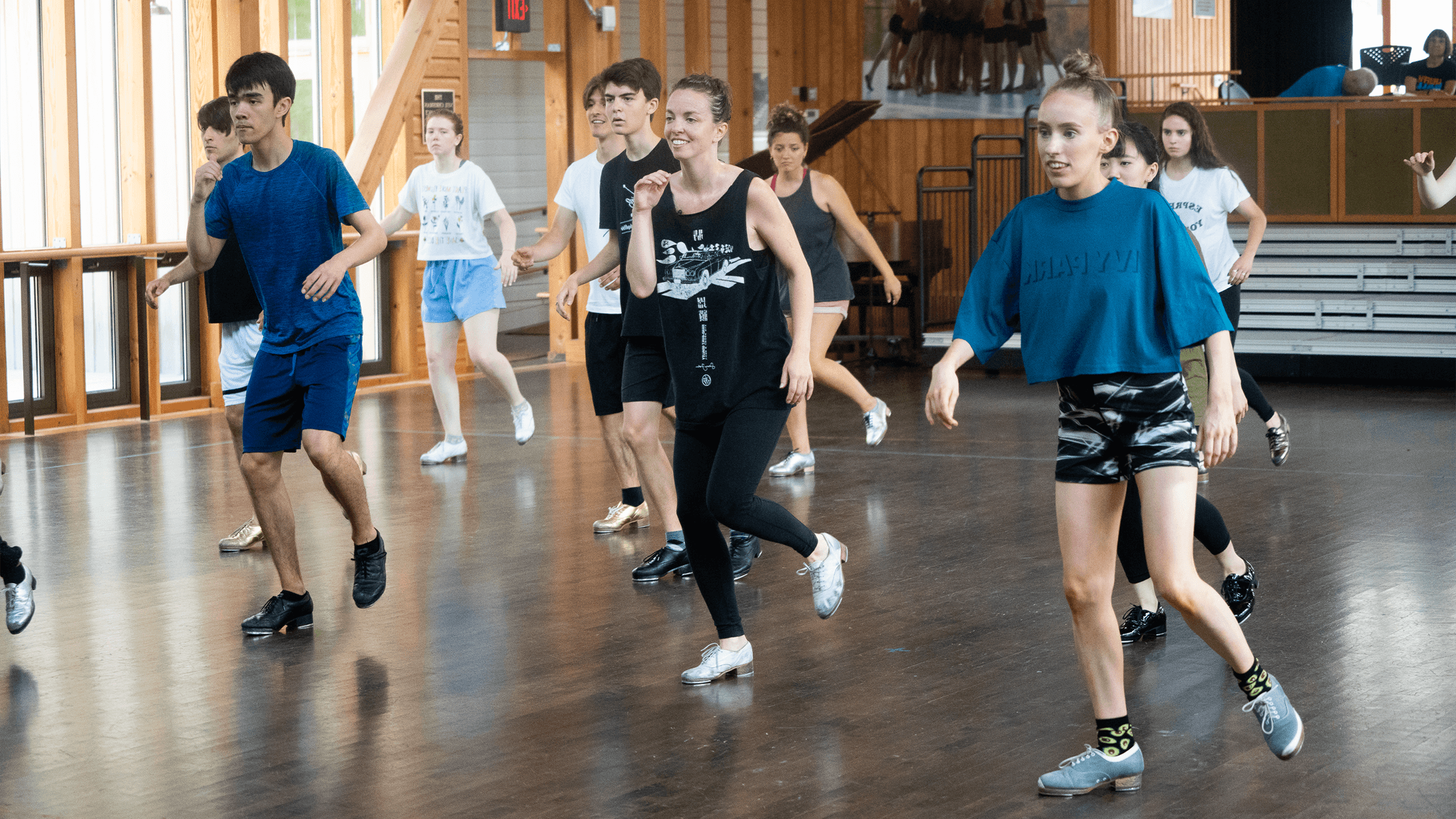 "Dancers are training predominantly to be performers and choreographers, and this experience gives them full-evening length performance experience in developing work and moving it to the stage," shares Glover. "There's an extra level of rigor in this [tap] program to achieve GOTTA DANCE."
Featuring live music and choreography created or set by artist faculty, GOTTA DANCE also provides dancers of the Tap Program the opportunity to have their own work presented in the Ted Shawn Theatre as part of the event. Interested dancers must go through an audition process to choreograph, cast dancers, rehearse within a week, and present their work to artist faculty who will determine whether or not it is ready to be showcased in GOTTA DANCE on Sunday, August 18 at 4pm.
"We are so excited for GOTTA DANCE," says Program Director Michelle Dorrance.
"This is a thrilling and rare opportunity not just for supporters, but for these powerhouse students… They are literally the next generation of professional tap dancers."

-Michelle Dorrance, Program Director
Proceeds from the event benefit the overall operational needs of The School, supporting artist faculty fees, a general scholarship fund, wellness seminars for dancers, and more. The experience the event offers dancers of The School is comparable to none other.
About the Tap Program
The Tap Program is led by Michelle Dorrance and Dormeshia with artist faculty Dianne Walker, Brenda Bufalino, Derick K. Grant, Jason Samuels Smith, Maria Torres, Sam Weber, and Josette Wiggan-Freund. Read more about the 2019 Tap Program artist faculty.
Many of the artist faculty have worked together prior to this program, as discussed in a Dance Magazine article highlighting collaborations among Dormeshia, Jason Samuels Smith, and Derick K. Grant. This summer marks the second year that Michelle Dorrance and Dormeshia have co-directed the Tap Program, their first occurring in 2017.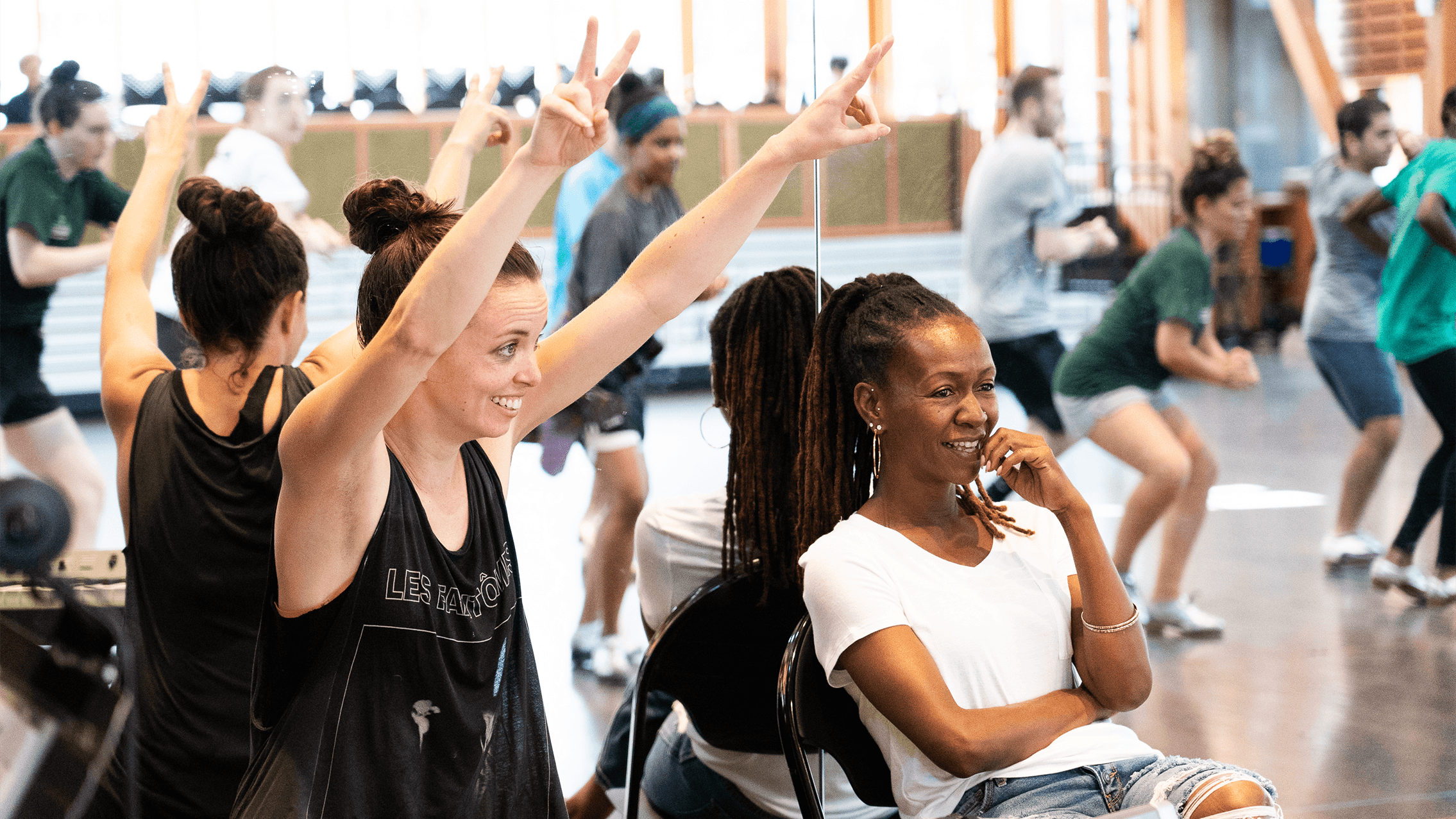 The Tap Program was first offered in 2010, led by Dianne Walker, and has been a part of the Jacob's Pillow mission to educate dancers and offer access to some of the finest and most advanced choreographers and artists in the world of tap dance. The program has successfully been offered in 2010, 2012, 2014, and 2017. This year inaugurates the tradition of hosting the Tap Program biennially, alternating with the Musical Theatre Dance Program, and is also the first tap program to be hosted for an expanded three weeks instead of two.
Alumni: Where Are They Now?
From dancing with established companies to founding their own, many Tap Program alumni have continued on to have note-worthy careers.
Caleb Teicher, who participated in both the 2010 Tap and Musical Theatre Dance Programs, won a Bessie Award for Outstanding Individual Performance in 2011. He was featured in Dance Magazine's 25 to Watch (2012), and was awarded Dance Magazine's Best Emerging Choreographer (2016). Caleb founded his own company, Caleb Teicher & Company, in 2015 with which he returned to the Doris Duke Theatre July 24-28, 2019. Company members include alumni of The School at Jacob's Pillow: Macy Sullivan ('12), Brittany DeStefano ('12, '14), Naomi Funaki ('17), Jabu Graybeal ('17), and Jackson Clayton ('17).
In 2017, Michelle Dorrance curated an evening of tap dance in the Doris Duke Theatre entitled TIRELESS: A Tap Dance Experience including tap performers Joseph Wiggan, Josette Wiggan-Freund (2019 Tap Program faculty), Jumaane Taylor, Joe Orrach, and Reona Seo, and more. Dancers and alumni of The School vary in age and background, with some early in their careers and others more established who are still eager to learn. Reona Seo ('14) toured her own trio work in almost 90 performance spaces the year before her participation in the Tap Program.
Other alumni of the Tap Program have been recognized as "up-and-coming dancers who are carrying the style into the future," as reported in Dance Spirit, including Sydney Burtis ('17), Joe Lescher-Liao ('17), and Jabu Graybeal ('17). Aubrey Cheek is a teacher, performer, and choreographer based in New York City who participated in the 2017 Tap Program.
"These two weeks were intense, exhilarating and unlike anything I've experienced before…I was challenged to think in new ways in technique, choreography, and improvisation."

-Aubrey Cheek ('17)
The School at Jacob's Pillow hosts dancers of various ages, backgrounds, and techniques for programs that equip the dancers with what they need to launch their careers.
GOTTA DANCE
Sunday, August 18 | 4pm
Celebrate the next generation of tap artists on stage at GOTTA DANCE, a benefit performance by The School at Jacob's Pillow.
Don't Miss Out!
Celebrate the next generation of tap artists on stage at GOTTA DANCE, a benefit performance by The School at Jacob's Pillow!