A hallmark of The School at Jacob's Pillow is living and working as an artist in a historically significant dance setting, among a community of international dance artists. School programs are fully immersive – demanding risk-taking, creativity, collaborative skills, stamina, perseverance, and inquisitiveness. As a School dancer, you keep a company-life schedule, are a Festival performer, attend Festival events, and study in the Archives; all while building life-long career relationships. Through these experiences you are connected to the past, present and future of dance in a deep and meaningful manner.
Experience Company Life
The professional-caliber company-life studio and stage experiences in The School at Jacob's Pillow are essential for the transformational shifts required to evolve one's distinctive artistic voice. Artist faculty who teach and choreograph in The School are the field's most revered choreographers, artistic directors, performers, and teachers. They treat you as a professional, hold you accountable to professional work standards, share their breadth of experiences and points of view, and become connector points for your own career aspirations. 
Each week, you work with a different choreographer. As they create a work, or work-in-process, on The School's Performance Ensemble, you gain insights into multiple creative approaches as well as aesthetic preferences. Collaborative movement development, improvisational sessions, and coaching provided by the choreographers prepare dancers for today's in-demand companies. 
A fast-paced studio to stage experience places the Performance Ensembles before Festival audiences weekly. Informal showings are held in the Perles Family Studio and dancers appear in a finale performance on the iconic, outdoor Henry J. Leir Stage, which is also a Livestreamed event. Audience members, in person and from around the world, include invited artistic directors, School Sponsors, families, and the public.
This experience equips you to continue reaching toward your professional career goals while thriving in the field's multifaceted, rapidly shifting, and diverse professional environments.
The studio day runs 9am-5pm, six days a week. After 5pm, expect an additional four to six hours to attend Festival performances, events, career-building seminars, or an evening rehearsal. This time may also be used to complete assignments, research in the Archives, or rehearse on your own in Pillow studios.
Experience Career Building and Networking
Embedded in studio days and Pillow evenings are rigorous career-building practices and seminars. Each is an opportunity to gain experience and insights into managing the business of working as an artist and helping achieve your full career potential and aspirations. 
As an exemplary member of the Jacob's Pillow community you are a spokesperson for dance, the Pillow, and your work as a dance artist. Introducing yourself, speaking to living legends, potential mentors, and dance supporters, engaging first-time audience members in conversations about dance, or documenting your experiences and discoveries are constants. As you greet studio observers, share a meal or coffee with a School Sponsor, attend donor events, host a social media takeover, make an oral history recording for the Archive, or develop audience relations during post-performance interactions, your ability to compellingly express your ideas strengthens. 
Managing your career requires working with an entrepreneurial mindset, being business-savvy, and building and maintaining a supportive network. To move you forward in these areas, Artist Faculty and The School's alumni lead seminars with time for discussion and questions. Topics range from job searching, community work, wellness practices, contract negotiations, to commercial vs concert work, paid vs unpaid work, managing multiple revenue streams, and freelancing. 
By the end of your Pillow experience you have formed meaningful connections with artistic directors, choreographers, performers, scholars, historians, photographers, videographers, filmmakers, administrators, your peers, and members of the incredible Pillow Alumni. Next, as an alum yourself, you will feel the family-nature of this network and realize how quickly these relationships foster life-long bonds and impact the trajectory of your artistic journey.
Experience Your Role in the Festival 
The School's long-established commitment to dance education and training has been unequivocally partnered with the rich, dynamic, and prolific Jacob's Pillow Dance Festival. Since Ted Shawn founded The School he ensured that dancers experienced all aspects of the Festival for free and performed before Festival audiences. Today The School's Performance Ensembles perform weekly; acquiring valuable critical studio-to-stage performance skills and exercising the artistry they can bring to a choreographer's work. 
The unique opportunity to train in the creative development process, witness companies performing, and be a part of the buzz of the Festival, on the same day and same campus, is unmatched. As a dancer in The School, you contribute to the artistic vitality of the Festival as both performer and learner/audience member. 
Experience the Past, Present, and Future of Dance
Major dance figures have been coming to Jacob's Pillow since the 1930's to teach and perform: Asadata Dafora, Bronislava Nijinska, Agnes De Mille, Pearl Primus, Maria Tallchief, Balasaraswati, Manolo Vargas, Joseph Pilates, José Limón, Martha Graham, Alvin Ailey, and Robert Joffrey, among many others. To learn more about these dance luminaries while developing your own aesthetics and researching personal dance interests and assigned topics, you will visit The Jacob's Pillow Archives. Home to a rich collection of videos, historic films, photographs, programs, costumes, and other materials, the Archives cover more than a century of dance and provide insight into Festival and School artists, past and present. On these visits, you will find yourself alongside Festival artists who are also using every ounce of spare time to expand their understanding of dance in this treasure trove of dance history.
Be sure to explore archival gems right now on Jacob's Pillow Dance Interactive, an online curated collection of videos filmed at the Pillow from 1933 to today. Visit now to browse and enjoy.
Everyone departs The School at Jacob's Pillow transformed. With confidence in themselves, a powerhouse network, and a more attuned artistic practice, The School's alumni go on to define, shape, and lead the field of dance worldwide. They remain connected to the Pillow community, always having an artistic home here. 
THE FESTIVAL 
Jacob's Pillow, America's longest-running dance festival, typically showcases more than 50 national and international dance companies at its on campus venues, collectively giving over 150 performances during the nine week festival. There are 300+ free performances, talks, tours, open classes, exhibits, book signings, film screenings, open rehearsals, movement research labs, community projects, and other events; all designed to further share the art of dance with the public and the Festival's artist community.
As a dancer in The School, you see two different companies each week, free of charge; a priceless education in and of itself. The works on stage represent a full spectrum of choreographic and performance approaches, traditions, and innovations including ballet, contemporary, culturally-specific dance, dance theatre, hip-hop, jazz, tap, and more. Encounters with these forms and artists help inform your vision of what the possibilities in dance can be, for you. When not on stage, Festival artists will be in the dining hall, leading a Sunday Workshop or School Guest Artist Class, researching in the Archives, or available for a chat on the pathway.
Dance curators and scholars are in-residence to give pre-show talks before every performance, moderate post-show discussions with artists and audiences, lead hour-long PillowTalks with artists, and are available in the Archives to answer questions and facilitate your research.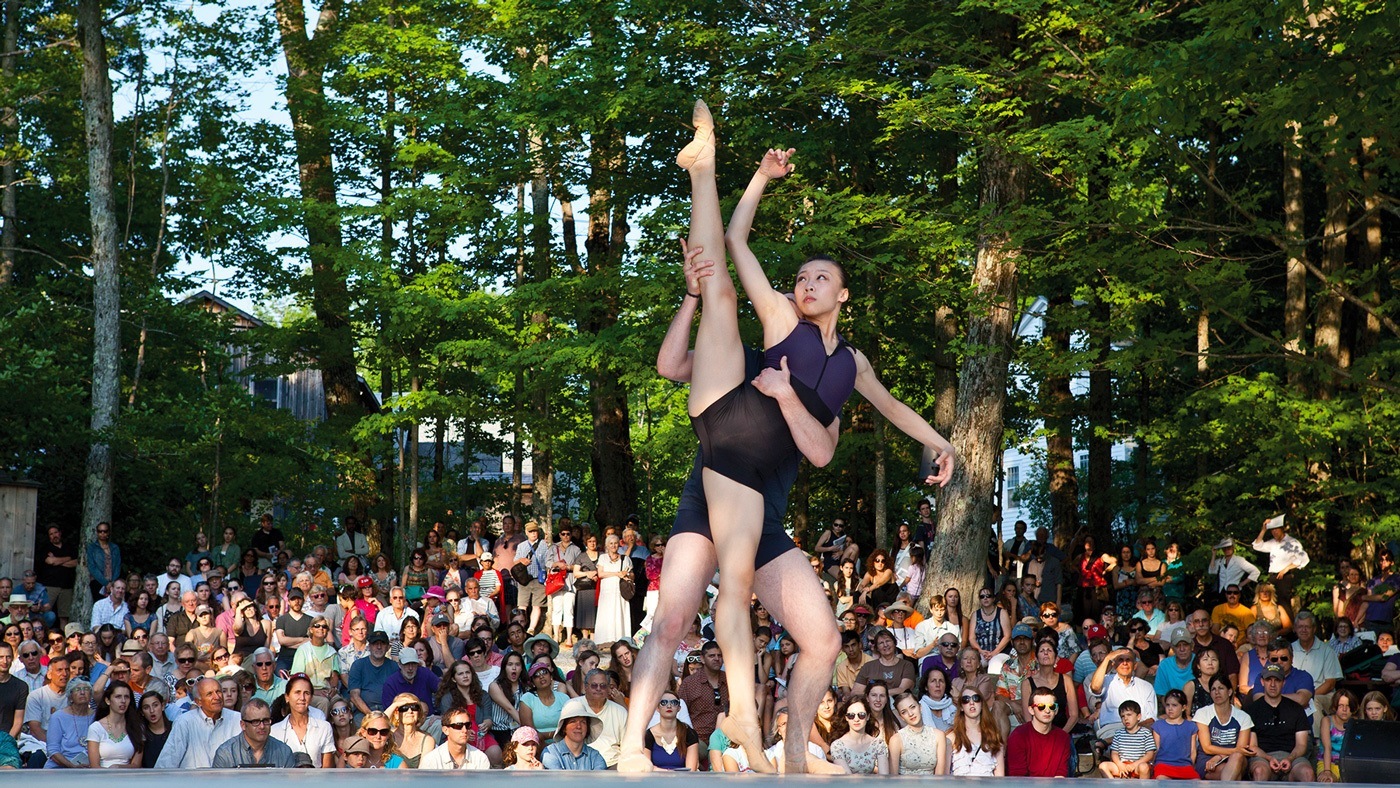 A COMMUNITY OF ARTISTS
Dancers of The School are an international mix of young professionals at the beginning of their careers and advanced level pre-professionals. Many are Grand Prix finalists, Presidential Scholars in the Arts, corps and company members, trainees, apprentices, or upper division dancers in professional training programs.
The Festival community is comprised of choreographers, artistic directors, performers, collaborating artists, scholars, research fellows, School Sponsors, and teams of production and arts administration interns and staff. Dancers in The School have the opportunity to meet and interact with School Sponsors, who provide financial support to The School and valuable networking to dancers during and after their time at the Pillow. Thought-provoking conversations and invaluable relationships for the future are fostered by working with, and alongside, these professionals and arts supporters.
You might find yourself chatting with Kyle Abraham after he observes your class, browsing in The Pillow Store beside Brian Brooks, having lunch with Darrell Grand Moultrie, mingling with Wendy Whelan at a cast party, or chatting after a Q&A session with Dennis Powell, a Pittsfield Moves! participant and President of the NAACP-Berkshire County branch after a Q&A session.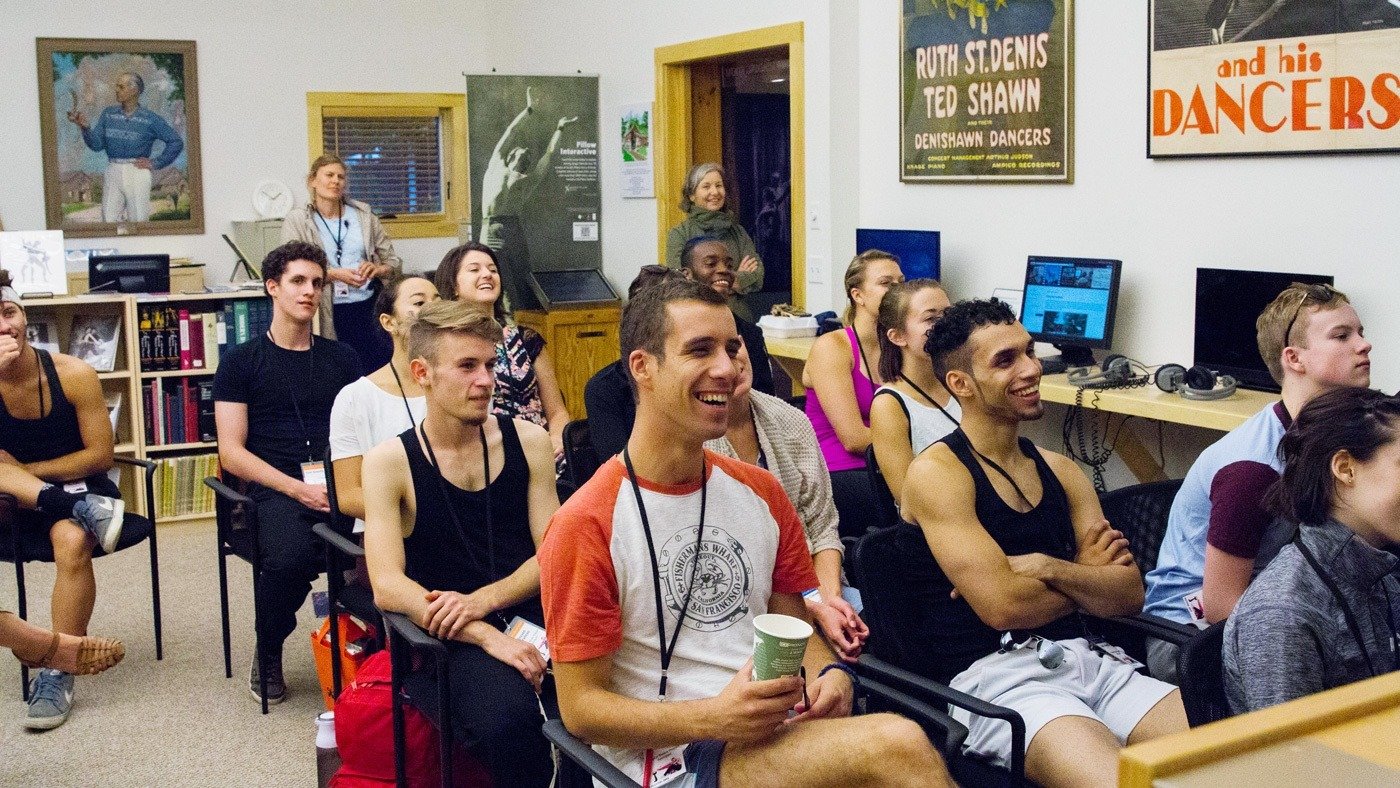 THE SETTING
Jacob's Pillow is a National Historic Landmark and recipient of the National Medal of Arts, the highest arts award given by the United States Government; making the Pillow the first dance presenting organization to receive this prestigious award. Dance professionals, lovers of dance, tourists, School Sponsors, and other visitors travel here annually to experience and celebrate the art of dance set against the backdrop of idyllic gardens and woodlands.
Nestled in the heart of campus, the 7,373-square-foot, state-of-the-art Perles Family Studio is home to The School at Jacob's Pillow. Large windows bring the beauty of the natural setting onto the 3,500-square-foot dance floor as you dance and create. A public observation area is open for guests, School Sponsors, and public patrons to watch classes and rehearsals. A dancers deck is perfect for journaling during downtime. Talking to new-found friends and School supporters, meeting with Artist Faculty, relaxing between classes, discussing last night's performances, or relaxing to soak up the sun are more ways to enjoy your time in the Perles Family Studio. The space is more than a studio; it's an artistic home and stepping stone to the professional world; frequently referred to by dancers as "a dance haven."
Ted Shawn's students and company members built and maintained much of the property, including roads, studios, wells, and residential cabins. As a dancer at The School, you live on campus, residing near Festival artists, faculty, interns, and staff. Archival photographs of famous dancers line the walls of all spaces. Three meals a day are provided in the Stone Dining Room, which was hand-built in 1935 by Ted Shawn's Men Dancers.
The 225-acre campus is centered around the historic, proscenium Ted Shawn Theatre; the first theatre built exclusively for dance in the United States. Other performance venues include the iconic outdoor stage and the Pillow's natural landscape which transforms into site-specific performance spaces. There are five dance studios, including the Perles Family Studio, which serves as a multifunctional rehearsal-showing space for Pillow Labs. Also onsite are exhibition galleries, the Archives, a health office, public food venues, The Pillow Store, gardens, and a woodland trail.
The artist community living onsite shares responsibility in caring for the beauty, history, and integrity of the Pillow. Together we uphold the Pillow's core values and engage the public in deepening their understanding and support of dance.
LOCATION
Jacob's Pillow rests on the unceded lands of the Muh-he-con-ne-ok, and recognizes the Agawam, Nipmuc, and Pocumtuc who also made their homes in Western Massachusetts. We honor their Elders past, present, and future.
Located in Western Massachusetts, in an area known as the Berkshire Hills, visitors come to enjoy the scenic vistas, outdoor activities, farm-to-table food industry, and renowned arts scene. Nearby are the Appalachian Trail and cultural institutions such as Tanglewood, The Sterling and Francine Clark Art Institute, MASS MoCA, Norman Rockwell Museum, and the Williamstown Theatre Festival. 
New York City and Boston are each less than 3 hours away.
Apply Today
Advance your artistry, build your career network, and become part of dance history at the Pillow.